Step inside Meraki Salon and Spa and you'll be greeted with typical salon fare—rows of bright nail polish, shelves chock-full of luxury hair products and stylists' stations equipped with all the necessities to cut and color clients' hair.
What you may not expect when you walk through the door is a gentle kiss from a rather large black and white dog named Rocky.
"He thinks he needs to greet everybody," salon owner Ashton Anderson said.
Rocky is an 8-year-old pit bull mix and certified therapy dog that accompanies Anderson to work each day. While sitting in his wingback, decorative chair in the salon, Rocky provides comfort to Anderson as she copes with post-traumatic stress disorder and all others who enter Meraki.
Clients at Meraki may bring their own dogs into the salon as well.
Anderson, 27, opened the fur-friendly salon in November 2017. When brainstorming names for her salon, Anderson said she wanted to go with something that had profound meaning to it and chose Meraki (pronounced may-rah-kee).
"Meraki is a Greek word that means you leave your heart and soul in the creativity of your work," Anderson said.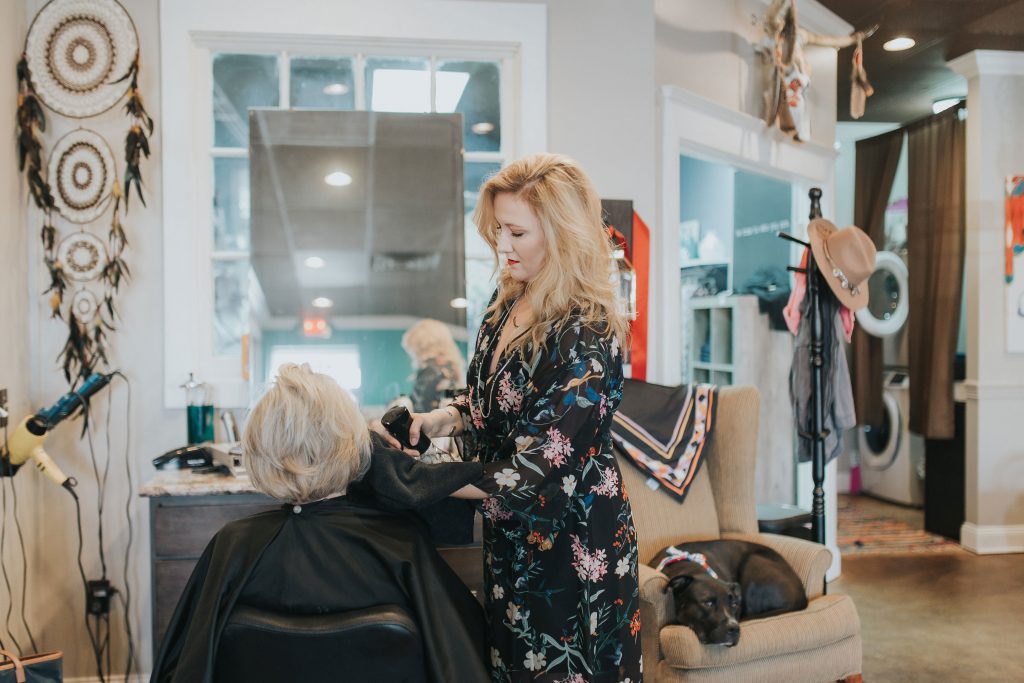 Originally from Smiths Grove, Anderson found a passion for styling hair among her artistic talent. As a child, Anderson said she found that art, especially painting, came to her very naturally.
"I was also always the girl that braided everybody's hair for sports and did their hair for prom and stuff like that," Anderson said.
After graduating from cosmetology school and securing her first job, Anderson began saving money to eventually open her own place.
She said the current location for Meraki came available at just the right time.
"I was at a spot where I was ready to go out on my own," Anderson said. "I was scared, but then my husband just kind of pushed me a little bit. He said, 'If you're going to do it, do it. It's time.'"
Having worked in the beauty and hair industry for nearly seven years, Anderson is now a master stylist with the dream of owning a cruelty-free salon fulfilled.
Anderson said she only uses and retails Davines hair products, which are cruelty-free, meaning the company doesn't test on animals.
Along with its cruelty-free and fur-friendly mission, Anderson said she strives for her salon to have a free-spirited vibe to it, which includes encouraging clients to bring in their own dogs.
As long as they are leashed, get along with other dogs and can sit beside the styling chair or are small enough to be held, dogs are welcome at Meraki.
As someone who experiences bouts of anxiety and panic attacks associated with PTSD due to childhood bullying, Anderson said she recognizes that many dogs, just like Rocky, have therapeutic benefits and wants clients to feel comfortable at her salon.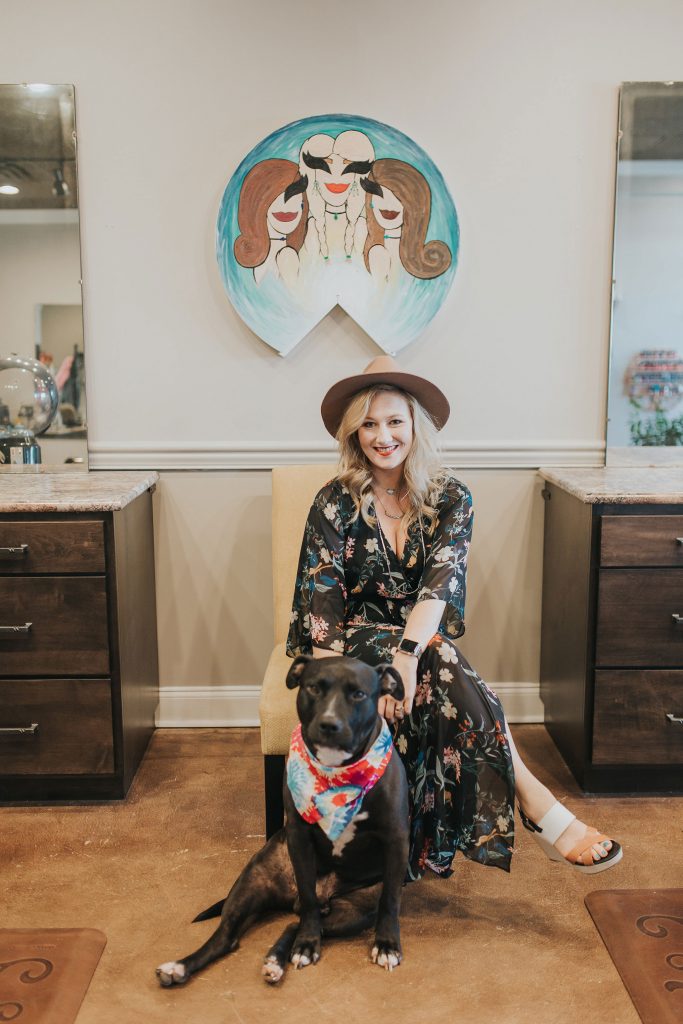 "When I have a panic attack, he'll pull me away from the situation or even just try to console me," Anderson said. "He senses it and just helps me a lot."
When she was a child, Anderson was diagnosed with dyslexia.
"I had a rough childhood and a hard time through the school years," Anderson said. "With that, came a lot of bullying."
Anderson said she found a lot of comfort in animals during her childhood, and recently her psychologist suggested certifying Rocky as a therapy dog to manage her PTSD.
Anderson and her husband rescued Rocky almost six years ago, right around the time she graduated from cosmetology school.
"It has absolutely been a blessing," Anderson said. "I know some people probably think it's silly since there's nothing physically wrong with me, but people do have their issues that people don't understand."
Though Rocky has had his basic training to get his certification, all in all, Anderson said she believes his therapeutic and calming personality came naturally.
"It's like he was created for me," Anderson said. "Like it was supposed to happen."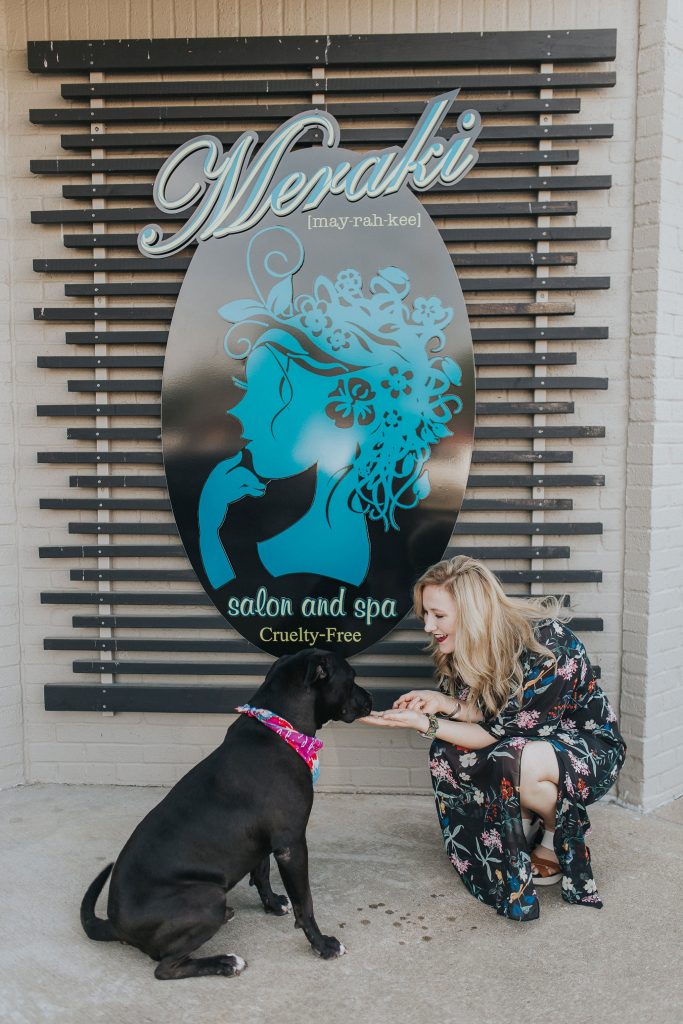 Anderson said she used to be afraid to discuss her struggle with PTSD, but having Rocky has made it easier to talk about it and other mental health issues.
"After you experience it yourself, it opens a window, and you want to bring awareness to the issue," Anderson said. "I used to be very embarrassed to talk about it, but as I've gotten older I've realized that maybe if I'm open about it and show what I've done, maybe it can help others to heal and move on."
From Chihuahuas to huskies, Anderson has seen many dogs come through Meraki's door already. She said she already has regular clients who bring their dogs, including Meredith Jordan.
Jordan, a 21-year-old Bowling Green native, has been Anderson's client for about four years. Upon opening Meraki, Anderson urged Jordan to bring her two rescued Bernese mountain dogs to her appointments.
Jordan said she gains a sense of peace around her dogs, Lady and Kylie.
"They definitely calm me down," Jordan said. "When I'm stressed out with school, the best thing for me to do is just come home. They always put a smile on my face."
Bernese mountain dogs tend to have separation anxiety, Jordan said, so having the ability to take them places, like Meraki, is ideal.
"It's nice being able to take them with me," Jordan said. "When I get my hair done, it takes two or three hours so I like being able to take them to the salon so I know they're not at home worrying by themselves."
Anderson said the Bowling Green community has been very welcoming to her and seems to love animals and the idea of a fur-friendly business.
"Have you ever met someone who loves animals and isn't a good person? It seems like people who love animals are just really good souls."
Meraki Salon and Spa is located at 661 U.S. 31-W Bypass, Suite D.