Every year, sometimes multiple times per year, the Collins family will make the six-hour drive from Marietta, Ga., to southern Kentucky.
The trip doesn't end in a typical family vacation but a visit to the Center for Courageous Kids, the world-class medical camp facility in Scottsville.
Becca Collins, 17, who is afflicted with exercise-induced asthma, has been coming to CCK's asthma camps since she was just eight years old.
"Sometimes, I'd have to sit out of sports when I was younger and others would be like, 'Why can't you play with us?'" Becca said. "And I'd have to tell them I have asthma, and then they'd ask what that was and I'd give them this long definition. Here, people know about asthma and what you're going through because they've had first-hand experiences themselves."
CCK first opened its doors in 2008 as a place where children living with life-threatening illnesses and their families could come free of charge to have fun without worry of everyday struggles.
In just 10 years, CCK has served more than 30,000 children and their families from 45 states and 10 countries, said Sarah Keltner, director of communications and special events.
CCK hosts more traditional summer camp programs beginning in June and family weekend retreats beginning in September. Summer camp programs can serve up to 128 kids per week, ages seven to 16. Family weekend retreats can serve up to 32 families, with a member of the immediate family, ages five to 17, diagnosed with the illness served.
Keltner said family weekend retreats are a unique experience as the entire family unit, including siblings, gets to take part in the camp.
"The family retreats offer something for each person in a family," Keltner said. "It allows Mom and Dad to take a deep breath and get to relax knowing that while their child is having fun in all these activities and areas, they have a medical team that is surrounding them at all times. If something were to happen, we have the staff here to help them out."
One of the highlights of the family weekend retreat experience is seeing parents spend quality one-on-one time with healthy siblings, Keltner said.
"A lot of times we see that siblings have to grow up far beyond their age and become young caregivers in a short period of time," Keltner said. "The brothers and sisters will get to spend quality time with their mom and dad while the caregivers take the child with the illness to different activities."
Additionally, CCK builds time into the schedule for spouses to connect.
"Every single weekend we have what's called parents' night out," Keltner said. "On Saturday night, we will have a time where parents can either go bowl together or we've set up a coffee shop in our arts and crafts center and they can just go and have coffee and spend time as a couple. A lot of these parents will tell you, 'I can't tell you the last time we had a date.'"
CCK's state-of-the-art campus includes a medical center, pool, lake, equestrian arena, bowling alley, gym, dining hall, theater and lodging.
In order to have all of these amenities, Keltner said CCK relies heavily upon volunteers, many of which are groups of students from Western Kentucky University.
"We typically have about 50 volunteers per weekend and they're mostly made up of college kids," Keltner said. "We couldn't do this without volunteers. We have a small staff here and having that volunteer support helps us offset the costs of what it would be to have to pay the salaries of additional staff members."
CCK's annual family weekend retreat for those with an asthma diagnosis was held Sept. 21-23. This also marked the first time a special group of volunteers from WKU visited CCK—the WKU men's basketball team.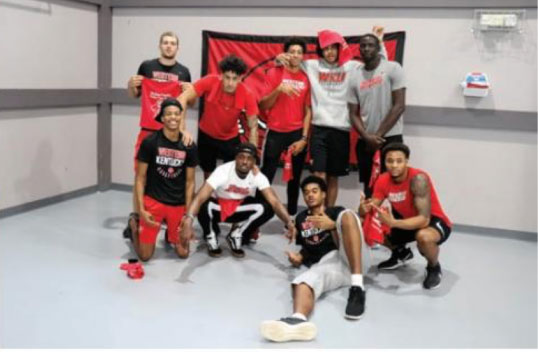 Keltner said many of the campers attending this session are unable to participate in group sports due to their asthma, so the team presence made them feel like they were in the spotlight.
"Walking around and seeing them doing the drills, lifting kids up who can't reach the goal to slam a dunk and just seeing the smiles on the guys' faces and see that they were truly invested in this experience is what we as staff members wish to see," Keltner said.
Marek Nelson, WKU sophomore forward, said he and his teammates love giving back to Bowling Green and surrounding communities and that CCK was the perfect place to do so.
"It's a beautiful facility," Nelson said. "You can really tell that they take care of these kids here and that they love the camp. People in this area really love doing stuff like this for sure and it's a great thing to be around."
Though Becca has spent 2018 as a camper one last year, she is excited to take the next step and serve as a volunteer beginning in 2019.
This past summer, Becca began training to be a CCK camp counselor.
"Since I grew up being a camper here, and then got to be a counselor-in-training for a week, it was super cool to see the behind-the-scenes activity," Becca said. "You don't get much sleep, but that's OK. It was great. I worked with a bunch of little girls and I just wanted to give them the exact same experience that I had."
Becca said CCK makes you feel like family each and every time you visit, and she wants to be a part of spreading that feeling of joy.
"This place is so welcoming and friendly and homey," Becca said. "I've never felt homesick even when I'm here away from my parents."
Becca's brother, Alex, 13, has had similar experiences as his sister.
Alex, who has been diagnosed with epilepsy and an immune deficiency, has been coming to CCK since he was just five years old. He said visiting CCK has made it easier to form friendships.
"It's one of the places where I really socialize with others," Alex said.
Brian and Courtney Collins, parents to Becca and Alex, said they are so happy their children have participated in CCK programming for an extended period of time.
"They've literally watched my kids grow up," Courtney said.
Courtney said she first learned about CCK from a friend in Atlanta from an online epilepsy group, but was nervous about the camp's distance from home. Her friend kept urging her to try it out since she had such great experiences and because it's completely free.
"I asked, 'What's the catch?'" Courtney said. "She said, 'There's no catch.' It sounded too good to be true."
Courtney and Brian now consider themselves advocates for CCK and have referred many who qualify to the camp.
"I know Disney has the phrase, but it's truly the most wonderful place on earth," Brian Collins said.