All it took was a shoulder and some momentum and the tangle of skaters was severed. The hit appeared effortless yet focused and intense, with not even a stumble from the offender as her opponent sailed out and down to the floor. The audience cringed and cheered, but the Vette City skater's target bounced right back up on her skates without so much as a wince and propeled herself back into the mass of battling skaters as the liberated Jenerator glided around the track for another point on the scoreboard.
"I like hitting things," laughs Jennifer Whittamore, aka The Jenerator, a team captain for the Vette City Roller Derby team.
No, but really.
Jennifer, church secretary by day, can land a hit you can feel in the crowd.
"It's awesome because there are some really neat people, and everybody's kind of there for the same thing. You want to have fun, you want to hang out with other women that want to have fun and like to have a little bit of that competitiveness to them. They want to work hard and they want to stay in shape, or they just need an outlet because they have stress. … That's kind of why I started. Like, 'I need something for me.' It's turned into so much more than that."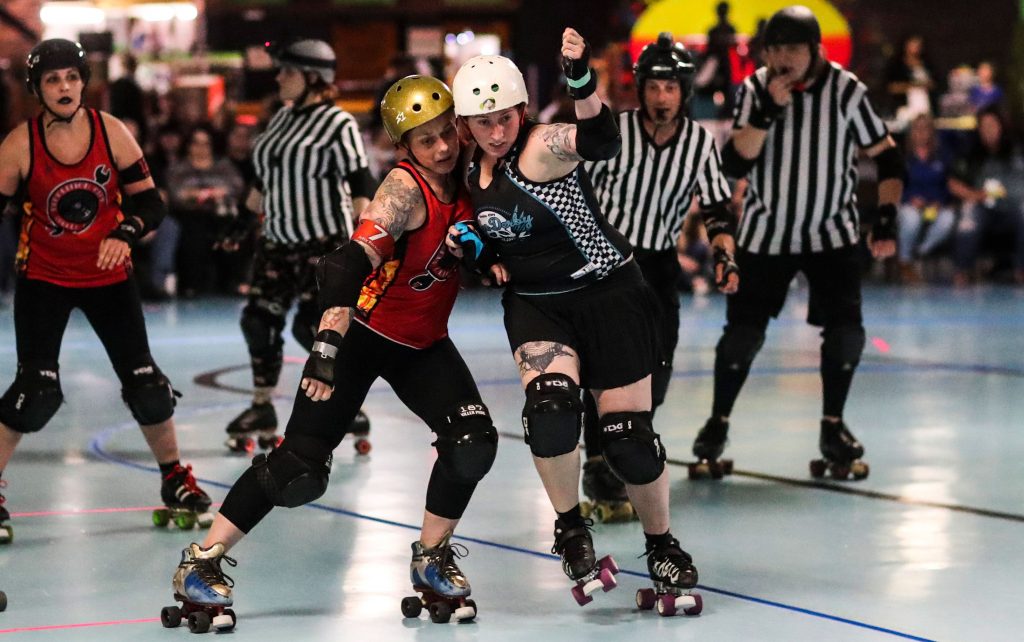 Vette City Roller Derby has been around since 2009 but is undergoing somewhat of a rebuilding phase. A couple years ago their practice and game venue, The Skate Box, came under new management, and the team found itself without a home.
"We're just trying to get our league built back up," Jennifer says. "There hadn't been roller derby for over a year, and it's tough not only to get new people to come and play, but to get fans to come to our games and stuff. It was definitely a struggle, and we're still feeling the remnants of that issue."
In the past, the league has made its mission one of giving back to the community, but after the hiatus, Vette City Roller Derby has had to focus on rebuilding in order to regain the resources to be more mission focused. But in its stash of recruitment tools, the league can boast inclusiveness, empowerment and positivity.
"The thing that's crazy about derby is roller derby is for everyone," Jennifer explains. "That's one of the things that I think speaks a lot to women that want to try it—that you don't have to be super skinny/fit/in-shape to play this sport at all. … The motto for the world organization (Women's Flat Track Derby Association) is 'Real. Strong. Revolutionary,' and it's just so fitting because we're real people, not bodybuilders. We work day jobs. We have kids or husbands or are in school, and we have struggles with our weight. We try to stay in shape. We eat good, or we don't eat good. But we are all out there just having fun."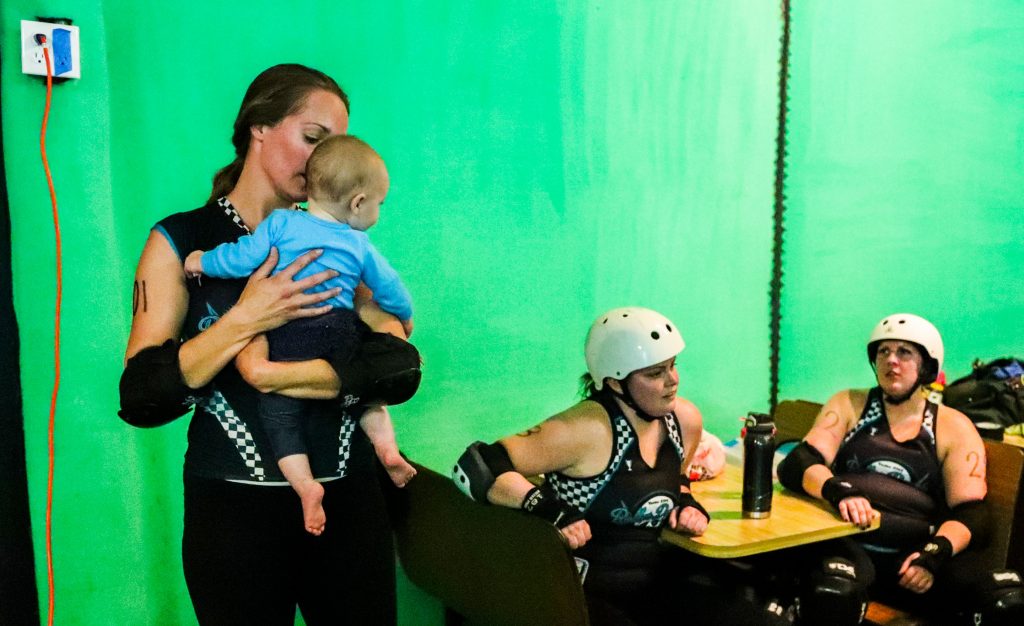 And contrary to what some may think, roller derby is even open to women who have never put on a pair of skates.
"There are people that come and literally can't even stand up with skates on their feet … . I have so much respect for the people that do that," Jennifer says, in genuine awe. "For them, especially, I can't even imagine how empowering it is to come out and be completely blank slate—'Tell me everything I need to know and I'm going to work my butt off to know it.' I tell them all the time 'If I fell as much as you fall I would've quit years ago,' but they don't. They get up, they laugh, they want to be supported and encouraged, and that's one of the best qualities about our league is we are so supportive and encouraging of everyone."
That sentiment was in action at Vette City's home opener. An enthusiastic man sporting a "Mr. Jenerator" T-shirt cheered loudly for his favorite team, yet was also the first person out of his seat to shake the other team's hands. Throughout the bout, home fans shouted "good hit" and "way to go" at the opposition.
"In roller derby at the end of games, you truly love shaking hands and to tell the person that knocked you on your butt, 'That was an awesome hit. I don't think that I've ever been hit that hard before,' and mean it" Jennifer says. "You're even supportive to other players and other leagues."
It's that atmosphere that gives roller derby a knack for bringing people together from all walks of life.
"There are no two people alike," Jennifer says about the team. "There's everything from your full-time working parents of multiple kids to your 22-year-old college student that doesn't have a care in the world and everything in between. … Without derby I never would have met these people. I don't have really anything in common with any of them except roller derby, but it's a really strong thing to have in common with someone."
Vette City is back in action at The Skate Center, 506 Three Springs Road, celebrating a decisive 91-54 win in its home opener April 29 against Demolition City of Evansville, Ind., and looking forward to its next home bout on June 24.
For more info, visit vettecityrollerderby.com.