A quote from the late Chuck Williams, founder of Williams-Sonoma, adorns the chalkboard in Brie Golliher's kitchen.
"If you love what you do, then the world will fall in love with you."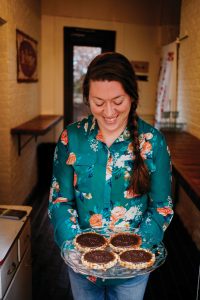 Golliher, 31, is living out this quote daily with The Pie Queen of Bowling Green — her self-made business founded in 2015, baking homemade pies and other sweet treats straight from the kitchen of Boyce General Store.
"Baking is my therapy," Golliher will tell you without hesitation.
From Easy Bake Oven experiments as a little girl, graduating to cake pops in her 20s, Golliher settled on pies after purchasing Boyce General Store with her husband Brad — who coined the moniker "The Pie Queen" — in 2012.
Brie describes the endeavor of purchasing the store as "crazy" at times. The couple was in the midst of purchasing a home with two small children in tow.
Unhappy with his corporate job in advertising and graphic design, Brad, 33, was looking for a new creative outlet. For the Bowling Green, Ky., native, the purchase of the store couldn't have come at a better time.
"Neither one of us had any background in food," said Brie, a WKU photojournalism alumna. "I've loved to bake my whole life, but that's the extent of it. We wanted something that would be based around the community that we would raise our kids in — something that wasn't your typical business."
Brie, a Boyce, Ky., native, grew up just a mile down the road from the store. Her sons — Brady, 9, and Bryce, 6, — are the fifth generation of her family to be raised in Boyce, a small community 15 miles outside Bowling Green.
The store, built in 1869, is adorned with antique mason jars, vintage white bowls and thrifted Corelle dinnerware. Brie's Coca-Cola crate, pitcher and cake stand collections are also on display. A side door leads out to a covered porch, complete with picnic tables and string lights.
The case to the right of the register is reserved for The Pie Queen's creations.
"Pie wasn't always my go-to," Brie said. "Pies are a lot more forgiving than cake, and I felt like a country store needed pie. So, I started making pies and everybody really liked them. People started coming out to the store just for dessert."
As the popularity of her pies soared, Brie opened a Pie Queen storefront in downtown Bowling Green. Though business was great, she had to make the tough decision to move her operation back to Boyce.
"People look at me like I'm crazy when I say it was going too well," she said. "I couldn't bake enough to not sell out, and I was working way too much … My heart wasn't into driving to Bowling Green every day and working 14-hour days seven days a week."
At the store, aside from slices, Brie typically has whole chocolate meringue and coconut cream pies ready in the cooler to be sold. When prepping her pies, she can be found in a state of intense focus.
"If boss lady has her headphones on, stand clear," she said. "Either I'm listening to '90s music or I'm playing re-runs of 'Friends' because I know all the words and I know all the voices."
On top of pie, Boyce General Store serves breakfast and lunch Tuesday through Saturday and hosts its weekly Fish FryDay on Friday evenings.
"It's a good problem, but we've had a lot of growing pains," Brie said. "We serve 300 people on a Friday night, but there's only 30 seats (in the dining room)."
The couple plans to eventually build an addition to the store that's under roof so as not to lose FryDay customers in the winter.
The reason why the masses come to Boyce on a Friday night? A simple one.
"People come out here to hang out and enjoy their family  — to step back into the past," Brie said.
It's that same feeling of nostalgia, she said, that also makes customers keep coming back. Her favorite compliment to receive is one that compares her desserts to someone's grandmother's.
In fact, some of Brie's recipes come straight from grandmothers that are a part of her life. Her pecan pie is her Grandma Sue's recipe, and her oatmeal cream pies contain the cookie recipe from her friend Bob's grandmother, Rayma.
"That's probably why pecan pie minis are so popular, too," Brie said, "My dad thinks of the little packaged pecan pies by the register from when he was younger."
The Pie Queen's best-selling item is her no-bake cookies — also the first recipe she remembers baking alongside her mother. Brie said this is the recipe she is asked to share the most, so it was the first recipe she shared on her blog, which launched Aug. 4.
While Brie shares approachable recipes everyone can make on her blog, her no-bakes can be quite finicky.
"No-bakes is probably the most difficult recipe I have on the blog," she said. "I've only ever had two employees that could make the recipe. I don't really know the secret except repetition."
Brad said his wife's diligence and love for her craft shows in the quality and quantity of her work.
"This is her thing — this is what she loves to do, so she's here a lot," Brad said. "And she's a perfectionist. She probably puts in a lot more hours than she needs to."
On a typical Tuesday, Brie said she is scooping out at least 600 of the no-bake cookies.
"It's one of those things you can't rush, and a lot of people get antsy or they turn the heat up too hot," she said. "A lot of it also depends on the weather. If there's too much humidity in the air, they won't set."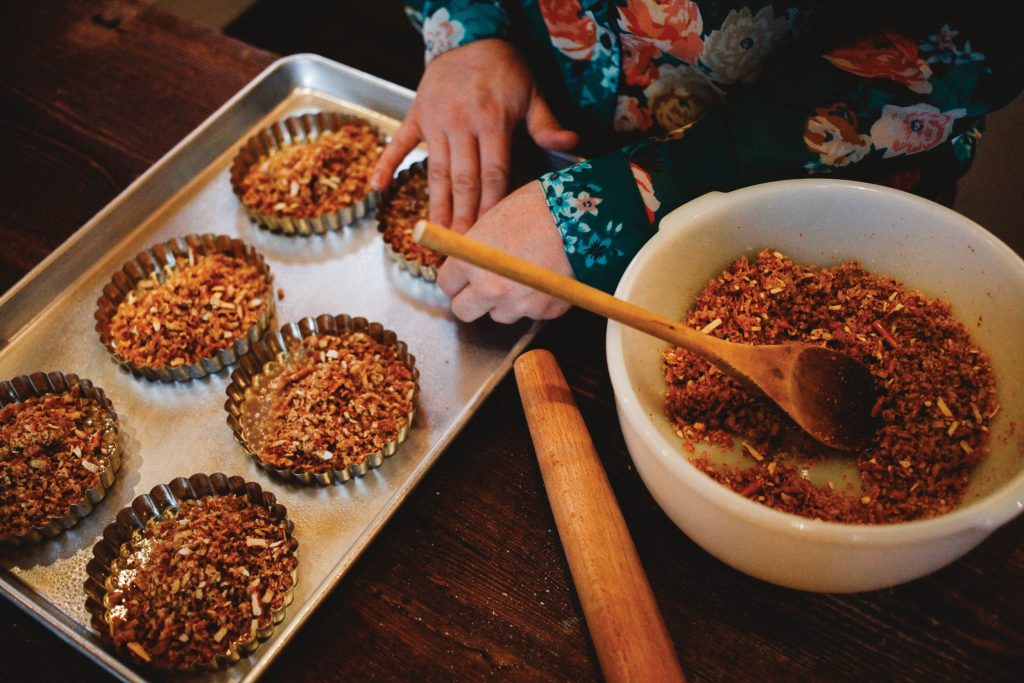 Not just for Bowling Green and surrounding communities, Brie's mini pie, cookie and sandwich creations can be ordered online and shipped, thanks to a recently-launched website.
The Pie Queen products can be purchased at Boyce General Store, Topper Corner, local Houchens Markets, Whole Foods in Lexington, Baxter's Coffee in Somerset and once per quarter at the Bowling Green Community Farmers Market. To learn more about The Pie Queen and Boyce General Store, visit burgerandpies.com.
The website is a part of the Gollihers' vision to see The Pie Queen and Boyce brands develop further in the retail world.
"In my mind, that is where I would like to see things go," Brad said. "Having more items available to people, whether it's a barbecue rub, catfish batter or Brie's tartar sauce or pie mixes."
The new website also allows for pie pre-orders ahead of the holidays. The first order came in within five minutes of the feature's launch, Brad said.
Brie suggests at least one week's notice to turn around catering at an event."Christmas is pretty much a month-long event," she said. "We do a lot of Christmas parties and holiday events."
In all of the season's busyness, Brie reminds herself to take a step back and see how far she and Brad have come.
"I've definitely been blessed," she said. "As long as your heart is in it for the love of it, then you'll
be fine."