Thousands of commuters blow past a nondescript building on Nashville Road daily, most likely oblivious to the innovative business ideas growing inside. The building, known to long-time residents as the "old mall," has for the last 13 years found new life as the Western Kentucky University Small Business Accelerator.
The Small Business Accelerator serves as an incubator—nurturing new and small businesses by helping them survive and grow through the difficult and vulnerable early stages of development. Twenty-three businesses are housed in the facility, and others have graduated and moved into their own facilities since the Accelerator opened.
"We want to create and support a growth-forward entrepreneurial community," said Jeff Hook, director of the Center for Research and Development in which the Accelerator is housed. "And we work to establish strategic partnerships to support our clients by leveraging key local, regional and state business development resources."
The Accelerator provides business with a cost-controlled, professional environment, offering high-end office and light manufacturing space, along with shared resources like conference rooms and copy machines; a mentor network of experienced entrepreneurs and connections to potential capital investors and community partners. The Accelerator also provides business development consulting, as well as training and professional development opportunities.
"We put processes and tools in place that the entrepreneur can leverage to build and grow their business," Hook said. "Our goal is to create an entrepreneurial ecosystem designed to support their needs. We are very much customer-focussed. Our job is to deliver real value to our customer, and we are constantly looking to expand our value proposition."
Hook said potential clients can come to him with nothing more than an idea—and staff within the Accelerator help them develop a business plan and get that idea off the ground. There is one criteria for seeking the incubator's assistance though—the business must be looking to expand into national and/or international markets.
Commuters whizzing past might be surprised to learn the Accelerator is home to 23 businesses in a wide range of fields—from marketing firms and light manufacturing to cyber security. The Accelerator has expanded four times since its inception, growing from 13,000 square feet to 45,000 square feet.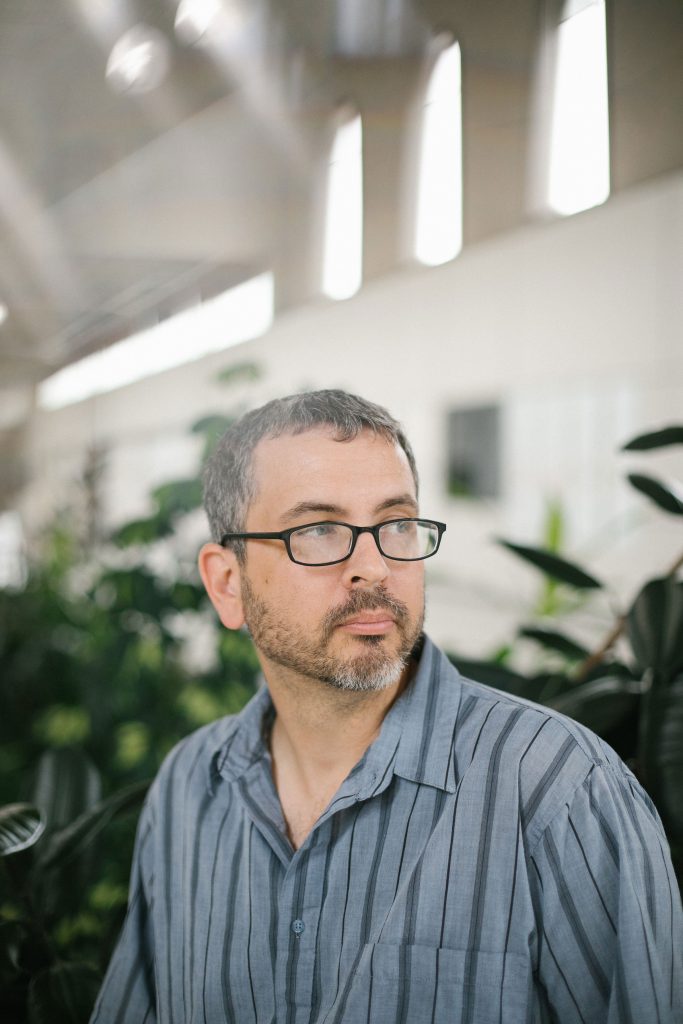 Among its tenants is Blake-Philips, a company comprised of a team of cyber security specialists who worked together for an electronic warfare company housed in the Accelerator almost 10 years ago. That company provided live network defense for the Department of Defense, and eventually graduated from the Accelerator program and moved its headquarters out of the facility. But a team of its employees—John Gilbert, Kellen Kapelis and Jim Ettinger—recognized the business potential of offering a similar "human in the loop" network monitoring service for small and medium-sized manufacturing companies. Thus, Blake-Philips was formed. When the company began in 2016, the men worked out of their homes. By January 2018, their business had outgrown the work-from-home model and was in need of office space and a solid plan for developing and expanding the business.
The trio shopped around town for office space, but chose to come back to the Small Business Accelerator that had helped their former employer get off the ground and grow.
Gilbert said that decision helped the business cut down on startup costs, allowing the company to grow at a faster rate than it probably would have without the resources the Accelerator provides.
"Our company is growing rapidly and is expanding into Virginia and Ohio with plans to expand into Indiana in the near future."
Kalepis said the Accelerator's association with WKU is another added benefit.
"When we have specific needs, we can work with WKU interns and pull in that talent," he said.
The company specializes in network defense, cyber assessments, penetration testing and security policy for small to medium-sized manufacturers.
"Corporate espionage is a big thing," Gilbert said. "People from all over the world are trying to hack into their network, and manufacturers and other companies are struggling to protect their intellectual property. Our analyst trained in the Air Force, and we've all worked for Army Research Labs. Now, we're bringing that service to a company with a (computer numerical control) machine so that no one steals their trade secrets, and we're scaling that service to keep the cost low for our clients."
Although most companies have anti-virus software, Kapelis likened software to building a fence around your important information. The fence works great—but fails if someone cuts a hole in it. Blake-Philips, on the other hand, works similarly to a security guard—constantly walking the perimeter to ensure the fence is in working order and quickly fixing and reporting any breaches.
"So long as the human brain is the most complex and adapted machine, a human in the loop is the best way to protect your network security," Gilbert said.
Sometimes a hacking threat to a company's network security will call for the help of another Small Business Accelerator client—Millstone Labs, LLC. Millstone offers professional data recovery and cyber forensic analysis for private and government organizations in law enforcement. Blake-Philips will sometimes use Millstone Labs to recover deleted data or research the source of a hack attempt.
Gilbert said such networking relationships are a key component to the program. It was especially helpful as the three were turning their idea into a real business proposition. The Accelerator connects clients to the Small Business Development Center and Center for Research and Development—which are also housed within the Accelerator. Hook said the Bowling Green Area Chamber of Commerce was another important strategic partner.
"When you are starting a new business, there is a lot of back office work you need to do," Kapelis said. "It's helpful to have someone knowledgeable to answer all your questions. Miller (Slaughter) and the SBDC were invaluable."
The Accelerator has graduated several successful companies from its program, including one of its first tenants—Bluegrass Supply Chain Services. John Higgins founded the supply chain company in 2002 and Bluegrass Dedicated in 2010, leveraging resources provided by the Accelerator. The combined companies are now worth more than $45 million and employ over 650 team members with multiple locations in Kentucky, Tennessee, Indiana, Alabama and South Carolina.
RavenEye is another example of an Accelerator graduate. This information security consulting company has locations in Bowling Green and Tampa, Fla. RavenEye is one of only about 30 companies recognized by Visa as qualified to handle security assessments for companies that do a large volume of business involving Visa transactions. RavenEye also provides vulnerability scanning, penetration testing, security risk assessments and security posture assessments.
The success of such companies is a boon to the local economy and creates tax revenue for the city and county.
"The Accelerator creates jobs and opportunities in the community," Hook said. "It's also a retention tool. The jobs created by these companies are typically high-paying, so it's creating an opportunity for our college graduates—our best and brightest—to stay in the community."
And speaking of those college students, the Accelerator has a student accelerator that provides free shared office space and resources for WKU students. The student accelerator is designed for student entrepreneurs like Robert Bowden who has used the facility to launch his vehicle customization business, Spartan 4×4.
"At any one time, we're working with 10 to 20 student entrepreneurs," Hook said. "And we're giving them the same value proposition we do our startup companies."
For more information about the Accelerator, contact Jeff Hook at [email protected].