On March 2, the Kentucky Museum hosted the 31st annual exhibit opening of the US Bank Celebration of the Arts, with over 800 in attendance. The show continues to be a strong and active presence in South Central Kentucky, serving artists and art lovers of the region.
This annual competitive art exhibition is open to all professional and amateur artists 18 and older living in Kentucky within a 65-mile radius of Bowling Green. Categories include painting, watercolor, works on paper, mixed media, fiber arts, ceramics and glass, sculpture and photography. Exhibit dates were March 3 through April 7.
"This exhibit is a wonderful opportunity for regional artists to show their artwork," said Collections Curator Sandy Staebell. "This year's show was the largest ever, with 412 pieces by 218 professional and amateur artists."
The record-breaking number of opening night attendees were welcomed by WKU President Tim Caboni.
"Through exhibits like this, we celebrate all artists in our community, the seasoned professionals as well as the fledgling amateurs," Caboni said. "And we do it in a supportive way and in an inclusive way."
In his opening remarks, Museum Director Brent Bjorkman also reflected on the importance of such events to the community.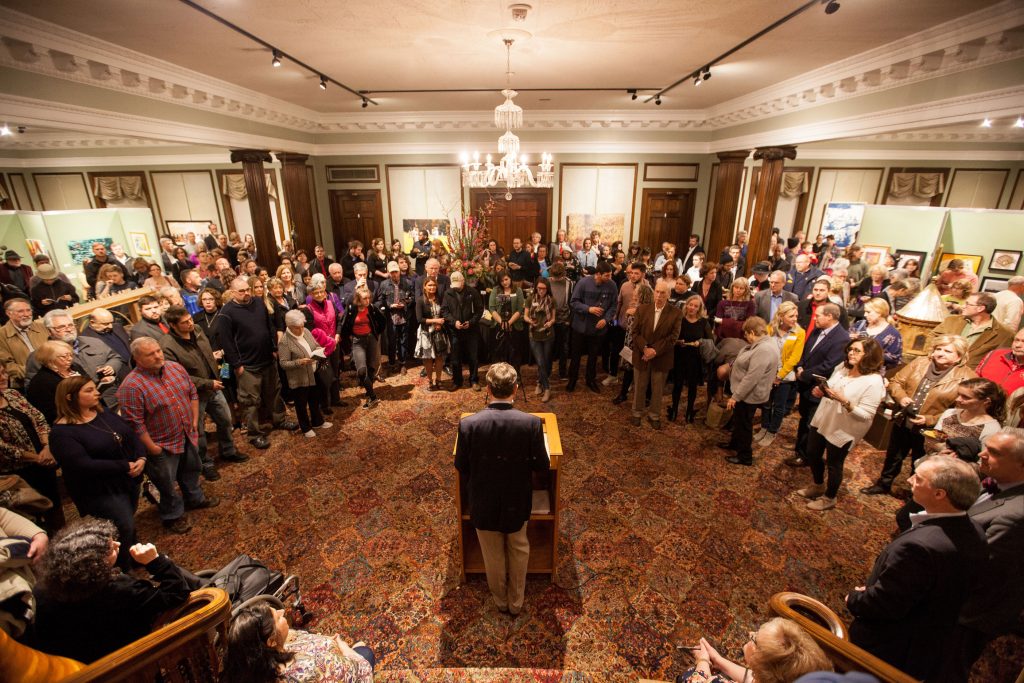 "The Museum is a place to explore and celebrate community expression and our connection to the world," he said.
Following welcoming remarks, Bjorkman and US Bank Regional President Craig Browning presented awards to artists in eight categories, as well as other special awards such as Best in Show.
During its month on display, the exhibit has been visited by a variety of campus and community audiences, including WKU art students and K-12 groups. The exhibit also was featured as part of the March 16 Bowling Green Gallery Hop.
With each year's show, many visitors are pleasantly surprised by the incredible and diverse artistic talent in our region.
"It was so amazing to see all this great local artwork in one place," said WKU Cultural Anthropology major Kelley Eads.
A testament to the continued community interest and participation in the event, US Bank Regional President Craig Browning remarked, "We're 31 years into this thing, but I honestly believe 31 years in the future, someone else will be standing here talking about the Celebration of the Arts and the 62 year history."
In addition to Celebration of the Arts, the Museum also hosted the unveiling of the HAD Artist Collective murals on the same evening. As part of WKU's International Year of Bosnia and Herzegovina, the WKU Art Department worked to bring the Bosnian HAD Artist Collective to Bowling Green. From Feb. 27 to March 1, artists from HAD created two murals in the Museum courtyard. The group's artistic process involves cutting into wall-like surfaces, creating powerful portraits—often of those lost during the Bosnian War.
To learn more about US Bank Celebration of the Arts, the HAD Artist Collective and all featured exhibits, visit wku.edu/kentuckymuseum.