Step into interior designer Liz Bradley's home and you'll be met with soft neutrals, tall ceilings and intricate molding.
But the Fountain Trace home hasn't always been so easy on the eyes. Originally built in 2000, Liz and her husband Chris purchased the home in 2017, with a hefty-sized renovation set before them. The house was marked by dated materials and a dark, late-90s color palette, but as a designer, Liz is trained to see past a home's flaws and through to its core.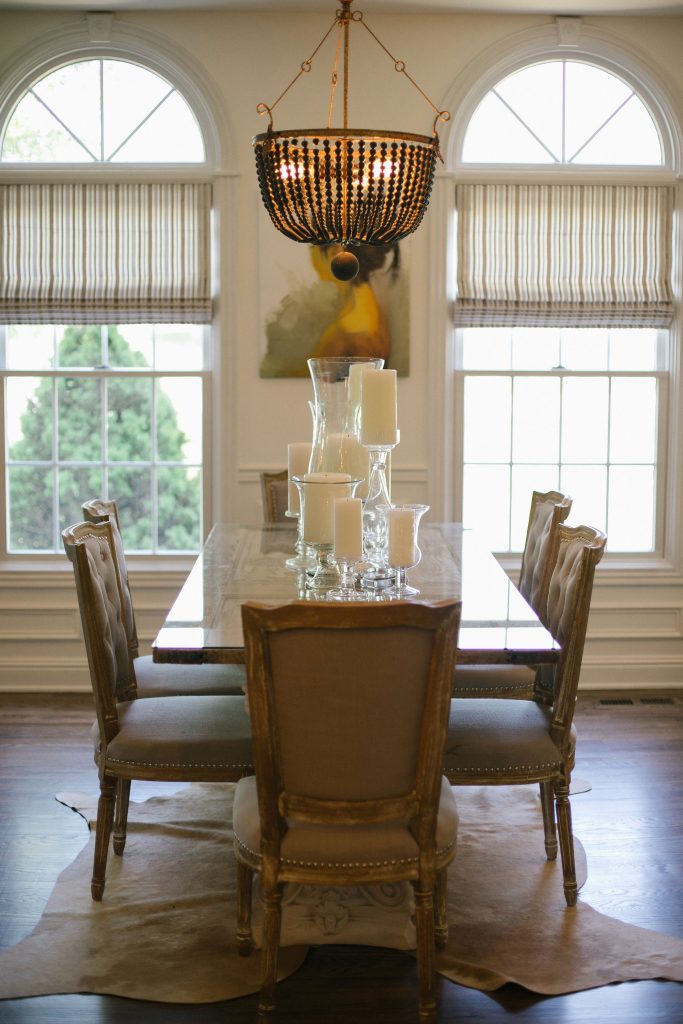 "We chose this home 24 hours after finding out that the home we had planned on buying had fallen through," she says. "It was a heart-breaking experience, and a tough decision had to be made quickly. We ended up with this one knowing that it had the bones but just needed some TLC."
The home's entrance is grand, setting the scene for the rooms to come. To the right of the foyer is Liz's office. She's the owner of three businesses, Lulu's Fine Home Furnishings and Consignments, Little Lulu's and Lulu's Interior Design, so this is the space that she naturally spends the most time.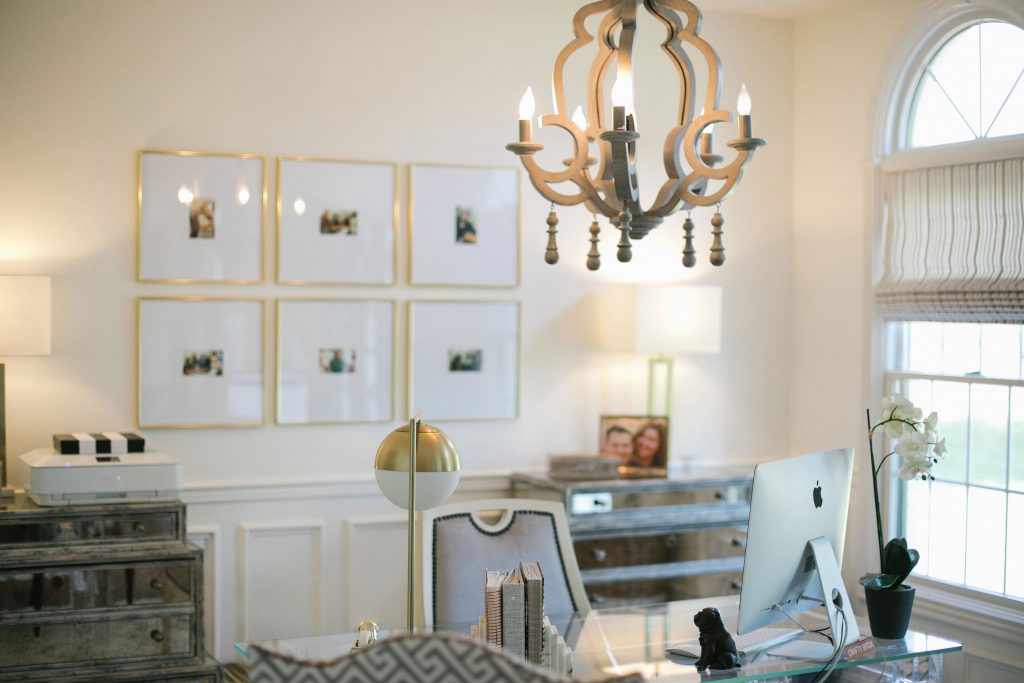 "I needed it to be a clean, crisp and calming area," Liz says. "Let's face it, when paying bills and responding to numerous emails, it's nice to have an area that is at least calming to the eye."
The walls are a simple off-white, with neat gold frames serving as the backdrop to her glass-top desk. What's most striking in the office is a stack of Martha Stewart Living magazines, which Liz has been collecting since high school. She's saved every issue and got the idea to repurpose them as a table years ago when she was newly-married and funds for a side table were limited. Now, the magazines serve as a plant stand and are a subtle nod to her humble beginnings and innate passion for design.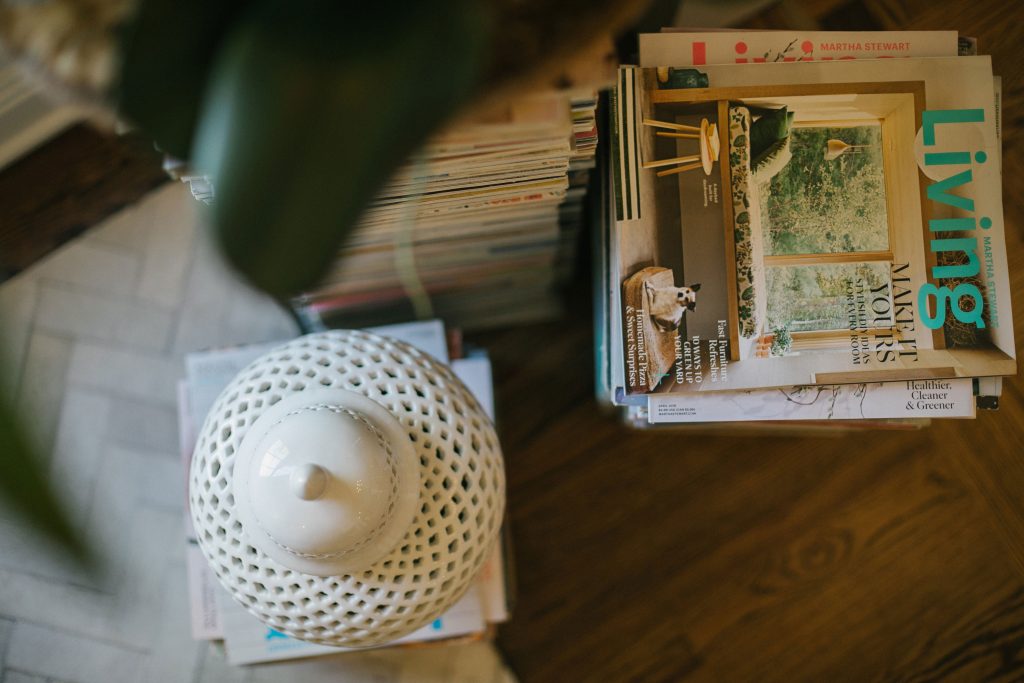 Venture deeper into the heart of the home to find the open living room and kitchen, with the perfect amount of mixed materials like grasscloth wallpaper, marble countertops, brass and glass globes, acrylic chairs and a velvet sofa. Anywhere else, this combination might seem busy, but here, it's possible because of the lack of bright colors—the materials are all neutral and fit together in harmony.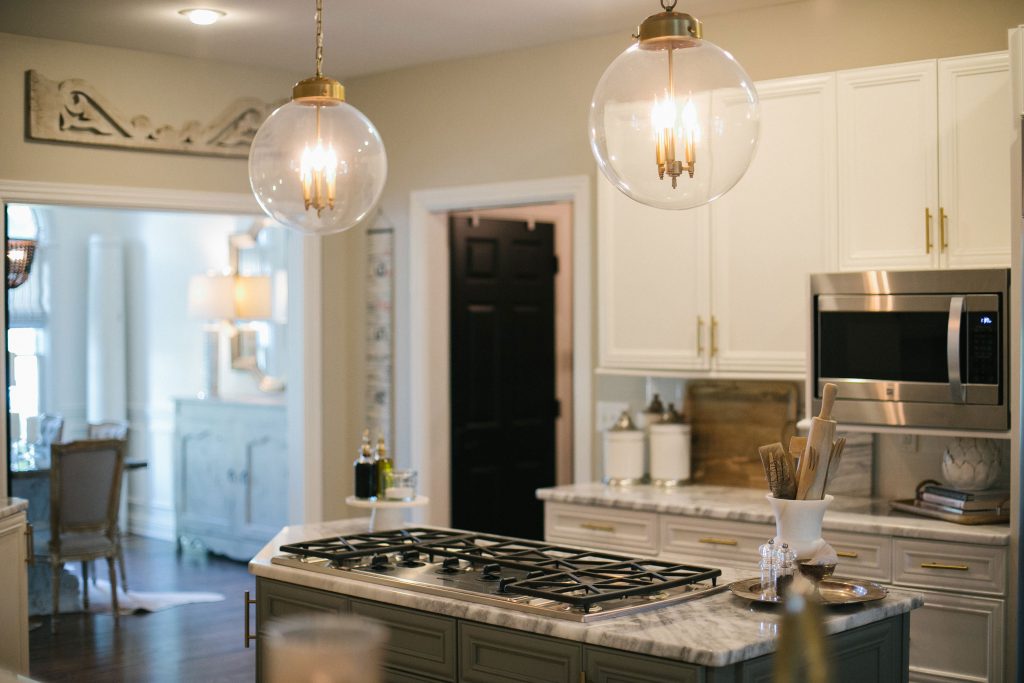 My personal style is very subtle and simple," Liz says. "I like muted colors like gray and white, and mixed materials like brass, pewter, clear acrylic and animal hides."She says she gets inspiration for her designs from Pinterest, other people's homes, nature and magazines.
"Just a single piece of furniture can inspire a whole room for me."
By far, the couple's biggest design challenge in their remodel was the floor plan for the basement.
"When we moved in, it was literally one huge area with hunter green walls and a staircase dropped in the middle," she says.
They transformed the space by adding defined living spaces like a kitchen, a bedroom with its own laundry room and en suite bathroom, living area, craft room, home gym and tons of storage.
"The space was there; it just needed to be mapped out."
Liz opened Lulu's after working at home design and gift store Werner-Lowe for several years. She said many women would come to Werner-Lowe to redecorate their homes, frustrated that there wasn't a simple way to consign high-quality decor they no longer wanted.
"I thought Lulu's would be a great way to fill that niche."
Lulu's specializes in consignment for high-end home goods, with a creative mixture of new, updated items such as lighting and chandeliers.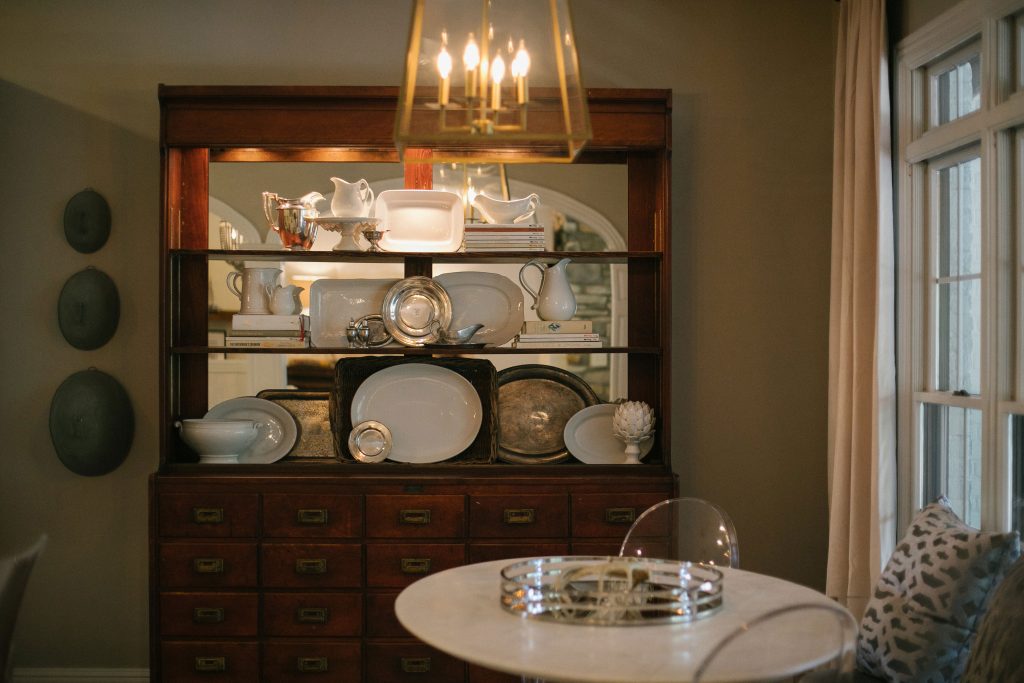 Many of the items in Liz's home are a direct reflection of her style and her store: storied pieces rich in history, paired with a sharp, modern edge. This juxtaposition is often seen in her work in the homes of others.
"The best advice I can give my clients when starting a room is to invest in the rug, the window treatments and the light fixtures," Liz says. "When you walk into a room your eye naturally scans from floor to ceiling. So, if you get those three elements right, the rest usually falls into place. Once the room is complete, I like to stand back and see if there is anything that can be or should be edited. It's like the rule of jewelry. When you're completely dressed and accessorized, stand back, look in the mirror and take one accessory off. The same goes for a room."