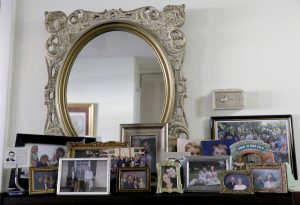 Bowling Green Retirement Village is home to only a handful of married couples. But what the local retirement home is lacking in number, it's making up for in longevity—for two couples in particular.
Meet Morris and Cecil Norman.
Morris, 92, and Cecil, 91, have been married 71 years.
Morris, a Tampa, Fla., native, met his bride, Cecil, while attending Freed-Hardeman University in Henderson, Tenn.
Cecil, who hails from Hendersonville, Tenn., said their first meeting was happenstance.
"The first night I was there, they had a get-together, and I met Morris," Cecil said. "He already had a girlfriend he had met the last year there, but she didn't come back this year. He still went to visit her, but not for long."
Morris and Cecil, who have lived in Bowling Green just over a year, quickly became a couple. In their spare time, they would play tennis. To this day, Morris still stakes his claim as the better player.
Cecil only spent one year at Freed-Hardeman. Morris would often travel from Henderson to Hendersonville by train to visit Cecil back home.
"His daddy was a railroad engineer, so he could travel when he wanted to," Cecil said. "In fact, his mother came up from Tampa to meet me to find out what I was like."
Morris said his and Cecil's courtship lasted just two years before he traveled to Cecil's parents' home to propose marriage. Cecil said "yes."
"Before I went to bed, I went upstairs and told Mom and Daddy because I couldn't try to keep that to myself all night," Cecil said. "They were already upstairs in bed and I told them. I doubt if they were happy about it."
"But it worked out," she added with a chuckle.
Soon after their marriage in 1947, the Normans took a trip to Mammoth Cave.
"When we first married, Morris knew nothing about this country up here and I didn't know much because I lived down in Tennessee, but we went to Mammoth Cave," Cecil said. "We stayed at a hotel there. One thing I remember about it is when we got up we had no idea what time it was. It was 1 o'clock in the afternoon and we were going down to breakfast. As we would meet people, we would say 'good morning,' and they had this grin on their face like they knew that's not where we'd been."
During the honeymoon phase, Morris, who studied the Bible in college, took a job as a minister in a small coal-mining town near Jasper, Ala.
"We moved to a little house on a hill," Cecil said. "It had not been well taken care of so we fixed it up the best we could."
The house, which overlooked a church, was a loving home for the Normans for almost two years. During this time, Morris preached for three different congregations at once.
"This place was really small," Cecil said. "So down the road, or across the hill, there would be another little church that needed a preacher."
With little money to spare for extravagant dates, the Normans would sometimes go to a movie here and there. But, above all, what they treasured most was time well spent.
"We just enjoyed being with one another," Cecil said.
Eventually, the Normans would become proud parents to three daughters.
The family has now expanded to include 11 grandchildren and 21 great-grandchildren.
Their advice for couples?
"Just behave yourself and be kind to each other," Cecil said.
After their stop in Alabama, the Normans moved around and traveled quite a bit due to Morris' preaching assignments. Often, Morris preached in Canada, where Cecil also taught a woman's class.
"That was just north of Niagara Falls, so we went through that area a lot," Cecil said.
"Every time we'd get back to Niagara Falls, I'd say, 'Let's stop.' He'd say, 'We've seen it.' "
"I'd say, 'I want to see it again,' " Cecil laughed.
The popularity of Niagara Falls within Bowling Green Retirement Village doesn't end with the Normans.
Meet Don and Loretta Yates.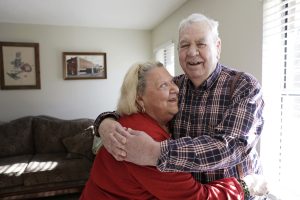 Don and Loretta, married 51 years, cite their 1977 trip to the Falls as their favorite memory with one another.
Don said the trip was unforgettable because of the beauty, but also due to a celebrity death that occurred at the same time.
"We were there when Elvis Presley died," Don said.
The Yates, both 74, said their relationship has seen many travels across the country over the years, but their relationship has its roots in their hometown of Bowling Green.
In the early 1960s, Loretta was a carhop at the Tastee-Freeze, located on the 31-W Bypass.
"I was working there and he came out," Loretta said. "Then, he got to coming more and more. He ended up staying almost."
Don said he would use any excuse he had to visit Loretta while she was working.
The pair dated for almost two years before they were married. The Yates spent their first 15 years in their first home on Butler Way.
"We had a little two-bedroom house," Loretta said. "Don sold his car. He'd just gotten this really slicked up car and sold it to pay down on the house."
The couple needed $1,400 to make a down payment.
"And $1,400 was like robbing a bank," Don said.
Don worked as a fireman for the Bowling Green Fire Department for 30 years, and Loretta was a nurse for more than 40. Their love for one another was shared with the three dogs they have had over the course of their marriage.
"We're big dog lovers," Loretta said. "We had one that lived to be 19."
Happy was a rat terrier and Chihuahua mix who had a penchant for cheese and T-bone steaks. She had a strict bedtime of 9 p.m. She frequently made her bed atop Don's fireman uniform.
"She was just precious," Loretta said.
When she died, the Yates hired a local funeral home to bury her.
"We buried her under a tree at Mama's house," Loretta said. "I put several sheets and blankets and one of his uniforms in the casket for her to lay directly on. The next morning, he wanted his badge to go to work and I thought, 'Oh Lord, did I bury that in that ground?' "
"Luckily, I found it," she added with a laugh.
Before moving to Bowling Green Retirement Village more than two years ago, the Yates enjoyed attending NASCAR races and traveling to antique stores with one another. At the retirement home, the couple has made a lot of friends. Loretta enjoys craft time and bingo, and Don likes going to the store every Wednesday. When asked the secret to a long marriage, Don will answer without hesitation.
"I told her I'd make the living if she'd make the living worthwhile," he said.
Loretta will tell you understanding goes a long way.
"It's give and take," Loretta said. "Both of you don't need to get mad at the same time. You learn that over the years."