The tension was red-hot in the MasterChef kitchen. Bright lights shone down on two hopeful home cooks as they scrambled around state-of-the-art cooking stations, working to prepare a meal that would earn them a spot on the ninth season on the popular Fox cooking show.
The cameras were rolling, and celebrity judges Gordon Ramsay, Aarón Sanchéz and Joe Bastianich stood at the front of the room, waiting to see the dishes these cooks would create. To make it to the next stage of the competition, the competitors needed at least one judge to hand them a white apron, thus agreeing to mentor them through the rest of the season.
One of these cooks was Gerron Hurt, a 25-year-old Louisville native and WKU alumnus.
With 45 minutes on the clock, Hurt grated cabbage, stirred spices in a bowl and carefully dropped chicken breasts in a deep fryer. He was preparing Nashville hot chicken with a vinaigrette-based slaw and a sweet-heat sauce. Originally his mother's recipe, it was a dish he hoped would show off his roots and set him apart from his competition.
The timer ended abruptly, and the contestants threw their hands in the air, signifying they were finished. The judges asked them to come forward and present their dishes.
Joe Bastianich took a bite of the hot chicken Hurt had prepared.
"It's good, but his dish is good too," Bastianich said, pointing to the competitor standing next to Hurt. "I want someone who really wants it."
Hurt looked at him and replied.
"I'm hungry," he said.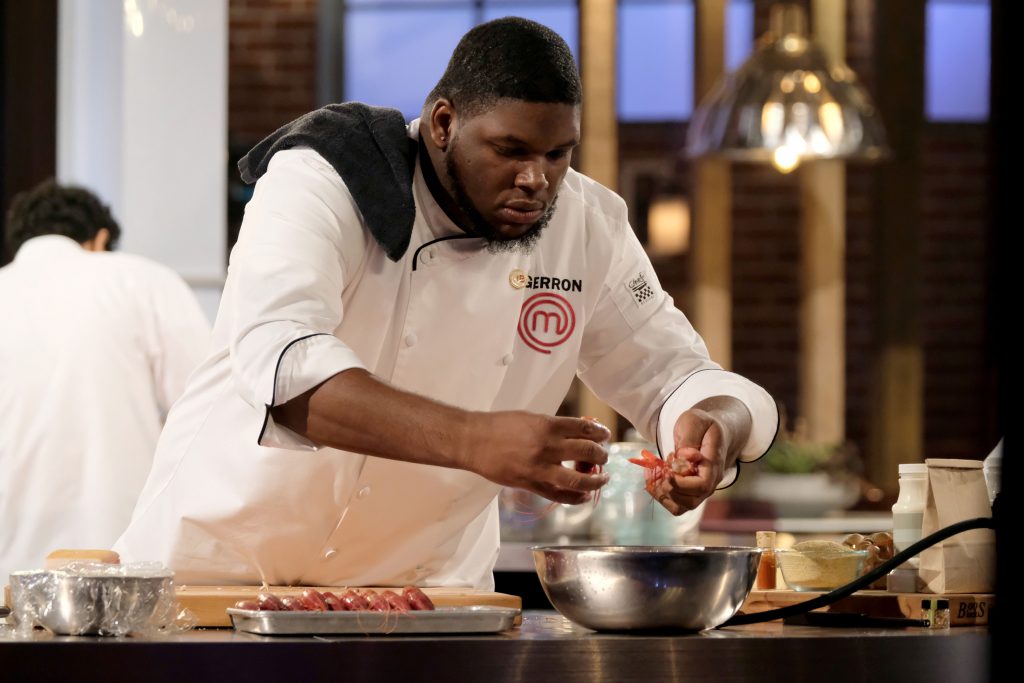 For Hurt, cooking has been a lifelong passion, but he never pictured himself making it to that point.
He began learning to cook as early as age five, simply by watching his mother and grandmother prepare meals for their large family in Louisville. He vividly remembers standing on a step stool in their family's kitchen as a child, so he could see over the countertops to watch his mother teach him basic skills, like how to stir a bowl of mashed potatoes.
"My mom taught me those fundamentals, and then I just explored, watching food shows and reading cookbooks and just different things like that," Hurt said.
Eventually, Hurt started begging his mom to let him help cook dinner, he said. Not long after, he began cooking for family gatherings, like Thanksgiving and Christmas.
"I started actually preparing dishes for those (holidays), and my family would give me good praise for those dishes, and that just encouraged me to keep going," Hurt said.
He graduated from Fern Creek High School in 2011 and went onto Western Kentucky University, where he double-majored in social studies and history.
As a college student, Hurt continued to prepare meals, impressing those around him.
To this day, his fiancée, Brandi Beckham, remembers the first meal Hurt prepared for her when they started dating as WKU students. It was grilled chicken, pasta salad with feta cheese and vegetables and broccoli topped with parmesan shavings—all prepared in Hurt's small college apartment.
Beckham said she was immediately impressed.
"I just thought to myself, 'There's no way,'" she said. "There's no freakin' way he just made this."
In the middle of Hurt's college career, however, tragedy struck, and his hobby of cooking began to take on a whole new level of importance.
His mother, Michelle, the woman who'd inspired him to begin cooking before he could even see above the countertops, passed away. At the time, Hurt was only a sophomore in college.
In the years of mourning that followed her loss, Hurt realized something had shifted.
"Once she died, the torch was passed to me," Hurt said. "For every holiday, when I go home, it is my responsibility to cook, and it brings my family together."
Hurt and Beckham now live in Nashville, where they work as high school and middle school teachers, respectively, and they plan to be married next summer. Hurt's seven siblings have also all grown up and started living their own, separate lives. However, his cooking still helps reunite the family, Hurt said.
"I'm just that person that really just brings everybody back together," Hurt said.
It's times like these that remind his grandmother, Elizabeth Caples, of the good old days, when she and Hurt's mother stood in the kitchen, helping him learn the basics and develop the cooking skills he would one day take to the MasterChef kitchen.
"He never forgets where his beginnings started," Caples said of her grandson. "He always comes back whenever he can get a chance. He always comes back to my house, and it's just like old times when he comes back."
***
Despite the years he's spent honing his cooking skills, Hurt said he didn't really watch MasterChef—and he certainly never considered auditioning—until early one October morning when he and Beckham were getting ready for work.
"One morning, we were watching the news, and I seen MasterChef was coming to Nashville," Beckham said. "He was just going about his day, and I was just like, 'No, come here. Stop. I need you to stop for a second.'"
Together, they watched the segment, which announced that the producers of MasterChef would be hosting preliminary, open-call auditions for the next season of the show that Saturday at the Hilton in downtown Nashville.
"I really think you should go," Beckham remembers saying to Hurt.
Hurt said he didn't even consider it at first.
"I laughed," he said. "I'm like, 'Nah, babe. You're tripping. I'm not going to that. I wouldn't waste my time.'"
But the rest of the week, Beckham kept reminding Hurt of the audition. She went out of town for the weekend, but when Saturday morning rolled around, she called him and encouraged him to go.
Hurt figured he might as well give it a shot.
He went to the open-call audition, where he was one of thousands vying for a spot on the show, he said. He remembers being told the producers would contact him if they wanted him to be part of the upcoming season, but he didn't really expect that to happen.
Months passed, and he still hadn't heard anything from the MasterChef producers, so he went about his day-to-day life and didn't really stop to think about it that much.
It wasn't until February, when he got a phone call from a California number, that things started to change.
"I thought it was a bill collector or something, so I'm like, I'm not going to answer this," Hurt said.
But for some reason, he decided to take the call—and he was glad he did.
It was the MasterChef producers, asking him to come to Los Angeles for the next stage of the competition—a televised audition in front of Gordon Ramsay, Aarón Sanchéz and Joe Bastianich.
"I just had to drop everything," Hurt said. "You don't really have much of an option. It's either you go or you don't, and I had to go. I went and talked to my boss and got a leave of absence, and they allowed me to leave."
***
At the televised audition in Los Angeles, Hurt waited anxiously to hear feedback from the judges.
After tasting the hot chicken and vinaigrette slaw Hurt had prepared, judge Joe Bastianich stepped forward again and turned to Hurt.
"What I like about you is you have the hunger," Bastianich said, handing Hurt a white MasterChef apron. This signified Hurt would be moving onto the next round of the competition—and just like that, he became one of the top 24 cooks on season nine of MasterChef.
Hurt's family and friends were waiting anxiously for him right outside. He walked through the door with a wide smile on his face and wrapped Beckham in a hug.
"Today is the best day of my life," Hurt said, celebrating with Beckham and his small group of supporters. "I'm on cloud nine. I'm speechless. Nothing can take me down right now."
Early on in the season, Hurt seemed to exude this kind of natural confidence.
"My food is going to be the best food that Gordon Ramsey has ever tasted, so I expect nothing less than an A+," he said in a voiceover on one episode.
In reality, however, Hurt said he was initially very nervous to be there, and at certain points, it started to show.
"I was actually so nervous at the beginning that I cut myself," Hurt said later, reflecting on his audition episode. "If you look at the frames, you'll notice that my hands are clean, and then all of a sudden, I have a bandage on my hand. I was chopping cabbage and cut myself, so I was nervous."
As the season began to progress, Hurt didn't seem to receive much attention from the judges. But episode after episode, he advanced to the next round of the competition, preparing dishes he hoped would impress the judges.
Hurt's first real moment to shine came 15 episodes in when he wowed the judges with a special family recipe.
The contestants had each been given a random ingredient to use in creating a signature dish. Hurt received an ingredient with which he was quite familiar: peaches.
In that moment, he remembered a dish his grandmother, Elizabeth Caples, made often when he and his siblings were growing up, and he tried to replicate it. What resulted was a peach bread pudding baked in a cast iron skillet and topped with pecans and whipped cream.
It was a dessert that seemed symbolic of who Hurt described himself to be—"a southern, family-oriented, pretty simple guy"—yet it garnered him significant attention
"I can taste home in this dish," Bastianich said to Hurt after taking a bite. "I can taste your grandmother's kitchen."
Hurt thanked him for the compliment.
"No, thank you for bringing a piece of who you are, coming out as a real contender," Bastianich said. "Amazing job."
The other judges gave Hurt similar praise, cementing his peach bread pudding as the best dish prepared on that episode.
The night the episode aired, the woman who inspired the dish, Hurt's grandmother, was watching. That her grandson would remember her dessert and replicate it on national television was special, she said.
"When he mentioned me, that was just—that was just a real tear-jerker," Caples said.
Hurt said it meant a lot to him, too.
"It was truly, truly amazing, and it really made me feel like all the studying and all the hard work and all the feedback and everything that they've been telling me is all meaningful," Hurt said. "It's all worthwhile, and it's really showing in my skills and abilities in the kitchen."
As the season progressed, Hurt continued to develop and improve his cooking skills. He wanted to win, but for him, it wasn't just about making a name for himself. It was about providing a similar opportunity for others.
"Growing up in a rough neighborhood, cooking for me was a way out, and that's exactly the opportunity I want to provide for my students," Hurt said on the show.
The winner of MasterChef walks away with $250,000, their own cookbook and other honors. Early in the season, Hurt said if he won, he would use the money to start a culinary program at the high school where he teaches in Nashville.
The culinary program, he said, would provide his students with the opportunity to learn the fundamentals of cooking and food preparation at school. This would enable them to cook for themselves and their families or even continue on to culinary school or positions in restaurant management.
"I want to be able to provide that opportunity and that outlet for kids to be successful," Hurt said.
Doing so would also provide Hurt with the opportunity to continue doing what he loves—teaching and cooking.
"Once I got a chance to mentor kids and just see how much of a difference and impact I could make, I fell in love with teaching, and so I don't want to leave the classroom altogether …" he said. "I would just like to merge the two, you know, so I can really live in my two passions and just really provide those life-changing opportunities for kids."
***
For Hurt, it all came down to the final episode.
As he continued to progress throughout the season, he was eventually named one of the top three contestants, earning himself a spot on the season finale.
When that final episode aired, audiences could once again feel the red-hot tension that had been present at the very beginning, when Hurt stood in the MasterChef kitchen in front of the judges for the very first time.
For him, this moment was the culmination of a journey.
"I came to MasterChef to pursue a dream," Hurt said on the finale episode. "Now, I got the passion and the skill. I have to take this title home. I want it more than anything. This is my destiny, and I've come too far to walk home empty-handed.
After a long, drawn-out pause, judge Gordon Ramsay announced the victor.
Hurt had won the competition.
Celebration erupted all around Hurt, and his face once again appeared on the screen.
"I'm the next MasterChef, baby!" he said, celebrating with a wide smile stretched out across his face.
As he celebrated, however, he didn't forget his roots.
"I wish my mom was here in the flesh," Hurt said, remembering her. "Everything that I put out on a plate was a representation of me, home, my family, and I really feel like I did my mom proud tonight."
Hurt didn't just celebrate what the win meant for him; he celebrated it for his students, too, saying this would enable him to start the culinary program he'd dreamed of for his students.
Hurt also plans to travel the country this summer, along with his final two competitors, for Camp MasterChef, a summer cooking program for students ages eight to 16, according to a press release.
As the confetti continued to fall on the season finale, Bastianich walked over to Hurt, and together, they celebrated.
"Believe me when I say that I am honored to be your mentor and your friend," Bastianich said, putting a hand on Hurt's shoulder.
Hurt replied.
"Thank you for giving me a chance at the beginning, when no one else saw me."