372.2
To anyone else it's just a handwritten number roughly tattooed on a wrist, but to Melanie Autin, it's a daily reminder of a difficult four year journey. 
Growing up in Mandeville, La., a small suburb of New Orleans, Melanie lived a seemingly average childhood, with loving parents and pestering siblings who raised her with the passion for great conversation over a great meal. The youngest of four children, Melanie, now 39, was not encouraged to make wise food choices and healthy habits. "I was an extremely picky kid," she said. "My mom would take me to McDonald's almost every morning before kindergarten." This quickly led Melanie to become overweight at a young age. "I accepted I was the way I was. Why bother?" Melanie proclaimed. "So I ignored the weight and focused on school. I wanted to be known as the smart girl, not the fat girl." 
So Melanie focused on her education, leading her to study at Louisiana State University. During a weekend away to an amusement park in Texas, Melanie would have an experience that is still imprinted in her memories. As she mentally prepared herself to ride a rollercoaster and settled in the seat, she was turned away by an attendant because he could not close the seat restraints. As Melanie walked off the platform to wait for her friends, she pretended not to be upset, but deep down was devastated. This only pushed Melanie into deeper denial about her weight. For years she would battle with even more unhealthy eating habits, and avoiding the scales and doctor visits, just to dodge the reality of her obesity. 
Melanie would eventually attend graduate school at the University of South Carolina before moving to Bowling Green, Ky. in 2007, to accept a position as an Assistant Professor of Statistics at Western Kentucky University. In 2010, Melanie was asked by a friend to be a bridesmaid in her wedding. Afraid her friend would be embarrassed to have her stand beside her on her special day, Melanie kicked the one habit that she has maintained to this day – cutting out soft drinks. Eventually, still afraid her size would be a distraction and embarrassment, Melanie regretfully backed out of the wedding, sending her spiraling into overindulgent behaviors. 
Melanie's eyes would be opened to the unimaginable damage she had done to her body following her father's massive heart attack in late 2007 and his passing due to heart failure in 2014. For years she didn't care what she put into it, as long as she was satisfied. But the problem was, she wasn't. She worried about not seeing her nephew, who was born in 2012, grow up. So she began a program with Weight Watchers offered by Western Kentucky University, in an effort to influence healthier lifestyles among their employees, and provide them lower insurance premiums. At her first weigh-in, in February 2015, Melanie tipped the scales at 372.2 pounds, her highest ever recorded weight.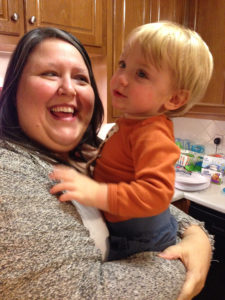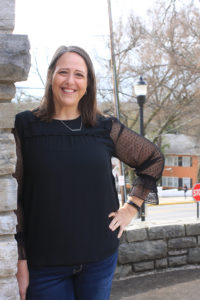 "I'm not one to give a half-hearted effort when I take on a project," Melanie stated. "So I jumped right in to the program that was being offered with full force." Weight Watchers offered Melanie something she hadn't been able to find before – consistency. Having a team of individuals set out on the same goal path helped Melanie focus on her newly adopted habits. On the program, she quickly dropped a few pounds, but still found the weigh-ins intimidating, so she shifted her focus to "personal goals." At first, Melanie would walk to her mailbox five houses down, instead of stopping the car on her way in from work. She then upped her routine to walking daily through her neighborhood, but was still mentally not ready for "exercise". 
It took Melanie some time to change her mentality and create long-lasting habits. She switched to Weight Watchers online because of what she calls "scale addiction" or the pressure of seeing if your numbers went up or down at weigh-in. She kept with the same concept – take out the bad stuff, and replace it with the good. She also focused on "non-scale victories" to celebrate how far she had come in her journey. "I remember the first time I was on a flight and didn't have to ask the flight attendant for a belt extender, or the time I could put the tray table down." Melanie proudly exclaimed. To most people simple tasks don't seem like much, but to Melanie, who had never experienced them, they raised her confidence and gave her the boost she needed to continue on her healthy path.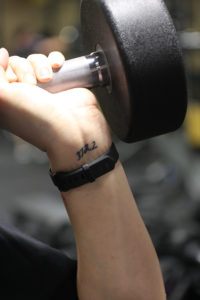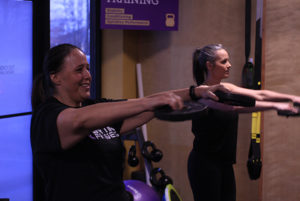 In two years Melanie lost an astounding 150 pounds, but she was determined to keep going and in 2016 she excitedly conquered that rollercoaster she remembers so vividly. Early 2017, she overcame her fear of gyms and joined Anytime Fitness at the urging of a friend. There she cultivated relationships with members that would become her biggest cheerleaders. "I'm still weirded out a bit by my love for the gym," she joked. "But the relationships I've built are important, we push each other to be better versions of ourselves in and out of the gym." These friendship drove Melanie to work out every day after work. In the summer of 2018, Holly Fennell convinced Melanie to enroll in a "leg challenge" put on by the gym. She was hesitant but gladly accepted. This challenge gave Melanie the focus and drive to develop a weightlifting plan, as well as a partner that will hold her accountable. That first year at Anytime Fitness Melanie shed another 32 pounds. "I still avoid the scales because I don't want the number to be my focus, I want the small personal victories to be my goal," she proclaims. 
Ultimately Melanie doesn't have an end goal. "I can't set one because I know there will be slip ups," she confesses. "I don't want them to be a big deal. I want to focus on the positive and make long-term habits." Her intense determination to better herself at home and at the gym propelled her to the top of the Ultimate Workout Warriors list at Anytime Fitness with 347 total workouts for 2018, an achievement she never aspired to pursue but found it enjoyable to challenge her new gym family to some friendly competition. 
Melanie hopes her story will inspire others that are where she's been, and where she's still going. "Don't feel like what worked for me will work for everyone else. You have to find something that you enjoy and works for your life and not worry about what other people are doing," she suggested. She encourages everyone to: start with small personal goals; find something and somewhere you enjoy; realize it's long term and sustain your passion; and speak things into existence.