Most people wouldn't venture to guess bodybuilding and competitive eating could go hand in hand. 
But most people aren't Bartley Weaver, a 30-year-old competitive bodybuilder and food challenge contender. 
"People find it extremely amusing that I go from one extreme to the other," Weaver said. 
By profession, the Cave City, Ky. native, is a trooper with the Kentucky State Police. In his spare time, you can find him in the gym training or at a restaurant eating. 
Weaver recently finished a training cycle for his second run at The Arnold Sports Festival in Columbus, Ohio, the first weekend in March. 
The multi-sport festival, which is home to the second-largest competitive bodybuilding stage in the world, hosted over 22,000 athletes from more than 60 countries in 80 events. 
"It was a crazy, crazy weekend," Weaver said. 
His training leading up to the event could possibly be described as even crazier. 
On duty with KSP in August 2018, Weaver tore his right hamstring while chasing a suspect on a foot pursuit. In addition to taking off work for a few months to recover, Weaver also had to take a break from his usual training routine. 
"I was determined to turn that negative into a positive," Weaver said. "I wanted to motivate and inspire others through my comeback." 
Once Weaver completed physical therapy for his torn hamstring, he immediately started his preparations for The Arnold. In total, he needed to lose 42.5 pounds to make weight for his bodybuilding class. To qualify for the classic physique division at 6 feet tall, Weaver could not weigh more than 220 pounds. 
In the end, Weaver had 10 pounds to lose in just seven days before the classic physique weigh-in at The Arnold. For his official weigh-in, Weaver had to come fasted, having had no food and no water for several hours prior. 
But it was all worth it, he said. 
"I'm pretty sure it's the best I've ever looked," Weaver said. "I've never been more conditioned or as ripped on the stage at the weight that I was." 
Ultimately, Weaver placed 11th in the classic physique amateur division. While he recognizes his accomplishment, he was still hoping for an even higher finish. 
"I was pushing for a top-five placement," Weaver said. 
While there are many bodybuilding divisions at The Arnold, Weaver said he has always liked the look of the classic physique, so it is the division for which he trains. 
"When I first started working out, I was infatuated with The Arnold posters," Weaver said. "I've always loved the classic physique look. It's more of the Arnold (Schwarzenegger) look from back in the day."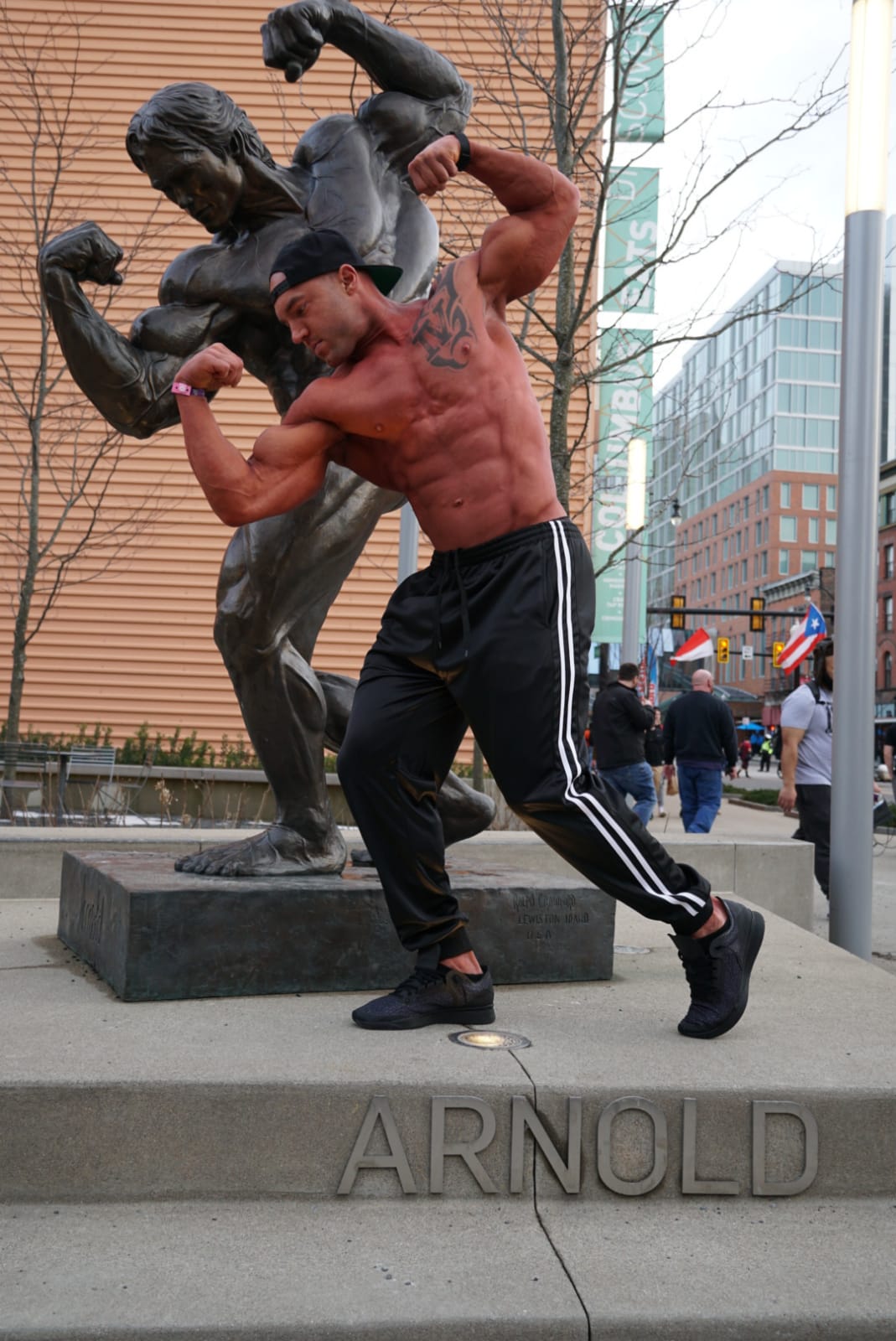 2019 marks Weaver's 10th year of competing as a bodybuilder. He said his goal is to gain three or four pounds of muscle each year. 
As a youth, Weaver played many sports. He started working out at a gym when he was 12 at the urging of his father. 
"After that, I was pretty much addicted to the gym," Weaver said. 
Weaver entered his first bodybuilding competition at age 20. He said he likes to compete because he has been an athlete the majority of his life. 
"If I'm going to work out, I'm going to put it to the test every now and then," he said. "I guess it's the fruits of my labor I want to see. I've learned you get out what you put in." 
With a rather large online presence, Weaver conducts personal training with his website dreamweaverfit.com. 
Weaver said he had more than 100 custom coaching clients in 2018. At dreamweaverfit.com, he hosts quarterly transformation challenges. Weaver has had people lose up to 100 pounds following his programs. 
"Something I always tell my clients is that at the end of the day it's you versus you," Weaver said. "As long as you're improving, that's all that matters. You can't control everything around you, but one thing you can control is the effort that you put into changing yourself." 
Competing at bodybuilding shows has motivated many of Weaver's clients to better themselves. He said he also knows he betters himself each and every competition.
"It's not about the placing for me," Weaver said.
"As long as I'm helping somebody through the process that's what makes it worth it for me. If you can practice what you preach I think that's good for business."
Only one thing rivals Weaver's love of bodybuilding: competitive eating. 
"Eating is my favorite," Weaver said. 
As soon as he got off the stage at The Arnold, he went to a food challenge at a local Mexican restaurant. 
Weaver took on a 12-inch burrito teeming with ghost peppers and habaneros. He said that those who eat the entire burrito receive a free T-shirt. 
"I thought, 'Well, I got one that easy,'" he said. "I eat habanero sauce from El Mazatlan almost every day while in Bowling Green. I ate the burrito in 2 minutes and 23 seconds." 
Before Weaver took on the challenge, the fastest someone completed it was in 3 minutes. 
Weaver allows himself one cheat meal per week in the bodybuilding offseason, so he said he finds new food challenges during this time. 
"Well if I can get a free cheat meal out of it, and make some money off of it, then I might as well do it," Weaver said. 
Weaver's 2018 Bowling Green area eating challenge records include 144 pieces of sushi at Osaka Sushi Train, 10 hotdogs and buns in 3 minutes at BG Thunderfest, 5 pounds of pulled pork at Nine20live and 8.5 pounds of pizza in just under 57 minutes at Larry's Pizza. 
Weaver said he was recently offered a spot as a professional in an eating organization. 
"I want to be the first-ever professional bodybuilder and professional eater," Weaver said. "And it looks like one of them is going to come to fruition." 
Training for a food challenge is very similar to training for a bodybuilding competition, Weaver said. 
"Nobody just wants to get fat," he said. "If I know a challenge is coming up, I have to create a caloric deficit. If you start piling on the calories, you'll start piling on the fat." 
When preparing for a bodybuilding competition, Weaver said he typically starts training 12 to 16 weeks out. He said this is a good timeline for those already in pretty good shape. 
He said it's very hard to cut back down if fat is gained in the offseason. Personally, Weaver never lets his body fat get over 12 or 13 percent during this time. For comparison, he was able to cut his body-fat percentage to just 3 percent before The Arnold. 
"My goal in the offseason is to not let my abs completely vanish," Weaver said. 
Weaver said working on bodybuilding stage presence, from the deep tan to the poses, is a very important part of the process. 
"If you don't know how to pose or display what you've built, it doesn't matter in the end," Weaver said. "You're only up there for a split second, so if the judges can't see what you've worked on then all the hard work you've put in is irrelevant." 
Weaver's faith is very important to him and has carried through to his training. 
"My ultimate motivation is knowing the fact that tomorrow is not guaranteed," Weaver said. "God has given me abilities and the health to work out and motivate others. As long as the Lord's willing, I'm going to keep training. I love training. It's not a job for me — it's therapeutic." 
Through all the training and hard work he puts in, it could be easy to quit at any point. But Weaver said helping others is the biggest motivating factor to keep going. 
"I'm trying to use all my resources," he said. "I've been blessed with a lot. God's been good to me. I'm making the most of everything I've been given and want to help others in the process. My passion is to help others."