Ben and Laura Beth Fox-Ezell are imaginative practitioners in the flourishing Kentucky renaissance, celebrating and preserving traditional arts and crafts.
These visionary artisans work in wood and clay to create beautiful everyday objects destined to become cherished heirlooms.
Ben, the visionary behind The Walking Shed, is a woodworker/woodturner who creates walking sticks, bowls, finely balanced rolling pins, cutting boards, ornaments, bottle openers, wine stoppers, the occasional Diagon Alley inspired wands and custom commissioned projects. The beer taps and the courtyard countertop at Spencer's Coffee are also his creations.
Laura Beth, of Stone Cold Fox Ceramics, is a ceramicist and jewelry maker who designs and creates pottery, including cups, mugs, planters, vases, terra cotta pendant diffusers with glazes and incised designs.
"There is joy in the beauty of everyday objects," Laura Beth said. "I like making art, like mugs and cups with utilitarian purpose, that you can hold in your hand every morning and enjoy instead of pure abstractions."
My work is designed to be used, Ben says.
"Not put on a shelf, untouched for display," he said. "To be sure there is intrinsic aesthetic beauty."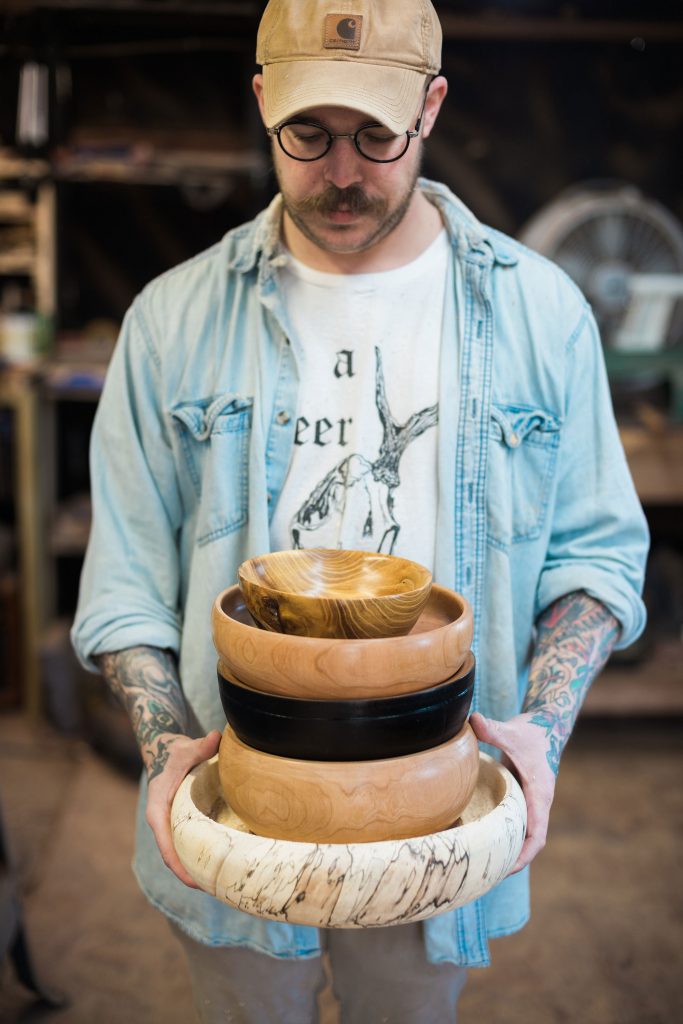 Like many professional artisans, they must balance full-time careers with creative time in their respective workshops. Ben is accustomed to hard work and long days after years of working on a dairy farm in high school. He works more than 40 hours weekly at Spencer's as a barista and member of the management team. Laura Beth is a full-time librarian at Warren County Public Library, with diverse responsibilities as the education delivery services coordinator, in-house yoga instructor and is formulating a Teen Advisory Board while completing her master's in Library Science.
"There are limits to what I can produce right now as I do have some time constraints," she said. "Creating ceramic work is meditative, relaxing."
Ben and Laura Beth met several years ago at Spencer's when they were both Western Kentucky University students. They married in 2016 in their home barn surrounded by family and friends. Their legally adopted blended surname Fox-Ezell nearly stumped government officials at the Social Security office. It wasn't a problem for Laura Beth, but Ben was required to sign an affidavit attesting he would not sue to restore his name.
Their home in Auburn, situated on two picturesque acres adjacent to Ben's dad's farm, doubles as a studio. Ben's shop was formerly the stripping shed side of his family's old tobacco barn while Laura Beth throws pots in their kitchen. The workshop contains essential costly woodworking tools that have been slowly acquired.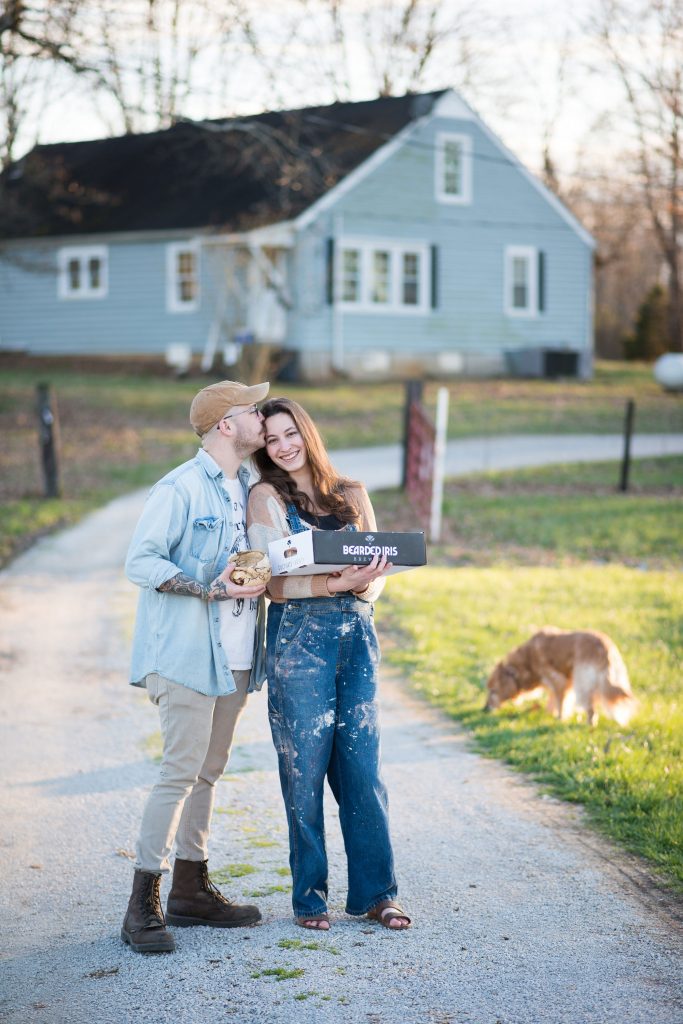 There is little waste as the huge amount of sawdust generated by woodturning is recycled into compost, and larger chunks of wood feed the fireplace. They dream of building a larger workshop with a cement floor and an area divided with glass partitions to accommodate both ceramics and woodworking studios while isolating the sawdust particles.
Laura Beth said they are able to fund their passions by setting up their work at festivals and artisans' shows.
"Neither of us can afford to quit our day jobs, which fortunately we love," Ben said. "I sell stuff to buy more tools and more wood."
Ben was encouraged to try woodturning by his late great uncle Carl and his uncle Ernie, who taught woodshop at Bowling Green University in Ohio and helped him acquire his first mid-sized lathe several years ago.
Commissioned projects may require exotic woods from Asia, Africa and South America ordered from a company in Indiana. The Woodworks, a hardwood flooring supplier in Bowling Green, supplies domestic woods like cherry, walnut, maple, sassafras, persimmon, Osage orange and oak. He also enjoys working with salvaged and spalted wood, or wood naturally colored by fungi.
"Everything else is in my backyard," Ben said. "I've even used a chunk of reddish-hued wood retrieved from my parent's woodpile."
Laura Beth began taking pottery classes about two years ago and quickly demonstrated considerable talent for ceramics which has been nurtured by her husband.
"Ben bought me a potter's wheel for a birthday present; the first major step in being able to cultivate my art at home," she said. "A generous friend offered to let me 'kiln sit' lending a kiln she had in storage. Now, when I'm not at the library, I'm throwing clay."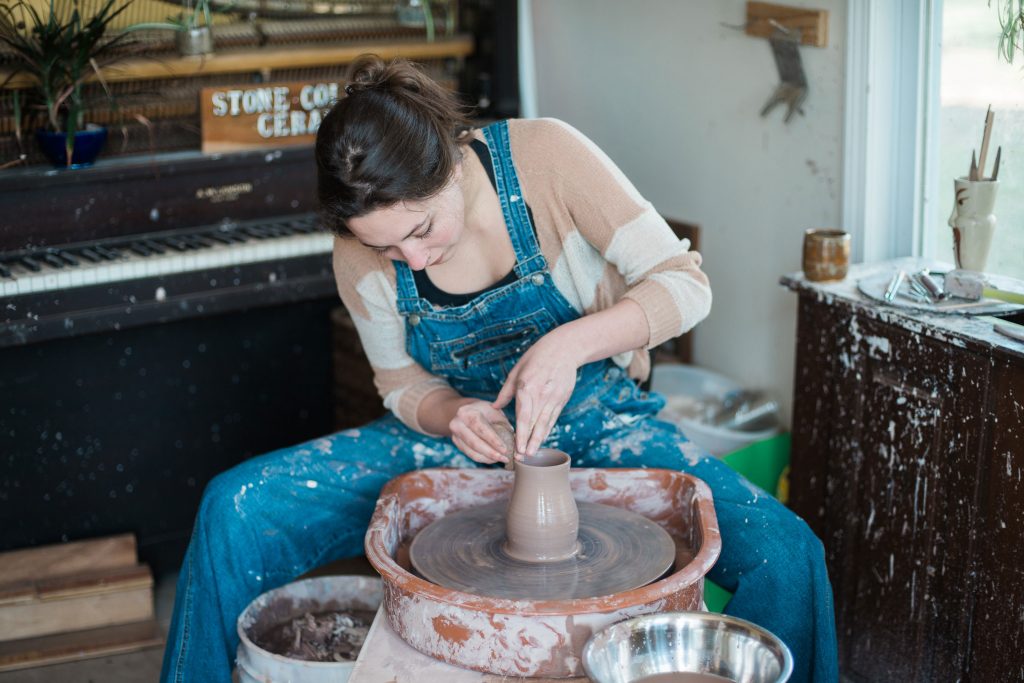 The fabrication process in woodturning and ceramics bear similarities as dried blocks or blanks of wood or clay are slowly turned on wood lathes or potter's wheels. An artist's eye, talent, training and tremendous patience are necessary to turn a finely balanced wooden object or create finished, glazed ceramic vessels. Insufficiently dried wood will warp. Pottery rushed to kiln will collapse. Ben and Laura are each other's most honest critics and laugh at failures. For a summer art show, Ben plans to make a display of ruined bowls to show "the birth and death of a bowl."
They are working on a logo that can be branded or stamped into each creation. Sales come from referrals, arts and craft shows and social media.
Ben and Laura Beth are active members of BG Makers, a coalition of artists who produce arts and crafts shows. They participate in pop-up shows such as WCPL's upcoming sale on May 26, seasonal fairs at The A-Frame and will participate in a month-long arts show in August at Art Matters.
"With our crazy schedules," Laura said. "It's great to be able to set up our booths and spend the day together at a crafts show."
For more information, visit thewalkingshed.bigcartel.com.