Fear not: Homemade curry isn't as daunting as it sounds. Our simple recipe uses spices you probably already have on-hand and crisp, seasonal vegetables, making it just as versatile for a weeknight meal as it is for a well-planned dinner party. Serve with our Cilantro Lime Rice.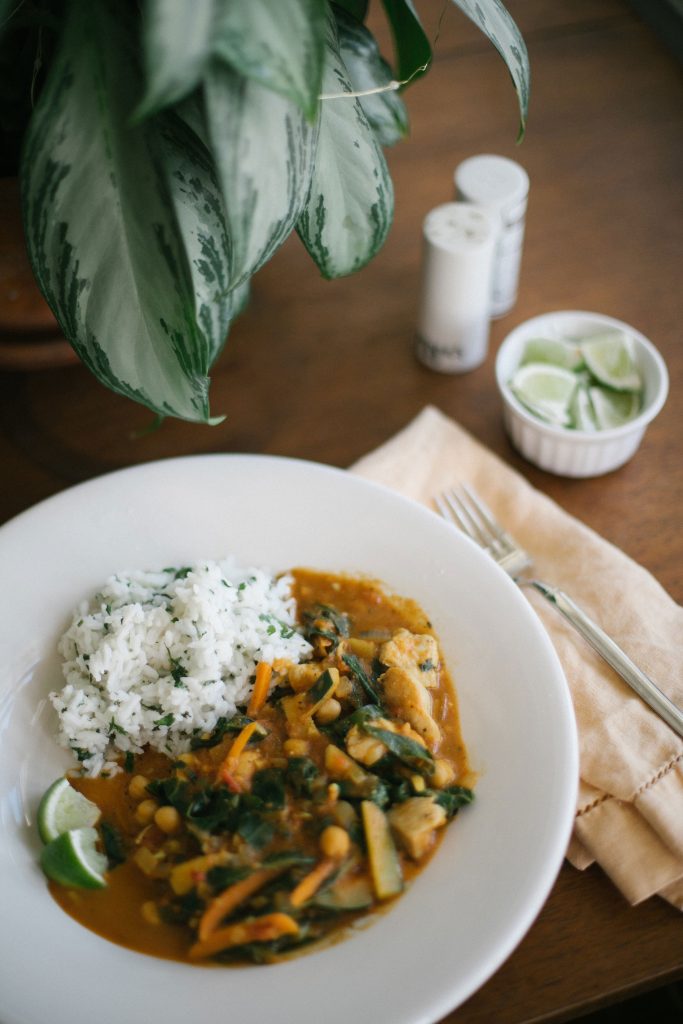 Ingredients
2 tablespoons coconut oil
2 chicken breasts, cut into 1-inch cubes
1 pound collard greens, stems removes, leaves cut into 1-inch squares
1 zucchini, sliced in spears
1-2 carrots, peeled and sliced
1 yellow onion, diced
3 cloves garlic, minced
2 tablespoons fresh ginger, minced
2 tablespoons curry powder
1 teaspoon salt
1/2 teaspoon ground black pepper
1/2 teaspoon garam masala
1 teaspoon ground cumin
1/4 teaspoon cayenne
1/4 teaspoon red pepper flakes
1 32ounce can crushed tomatoes
1 14ounce can lite coconut milk
Juice of 2 limes
1 can chickpeas, drained and rinsed
Instructions
Heat a wok or your largest skillet over medium-high heat. Add 1 tablespoon coconut oil and cook chicken until golden brown and cooked through, about 8 minutes, stirring occasionally. Transfer the cooked chicken to a plate.
With the heat still on medium-high, melt another tablespoon of coconut oil in the wok. Add collard greens, zucchini, carrots and onion and season with salt and pepper. Cook the vegetables until slightly brown on the edges, but still crisp, about 6 to 8 minutes, stirring occasionally. Add the garlic and ginger, cooking for 30 seconds or until fragrant. Add the spices and stir to combine. Add tomatoes, coconut milk, lime juice and chickpeas. Stir to combine and cook for about 5 more minutes. Add the chicken back to the pan and cook for another few minutes until heated through.
Spoon the coconut chicken chickpea curry over Cilantro Lime Rice and serve warm. For added spice, top with more red pepper flakes or your favorite hot sauce.