Hey. y'all! My name is Andrea Hampton. To quickly introduce myself, I'm a flight nurse and fashion blogger here in Bowling Green. I've utilized the love for my career and obvious obsession for fashion as inspirations to start my blog: Flights and Fashion. I'm thrilled to be partnering with Bowling Green Living! Each month, I'll be styling and detailing some of the latest fashion trends, as well as collaborating with local boutiques in the Bowling Green area to showcase these trends. So, let's get started! With February upon us, love is certainly in the air. Whether you have a wedding, bridal shower or Valentine's date in the forecast. I'm here to help you dress the part, looking your best while doing so. This month, I have teamed up with Back Down South to show you a few selective ways to dress for the previously mentioned occasions. When it comes to fashion and style in Bowling Green, Back Down South has your wardrobe needs covered. A laid back atmosphere with friendly faces, this downtown treasure will have you coming back again and again for all your fashion essentials.
Back Down South | 433 Park Row | 270-904-5779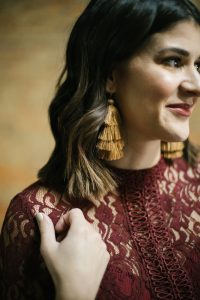 The first piece is a lace burgundy romper. Some may think that rompers are just a summer staple, but depending on the sleeve length, rompers can be worn year-round. Rompers are one of my favorite articles of clothing to wear, as they create a bold, yet flirty statement. The intricate lace detailing of this particular one is perfect for a Valentine's Day date. When it comes to Valentine's Day, I like to dress in a warm color palette, wearing hues in the pink and red family. The deep burgundy color of this romper is vibrant, rich and seasonally appropriate, especially for the day of love.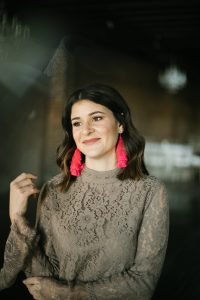 If you're looking for a great staple piece that can be worn for a variety of occasions, look no further than a shift dress. Shift dresses are generally roomy, literally shifting with the movements of your physique. The great thing about shift dresses is that they work well with most body types and are great at disguising problem areas. They can be worn casually or dressed up with the right accessories such as a statement necklace or dangly earrings. These hot pink, tiered tassel earrings are the cherry on top, adding a pop of color that's a perfect finishing touch. You can also pair this type of dress with flats, boots, heels or even sandals.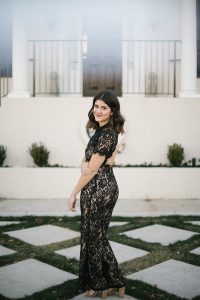 This black, lace jumpsuit is ideal for a black-tie wedding, gala or formal evening event. Jumpsuits are a fun, unique article of clothing that have grown in popularity over the past few years. Just like with rompers, jumpsuits create a statement and will amplify your fashion game. This particular jumpsuit has a beautiful open back and lace detailing that add femininity to its structured shape. Lastly, an ensemble is not complete without accessories. Kendra Scott drop earrings are subtle but still make a statement, featuring romantic details on a metallic frame.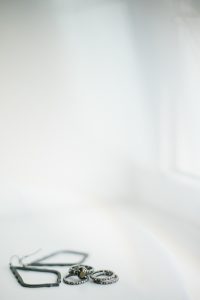 Now. let's talk about a girl's best friend: accessories. No outfit is complete without accessories. Back Down South is the exclusive Kendra Scott jewelry vendor in the area. Whether you want something simple to top off a look or a bold piece that steals the show, Kendra Scott has a jewel for every occasion. Each piece is artfully designed with a true unique feel. With metals ranging from gold to silver and sparkling gems in every color of the rainbow, I'm sure you'll find the perfect piece that speaks to you.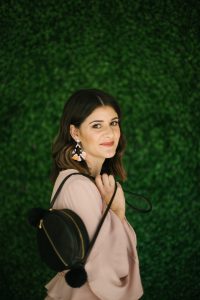 This next romper is all about the intricate details. A statement sleeve is ideal for injecting a little drama into your outfit, and this particular romper showcases a statement sleeve perfectly. Bell sleeves are on-trend, and embracing them is a great way to look fashion­forward without stepping too far out of your comfort zone. This wide sleeve look is reminiscent of the flared style of the 70s but with a modern update that keeps this vibe fresh and fun.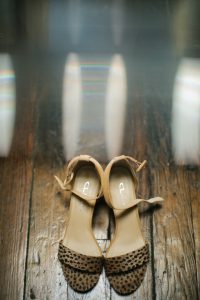 Leopard print has survived the test of time, and history has proven it will always be in style. As far as print and patterns are concerned, leopard is on the same playing field as stripes and plaid. Season after season, the best way to make an outfit pop is by adding this wild print-whether that be in the form of a purse, jacket, shoes or a dress. In my opinion, you can never go wrong with a little bit of leopard. This print is fun, flirty and demands attention. So hey, honey, take a walk on the wild side!