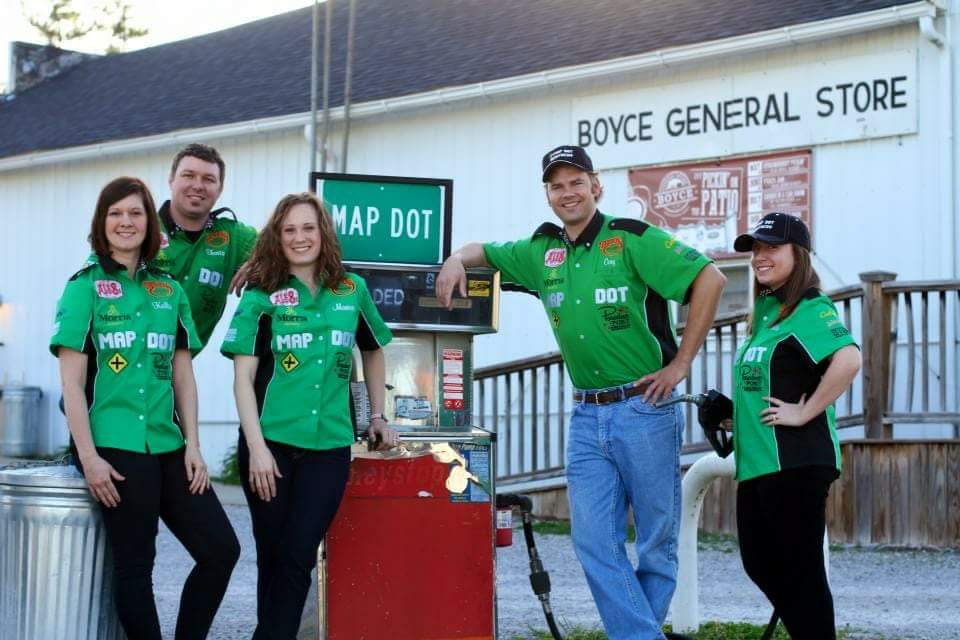 It was only fitting to meet The Outdoorsman Cory Ramsey for an interview over a hike at Shanty Hollow. The Outdoorsman arrived in the mugginess of a July afternoon in his signature straight leg blue jeans, boots, and Bowling Green Metalforming ball cap. Perhaps the biggest difference between the 2009 Cory Ramsey and 2019 version was the full beard. Officially a decade after his first rise to statewide stardom, we set off down the trail toward the waterfall, while he retold the story of becoming an expert influencer years before social media.
In the summer of 2009, Ramsey was working on a factory line at Bowling Green Metalforming. The Hickman, Ky. native was a transplant to Bowling Green thanks to WKU. The plant announced it was laying-off several employees for a couple of months because of the economic downturn that hit the whole country. Ramsey, a broadcast journalism graduate turned welder, suddenly had "vacation" time to kill.
"This place here was actually lay-off hike number four. At the time, no one else was coming out here," Ramsey said while we climbed over a log in the middle of the trail. "It's not like it is today. There wouldn't be anybody else here." 
Ramsey's lay-off hikes became the foundation for his new expertise. He went on more than twenty hikes in a just a couple of months. And then it happened. 
"This notion hits to be a travel writer," Ramsey said, just before he pointed out a tiny frog camouflaged on a rock and warned me to watch out for snakes instead. "I looked for local media opportunities to be an expert on one thing."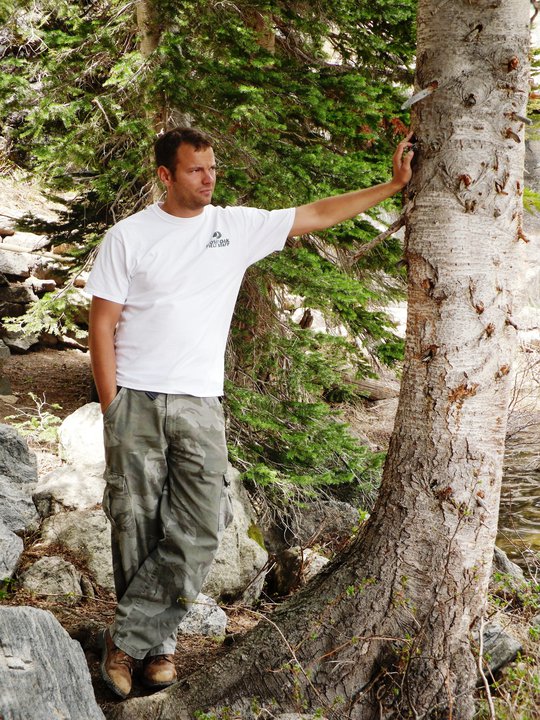 SOKY Happenings magazine was Ramsey's first chance to tell hiking stories. After a simple ask and conversation about what he'd been doing on 20-plus hikes, the publisher gave him an opportunity to write an article about hiking in southern Kentucky. Then the momentum picked up when he called an old journalism friend from his WKU days, Laura Rogers, the host of Midday Live at WBKO TV in Bowling Green. Ramsey's first TV segment was "How to Pack a Backpack."
"The 'Outdoorsman' name came about because Laura needed a title about who I was. Thought of Hiker or Adventurer, but settled on Outdoorsman," Ramsey said. 
The magazine article and TV spots were a hit. The Outdoorsman took his expertise to the radio airwaves when longtime D.J. and local personality Tony Rose hosted The Outdoorsman on his morning show. Now the host of Tony Rose Live on D93 WDNS radio in Bowling Green, Rose remembers The Outdoorsman shenanigans well.
"Having the chance to hear and share the stories that Cory collected over the years with our audience has opened the doors to adventures for our listeners that are right in our own backyard," Rose said. 
By the fall of 2009, The Outdoorsman had monthly segments on TV and radio, plus a monthly local magazine article. He was your go-to guy for hiking tips all over Kentucky. If you look hard enough through the social media vaults of Facebook, you might find photos of The Outdoorsman with these media personalities on his journey to influencer fame. 
But The Outdoorsman wasn't just making a local splash. A friend sent a video of a TV segment to Elaine Wilson, the director of the newly-developed Kentucky Adventure Tourism office in Frankfort. Adventure Tourism was working on a project designed to get more publicity for Kentucky State Parks, and was in need of a few representatives to travel the Commonwealth and share stories of its land. The Outdoorsman was a perfect fit.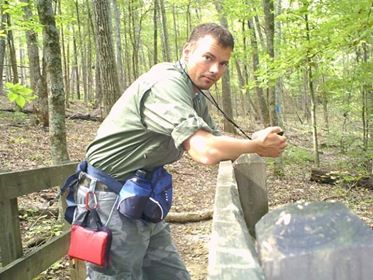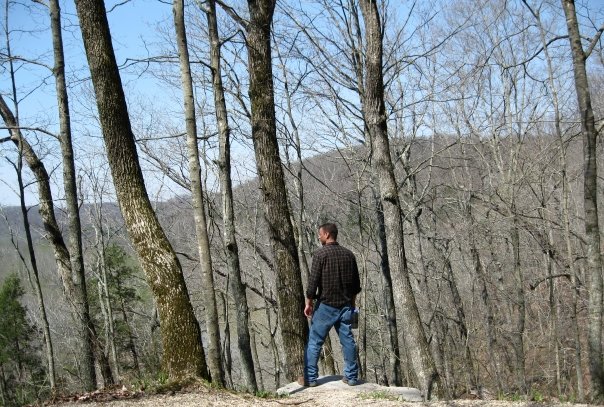 The Unbridled Adventure Tour took Ramsey all over the state as he became an ambassador for Kentucky Tourism and state parks. Writing blogs and making videos of hikes and unique travels gave The Outdoorsman even more opportunities to find a niche audience. Encouraging people to get outside and experience nature is a positive message that's being reinforced even more so today given how much society relies on technology. 
Over the next few years, it led to The Outdoorsman being featured on the cover of Kentucky Living magazine three times. Even Camping Life magazine called and gave him national exposure. By 2012, at the dawn of social media influencing, Ramsey had a new spin on his travels. Called Map Dot, Kentucky, Ramsey put together a group of road trippers from his tourism and media contacts. The group ventured on mini trips all over the state and shared photos and stories along the way, becoming social media sensations. The Map Dot crew visited all 120 Kentucky counties twice, was featured on every major TV station from Pikeville to Paducah, took interviews from newspapers all over the Commonwealth, and Ramsey landed a TV documentary on KET produced by State Run Media.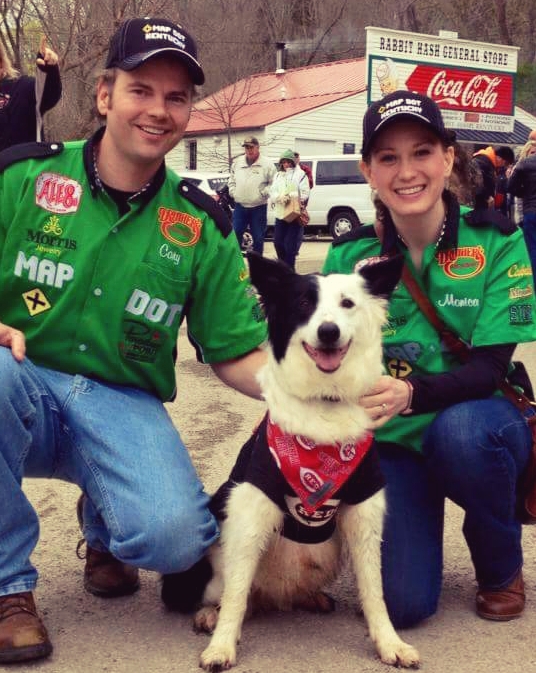 It was on the Map Dot journey that Ramsey met his future wife, Mrs. Map Dot. Monica Spees Ramsey was a Bowling Green Daily News reporter in 2014, assigned to cover a story on a traveling Mutual of Omaha team stopping at the National Corvette Museum to hold auditions for its "Aha!" moment commercials. Ramsey was auditioning, sharing the Map Dot story and the timing was just right for an interview. 
"He may not have been featured in the commercial, but I like to think that we both had an 'Aha' moment that day," Monica said. "Cory likes to say I wrote a story about him and he liked it so well that he married me. I knew my writing skills would come in handy someday."
Ramsey's experience as The Outdoorsman is a nostalgic reminder of what it was like to become an influencer in the days before targeted posts and live streaming social media.
"You had to do it the old-fashioned way back then. There weren't these social media celebrities," Ramsey said. "You had real TV, real newspapers and magazines. I have a lot of people to thank for that help and am curious to see what the next generation comes up with while I step back and support." 
We made it to the Shanty Hollow waterfall, then ran into another hiker taking photos. The Outdoorsman happened to know them as a former co-worker, and they said they've been hiking more ever since he preached about it back in the day. The Outdoorsman said he's retired. For now.