When alternative country musician Kyle Daniel steps into a room, he brings with him an unmistakably eclectic vibe. Such was the case one warm Sunday afternoon when he walked into Bowling Green's downtown Starbucks after attending a Sunday service at Crossland Community Church.
Daniel wore boots, dark denim and a pink and blue button-up over a T-shirt with wolves printed on the front. He completed the look with a long pendant hanging around his neck, multicolored beaded bracelets wrapping his wrists, tortoiseshell glasses framing his face and a small, silver hoop earring poking out behind his wavy, shoulder-length strawberry blonde hair which was covered by a wide brim hat.
Daniel's style mirrors the type of music he creates; classified as country in genre, his sound is heavily influenced by the different styles of music he's played over the years since he first picked up guitar at age 13.
Today, Daniel says he's trying to carve out his own sound, creating music that lives at the intersection of country, blues, Americana and Southern rock.
"It's cool that I'm able to morph into these different genres," Daniel said.
His genre-bending sound is gaining him notoriety. In March, the 32-year-old Bowling Green native released his first solo EP—a collection of five songs recorded live-to-tape that shows off his gravelly, Southern voice and his impressive musical chops. A few weeks later, Rolling Stone Country featured Daniel in its list of "10 New Country Artists You Need to Know."
And while Daniel has no plans to slow down, he said he's also not forgetting his roots.
Hometown Talent
Born to Danny and Rachel Daniel in Bowling Green in 1985, Kyle Daniel was surrounded by music from his earliest days. He grew up listening to his father and his uncle play bluegrass, and when he was six years old, he said he started playing the drums.
"I could barely touch the kick drum, but I was always drawn to the beat," Daniel said. "I could feel it, and I knew that music was something very special to me at a very young age."
At age 13, he took up guitar but said he didn't really start to get serious about it until he was a few years older. He started taking a few lessons from local musician Bobby Baldwin and later learned from artists like Greg Martin of the Kentucky Headhunters and Jack Pearson of the Allman Brothers Band.
"I guess I feel like I caught the bug when I was 16," Daniel said. "It was that thing where I would hustle home from school. I would grab my guitar. I wouldn't even worry about homework. It was like I was hungry for it. It was something that intrigued me to the point that it consumed me, and then it became part of who I am."
As a 16-year-old, Daniel started playing in local music venues like State Street Pub, which has since been demolished, and Tidball's.
Brian Jarvis, co-owner and co-manager of Tidball's, said he remembers a young Kyle Daniel hanging around the venue before he was even old enough to get in.
"I just always remember a kid hanging out outside," Jarvis said. "It made me notice because he wasn't of age—but then he would step in for his 15- to 20-minute set and just blow the place away with his skills at such a young age."
At age 17, Daniel won the Kentucky Blues Challenge. Then, as an 18-year-old, Daniel went on to place in the finals at the International Blues Challenge in Memphis, Tenn. When he graduated high school, he knew he wanted to focus on music, and he didn't see a point in going to college.
"So, I took about a year and toured around and played," Daniel said.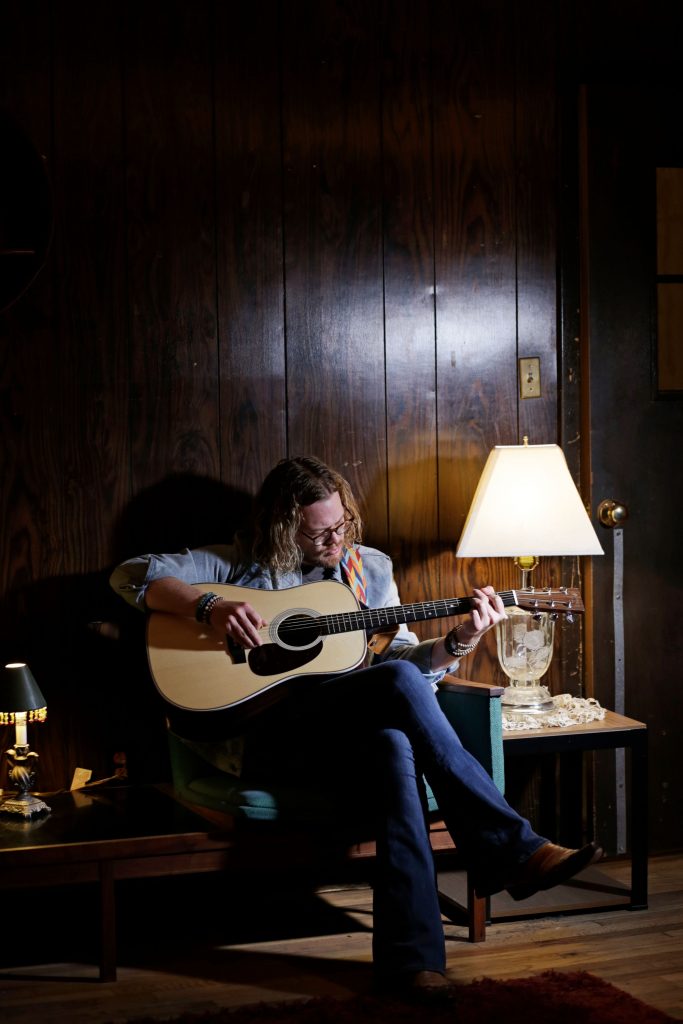 Making Music  
At the request of his father, Daniel eventually enrolled in Middle Tennessee State University, where he would pursue a degree in music business.
"During that time, the first two years were pretty much exclusively (focused on) school," Daniel said. "Because it's so hard to get into that program, I pretty much quit playing music altogether."
But, as a sophomore in college, he returned his focus to music, starting a Southern rock band with some friends.
"We thought we were like the Allman Brothers' whiskey-drunk step-children or something," Daniel said. "We were a wild and rambunctious bunch."
They called themselves The Last Straw, and they toured quite a bit—at one point, Daniel said he was taking 18 hours of class credit and playing around 130 shows a year.
When The Last Straw eventually disbanded, Daniel set out to use the music business degree he'd worked toward as an MTSU student. However, he soon found working on the management side of music wasn't what he'd hoped it would be.
"I found out real quick that I didn't want to do what I had gotten myself into, which was tour management," Daniel said. Again, he pretty much quit playing music altogether.
Daniel stayed in tour management for about three years until leaving his job to focus on playing music once more. Little did he know, just the right opportunities would soon present themselves.
The week he quit his job, Daniel said he got the opportunity to play with Jimmy Hall, lead singer of the Southern rock group Wet Willie. He played with Hall for about six months and was asked to join American Idol finalist and country blues musician Casey James on tour. Before long, Daniel was also touring with emerging country pop artist Clare Dunn, who was on tour with Bob Seger at the time.
"We did all kinds of cool stuff," Daniel said of the time he spent touring with James and Dunn. "We got to tour with Miranda Lambert, and you know, obviously Bob Seger is nothing to shake a stick at. And I got to check off a lot of bucket list stuff in those years, playing with Casey and Clare."
During these years, Daniel took the stage in iconic Nashville venues like the Ryman Auditorium and the Grand Ole Opry, as well as Bridgestone Arena and Nissan Stadium.
"It was really, really cool to do that, but I kind of looked at it and was like, 'I wanna do something that is more me,' because I've always considered myself an artist," Daniel said.
Flying Solo 
About two years ago, Daniel quit touring with other artists and started focusing his time and energy on his own music.
"I decided that I was going to pretty much submerge myself into the songwriting ring of Nashville because it all starts with the song," he said. "It doesn't matter how talented you are. If you don't have a song that's catchy and hooky, people don't care."
In the two years he's spent focused on his songwriting, Daniel said he's written close to 150 songs.
I "was constantly just writing to write, with any and everybody that I possibly could," Daniel said.
He also started playing with Jericho Woods, a country group from Kentucky, and found himself trying to find the balance between contributing to a band while also working on his own projects.
"I was trying to navigate doing this as a guitar player and helping them try to achieve their goals as a band while also trying to grow myself," Daniel said.
In November 2017, he decided he was ready to record some of the music he'd been working on. He got together a group of friends and fellow musicians, and about a month later, they stood in a Nashville studio, recording what would become Daniel's first solo EP. They cut the project live, recording all five songs for the EP and an additional track in one day.
Daniel released the EP the following March and said he was overwhelmed by the response.
Remembering the early days Daniel spent at Tidball's, Brian Jarvis said he's not surprised by Daniel's success.
"It's cool, but it's not surprising," Jarvis said. "Once you're around this scene for a while, you realize who has talent and who has the stuff, who's got their shit together and who doesn't. Kyle knew what he wanted. He went about it in his own way, which is very admirable."
Keep on Rollin'
On the balmy evening of Tuesday, May 22, Daniel took the stage at The Basement, a venue in Nashville. In celebration of being named one of Rolling Stone County's "10 New Artists You Need to Know," Daniel was performing an industry showcase, or a special show in which industry professionals are invited to listen to an emerging artist perform.
Though Daniel has been playing live music for half his life at this point, he said this show—his first industry showcase as a solo artist—felt different.
"I had never done anything like this as a solo artist, so it was a bit nerve-racking," Daniel later said in an email, reflecting on that experience.
However, looking out into the audience that night, Daniel said he saw a sea of familiar faces.
"I looked up in the crowd to a packed house at The Basement, and 80 to 90 percent of the people that were there were from Bowling Green," Daniel said. "They came down on a Tuesday to support me.
"I think it's things like that sort of hometown love that you can't really put a price tag on. Those relationships that I've had and been able to build and the love that they showed me—not just that night, but they continually show me—is really cool."
It's that "hometown love" that's shaped who he's become as a musician, Daniel said, and it will continue to shape him as he keeps pursuing music in Nashville and beyond. He said he plans to release more music this year while continuing to tour and evolve as a solo artist.
"Right now, I think the main thing is just to get out there and play as much as possible—to tour and travel and build the fan base first," Daniel said.
Still, he credits much of what he's been able to accomplish to the support from his hometown.
"It was a culmination of things that made me the musician I am," Daniel said. "I owe everything to Bowling Green."