Submitted by WKU Public Broadcasting
Normally when you turn on a radio station, you expect to hear just one type of music—maybe it's country or Top 40 or oldies.
But if you turn on WKU Public Radio (88.9 FM) at night or on the weekends you could hear Bob Dylan or Bill Monroe, Regina Spektor or Miles Davis, Chopin or the next big Americana artist. It's a diverse lineup of music that can only be heard on Bowling Green's local public radio station.
Lost River Sessions
On select Thursday nights, WKU Public Radio listeners are treated to Lost River Sessions, a locally produced program featuring emerging artists from our region in the world of folk, bluegrass and Americana music. The show has featured artists like Willie Watson, Billy Strings, Joan Shelley, Becca Mancari, Lillie Mae and Devon Gilfillian.
Lost River Sessions LIVE is presented as a monthly concert series at the Capitol Arts Center in downtown Bowling Green. Those shows are broadcast live on WKU Public Radio and recorded performances are featured as part of Lost River Sessions Radio.
Since its first live concert in September 2016, the series has evolved to broaden its impact on the community—culturally and economically. Regional artists, many of whom are receiving national recognition, showcase the charismatic storytelling nature of American "roots" music adding value to the cultural enrichment of the area and deepening the well of diverse music.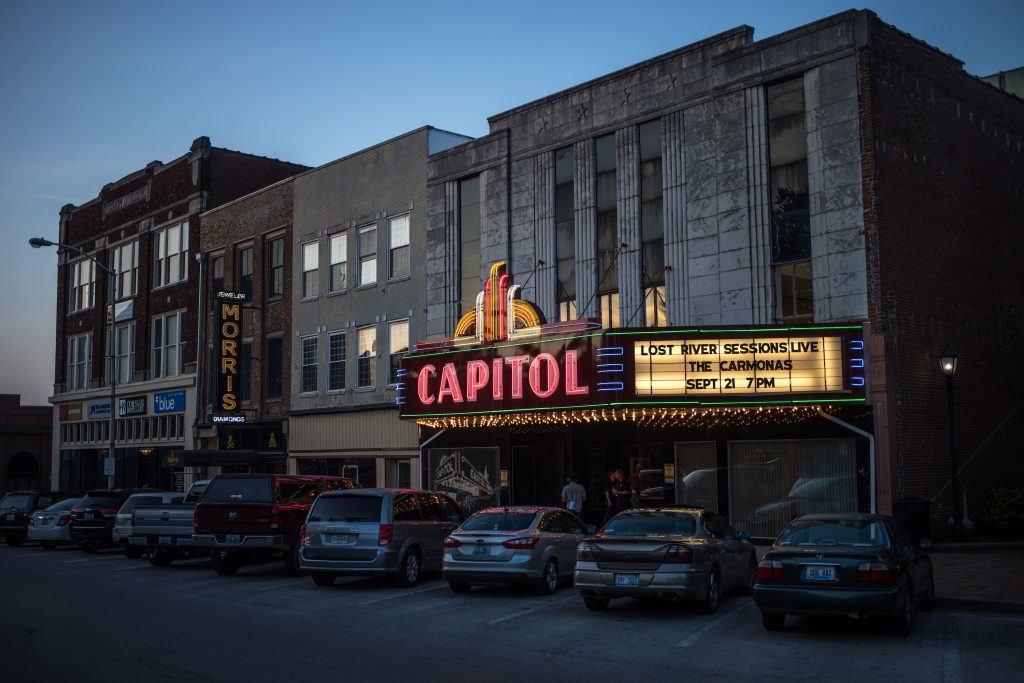 Weekend Lineup
The WKU Public Radio weekend lineup starts at 10 a.m. on Saturday mornings with Sound Opinions.
Sound Opinions, produced by public radio station WBEZ in Chicago, is a blend of a music and talk show in which hosts Greg Kot and Jim DeRogatis discuss new albums, talk about their old favorites and welcome artists for in-studio performances. Kot is a longtime music critic from the Chicago Tribune; DeRogatis is a lecturer in the English department at Columbia College Chicago and is a former music critic with the Chicago Sun-Times. The day of music continues with Fiona Ritche's The Thistle & Shamrock. The show explores evolving music from Celtic roots in Europe and North America.
WKU Public Radio's longtime locally produced roots music program, Barren River Breakdown, begins at noon Saturdays and Sundays. Erika Brady, a folk studies professor at WKU is celebrating her 20th year of hosting the program. Each week she guides listeners through "American music with roots" that spans the spectrum from bluegrass to folk to gospel and rock-n-roll. Barren River Breakdown is one of WKU Public Radio's most popular shows and attracts online listeners from around the world.  Brady and co-host David Baxter alternate Saturdays and Sundays hosting Barren River Breakdown.
American Routes continues the musical schedule on WKU Public Radio Saturdays at 2 p.m. The show, based in New Orleans, is hosted by Nick Spitzer, who like Brady, is a folklorist. He teaches at Tulane University. American Routes certainly has a distinctive New Orleans flare and often spotlights Cajun and zydeco music, but it features rock-n-roll, Tejano, soul, jazz and country.
The music goes live on Saturday nights with Live From Here. The show is in its second season with host—and Kentucky native—Chris Thile. Thile, a renowned mandolin player from Nickel Creek and The Punch Brothers, actually appeared on the show's predecessor—A Prairie Home Companion—as a 15-year-old in 1996. As host, he has put his stamp on the musical aspect of the show, bringing in a new generation of artists like Chris Stapleton, The Avett Brothers, Jack White and Sara Watkins.
Saturday evenings are for jazz on WKU Public Radio. Christian McBride highlights performances from around the country with Jazz Night in America. That show is followed by Jazz Happening Now and a variety of jazz throughout the night.
On Sundays, Old Scratchy Records offers a tour through the history of recorded music. Host Nolan Porterfield of Bowling Green brings decades of experience in music radio—and his extensive record collection—to the program. That's followed by Pipedreams, a radio program featuring organ music from around the world.
Monday nights feature An Evening With The Pops at 8 p.m., produced and hosted by longtime WKU Public Radio music director Lee Stott. Classical music fans can tune in to our dedicated 24-hour classical music station on 97.5 FM.
WKU Public Radio 88.9 FM provides a wide variety of musical programming for those looking for old favorites or new musical discovery. For a full program lineup and to stream online, visit wkyufm.org.