Just after dusk on a mid-Autumn evening, a ladder stood propped up against the back of Seth Peckham and Haley Siler's downtown Bowling Green home. Peckham was perched on the roof, scraping old paint off one of the upstairs windows so that it could be reglazed. From where he stood, he smiled, waved and called down to his wife and a friend of theirs who had just stopped by. 
Before long, the sun dipped below the horizon, and Peckham decided it was time to come in for the night. Siler held the ladder while her husband climbed down, and then the two walked through the back door into the kitchen. 
Peckham held up his hands, signifying they were dirty, and he headed straight for the sink. As he washed his hands, Siler leaned back against one of the kitchen counters, and the couple remembered a funny story from about a year prior. 
"Siler had been standing right here," Peckham said, motioning to the counter. She was trying to reach something when she shifted her weight to the sink basin to try to get a better angle. Suddenly, the faucet came unhooked. Water rushed out, spilling everywhere. Luckily, they knew where to turn the water off in the basement, and they did so immediately, but not before "a giant flood" filled their kitchen, Peckham said. 
As they retold this story, Peckham and Siler couldn't hold back their laughter. It might've been a mess at the time, but now, it's something they look back on and laugh — just one example of the many unforeseen and often unforgettable experiences they've had since they bought this historic home, originally built in 1929, around four years ago. 
Since then, Peckham and Siler, both in their early 30s, have worked to put their own unique touches on the house while preserving and enjoying its 90-year legacy.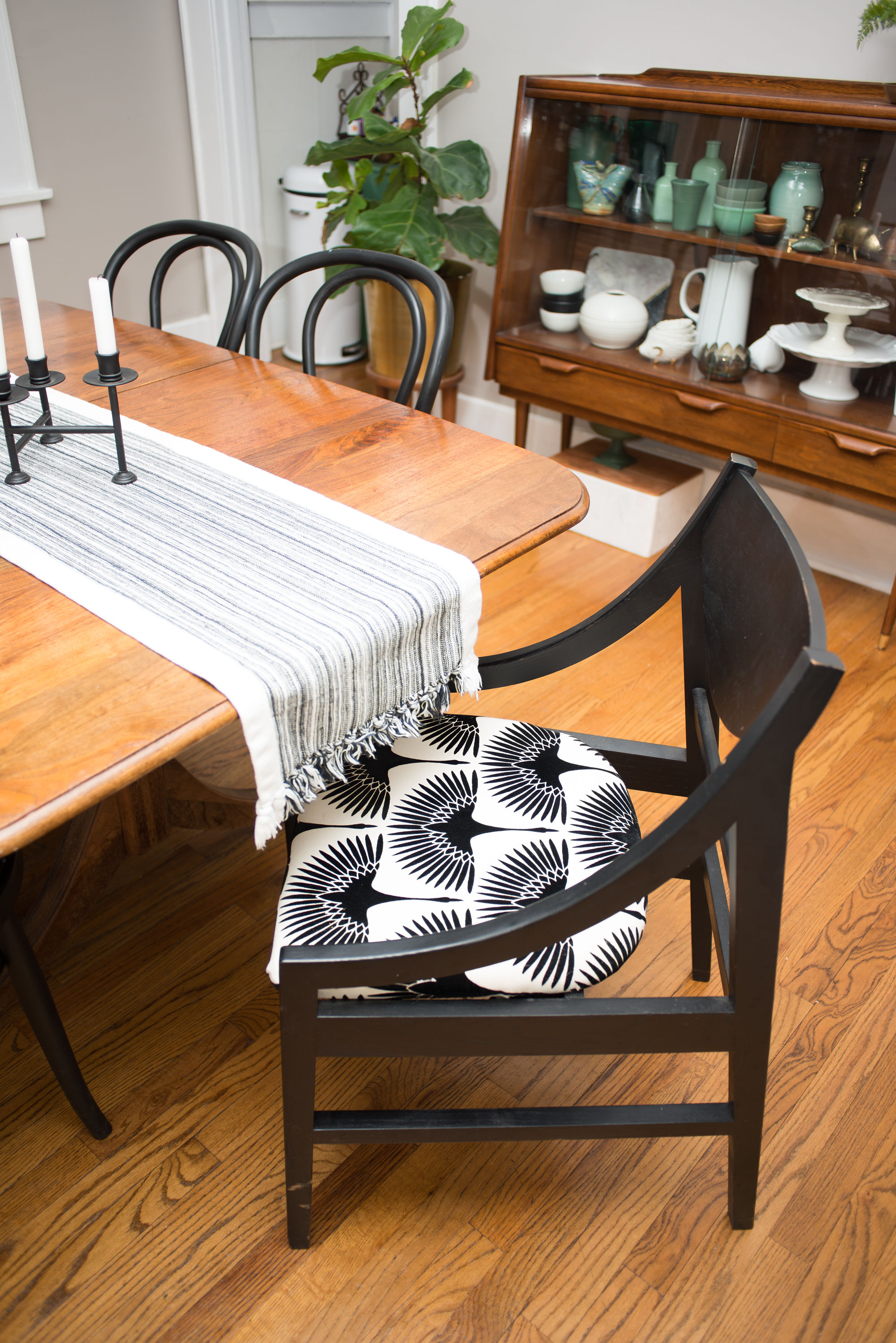 "I think there's satisfaction in taking something old that has history and has lived many lives before you and giving it new life and layering that in," Siler said. "That makes things feel more personal." 
Peckham and Siler moved to Bowling Green five and a half years ago when Peckham accepted a job with WKU's forensics team. They rented a home in downtown Bowling Green for a couple of years before deciding to look for a place they could truly call their own. 
When they first toured the house, they admitted they were a bit overwhelmed by its interior and exterior paint choices. 
"It was like pop open a packet of Skittles, and it was lime green and electric blue and deep orange," Peckham said. 
Siler chimed in, laughing. 
"When you say lime green, I think that implies it was a color you could find in nature, which was not the case," she said. 
Peckham laughed and quickly corrected himself. 
"Yeah, yeah, yeah. Not lime green," he said. "You know the Simpsons? The green they used for radioactive glowing? That was the shade of green." 
The outside of the house, including its wide, spacious front porch, was painted a bold mustard yellow with black accents, conjuring up images of a bumblebee, they joked. 
As they first toured the house, they knew there were other improvements, updates and repairs they'd eventually need to make, but there were also elements of the house they immediately loved — like the study. 
Separated from the living room by classic white French doors, the study quickly became their favorite room. With its light-colored hardwood floors and its built-in bookcases, it was one of the reasons they looked forward to purchasing this house. 
"It just felt so cozy," Siler said. "I could just so easily see people gathering in here to play a game. I could so easily see sitting in here and enjoying coffee." 
Now, around four years later, Peckham and Siler sit in the study, which they've since painted a deep blue. The built-in bookcases are now filled with their own titles, and soft light from various lamps illuminates the room. J U L Y / / A U G U S T 2 0 1 9 . BOWLING GREEN LIVING 43 42 BOWLING GREEN LIVING . J U L Y / / A U G U S T 2 0 1 9 
Vintage and antique-looking furniture fills the space, and the wood floors are covered by a rug.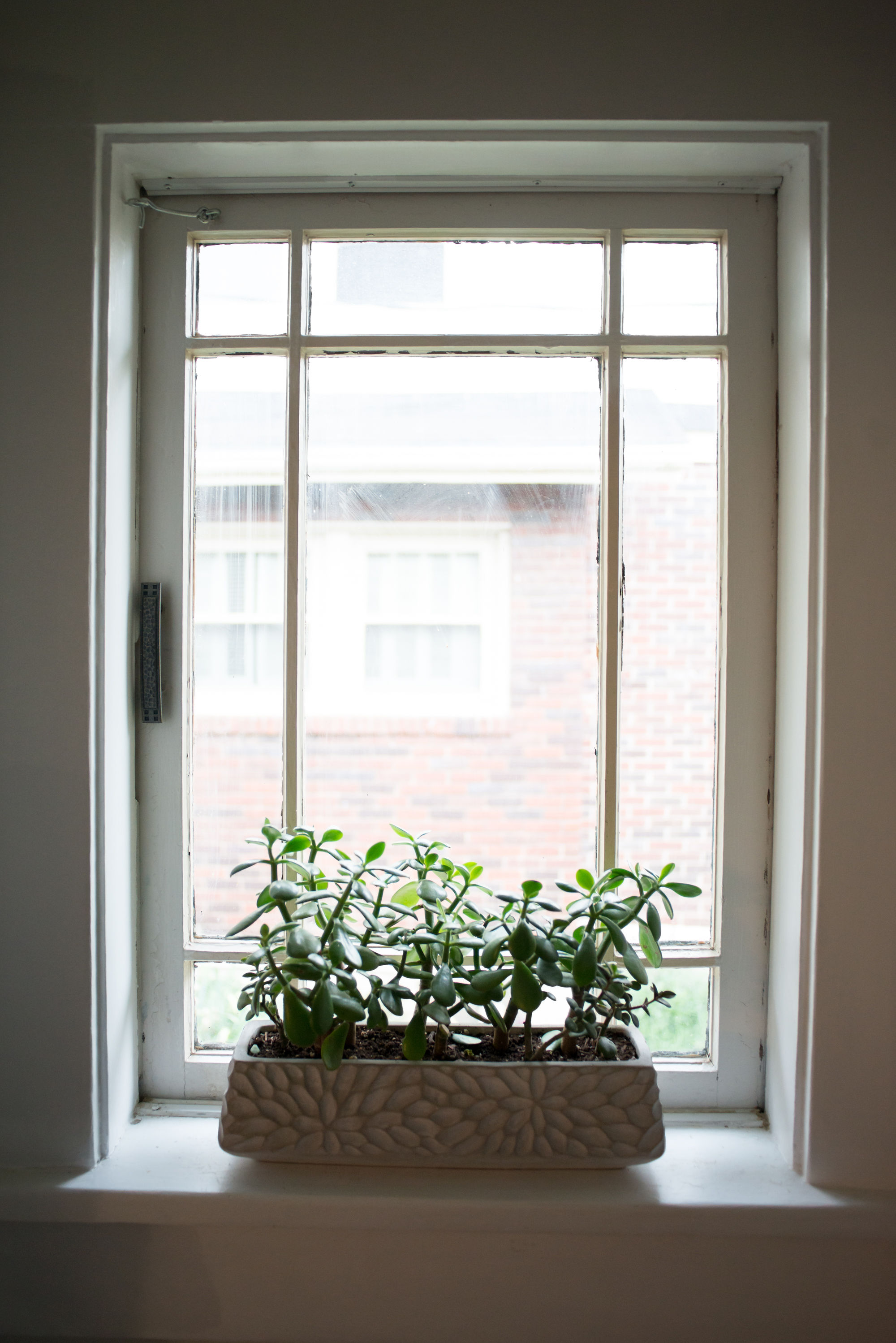 A tray holding a vase and other items, including assorted dice, sits on a coffee table in the middle of the room. Every week, Siler says, their friends gather here to play Dungeons and Dragons. 
This remains their favorite space in the house, but over the years, they've made it their own, adding unique and personal touches to this room and the rest of the home. 
The list of projects they've taken on as homeowners is long; it includes adding a new roof, repainting the entire house, resurfacing and repainting some of the ceilings, replastering some walls and even replacing the sewer line, among other undertakings. But they are quick to admit that their home still isn't perfect. 
"Our house, you know, it's not going to be full of right angles," Siler said. 
Peckham chimed in. 
"Not even the angles that are supposed to be right angles are all right angles," he said with a laugh. "I've gotten very good at plaster washers and drywall mud." 
They haven't completely remodeled their home; they've simply taken on projects, often one at a time, in a process they call "little by slowly." 
Updating the kitchen and renovating the backyard have been two of their biggest projects recently. In the kitchen, Peckham and Siler added new granite countertops and a new backsplash. In the backyard, they've taken out a few trees, torn down an old garage, repainted the carport, and added a deck, a patio and a shed. They've also added a fence so their two greyhounds, Gandalf and Zelda, have room to roam, and they've added landscaping elements, including some flower and vegetable beds. 
Perhaps the most unique project Siler has taken on is repainting the floor in the downstairs bathroom. She described it as a builder grey, faux terra cotta tile when they moved in. She didn't like it, she said, but at the time they didn't have money for a full bathroom renovation. 
"I went, okay, well, I really want a different floor," Siler said. "But I don't want to spend a couple thousand dollars to have new tile put in knowing I would like to do more with it eventually." 
So, she decided to remove the tile and paint the floor white with black stenciled designs. 
"I spent like $50 on paint and a stencil, and it's held up really well," Siler said. "And it really does make that space feel a lot fresher, and it was just a fun change." 
Siler and Peckham also changed the exterior color of the house. They said this drew a lot of attention from their neighbors as what used to be black and bright yellow is now a calming and sophisticated white.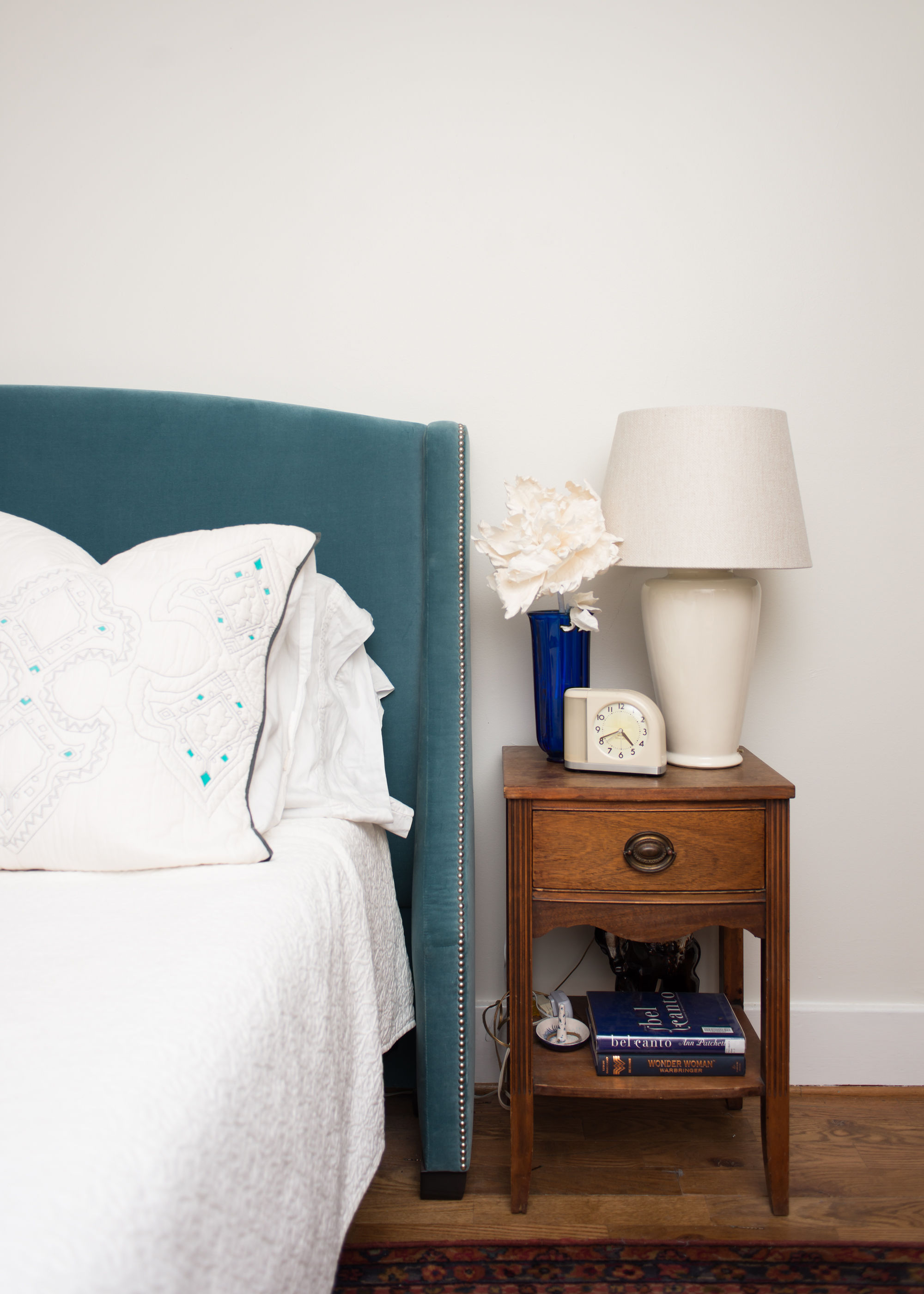 "I know that our house is not turn-key," Siler said. "And I'm sure there'd be a lot of people who would come in and look at our house and say, 'Oh my God, where are your stainless-steel appliances?' Or any number of things, right? But I don't know. I feel a lot of pride in homeownership." 
Currently, Peckham and Siler are working to reglaze the windows, a process that repairs the weathertight seal between the glass and the frame, keeping the original window intact. These old windows have that antique wavy-glass look, which Siler said makes for really beautiful light streaming in the house during the day. 
There are additional projects they'd like to accomplish eventually. However, both Peckham and Siler seem content to take on projects as they can, working at their own pace, little by slowly. 
One of their favorite features of their home is something that can't be changed: its location. Peckham and Siler moved to Bowling Green from Chicago, where they gained an appreciation for walkability. 
"I really loved public transit and walking everywhere, and so, being able to preserve some of that — I think it makes me aware of my neighborhood and neighbors in different ways," Siler said. 
With the exception of a grocery store, they can walk most everywhere they would need to go in an average week — whether that's to work or to restaurants or to see a movie at the Capitol Arts Center or to get drinks with friends — because of their home's location in downtown Bowling Green, they said. They added that this has allowed them to remain a one-car family, and it has also helped foster a special sense of connection to their community. 
"You kind of just get to know other people who live here through their routines as well, which I think is really nice," Siler said. 
For these reasons, they both said they'd encourage other young couples to consider living in an older home downtown as well. For those who may be considering a move, they suggested being realistic about everything from budgets and project timelines to expectations and whether a project like this would bring them joy. 
"It's definitely not for everybody," Peckham said. "It's just kind of knowing how big a challenge and how much a project you're willing to take on." 
They also suggested not being afraid to turn to super-specific Google or YouTube searches for home repair advice. 
"Get real deep on 'This Old House' forums where semi-retired carpenters feel like they just need to give you all the advice," Siler said. 
This is likely something Peckham and Siler will continue to do as they keep working to improve their 90-year old home, slowly making it their own. 
"I'm OK with not everything being perfect the day we move in and with this being a thing where we always are doing something and then looking at each other and saying 'little by slowly' as we make another little improvement so that we always feel like every week or every month we've done something that's left our home a little better than it was before," Peckham said.