Literary-inspired benches are popping up all over Lexington, thanks to a collaborative art and literary fundraiser.
Book Benches: A Tribute to Kentucky Authors was organized by Arts Connect, LexArts and the Carnegie Center for Literacy and Learning and has placed 37 fully functional, vibrantly decorated open-book shaped fiberglass benches in public spaces throughout the city.
Each bench was illustrated by Kentucky artists with themes inspired by the works of Kentucky authors in a variety of genres. It's a tangible celebration of the state's rich cultural heritage.
Nearly 100 artists submitted detailed proposals in January, and the artists commissioned were given six weeks to paint their designs and were responsible for picking up and delivering the completed benches. The benches were grouped in Gratz Park and unveiled June 1 at a preview for sponsors, authors, artists and the media. They were relocated for public exhibition and will remain in place until an auction and gala Nov. 17 at The Livery.
Bowling Green is well represented by the works of two artists, Lora Gill and Sara Volpi, both librarians and quiet activists whose daily work and passion for the arts and literature is making a difference.
Gill was an Army brat and veteran, born at Ft. Knox and raised in Germany and Radcliff. She interrupted her studies at the University of Kentucky with marriage at 19 years old to William Gill and a shared four year stint in the U.S. Army. Following an honorable discharge, she completed a master's degree in Library and Information Sciences at Kentucky, while William finished his pharmacist's degree. They moved to Bowling Green about 12 years ago with their five children, two of whom are adopted from Asia. Gill is a full-time librarian at Warren County Public Library and has been the arts coordinator for all four branches since 2015.
"My work has given me the opportunity to promote awareness of the visual arts by reaching out to local artists and providing a venue for the display of their work," she said. "Art has been important to me since I was a child. I vividly remember being mesmerized watching my second grade teacher tell a story and illustrate it on the chalkboard. That was the first time I realized that drawing could have such a magical effect on a story."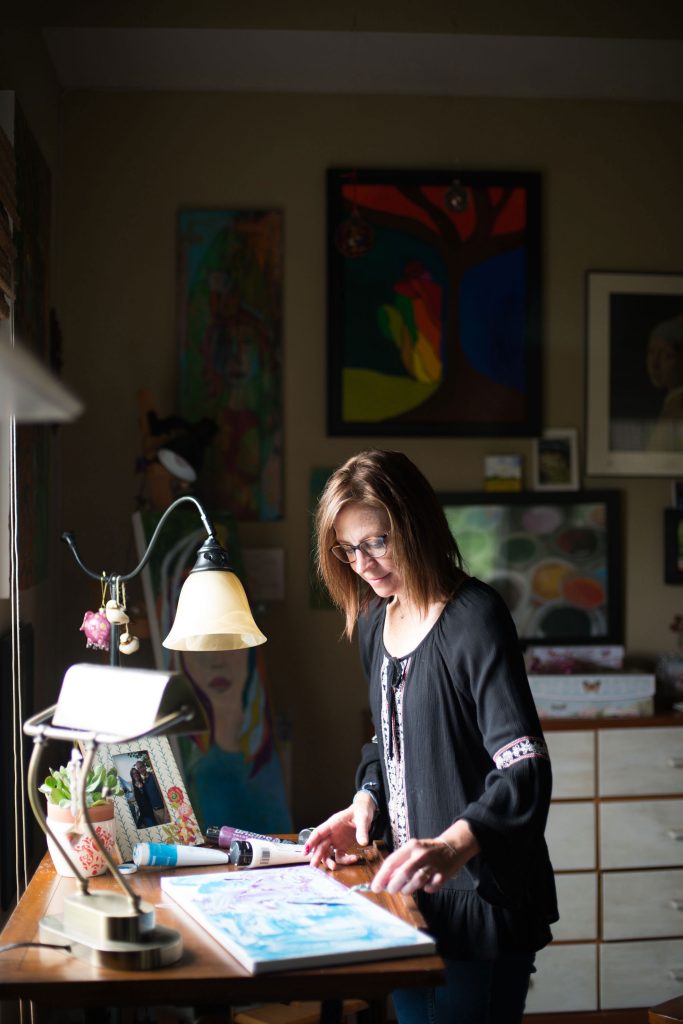 Her bench design #34 The Birds of Opulence is inspired by author Crystal Wilkinson's novel by the same name. This bench is one one of only three to be pre-sold with the highest level of sponsorship—$15,000—and can be found in front of Wild Figs Books & Coffee, co-owned by Wilkinson, and will be permanently moved to the University Press of Kentucky in November.
Gill implemented acrylics as the medium to paint her bench, using her dining room as a primary workspace.
"It was quite the adventure for my family, and everyone who came to the house had the wonderful opportunity to see an enormous work in progress," she said. "When someone looks at a piece of art I have created, I want them to be captivated. I want it to transport them to a new level of awareness about human emotion. Always in my work is a fascination with the floral and the feminine."
Gill describes her work as Kentucky folk art, calling her most current collection "Featherbrains." This series of works on paper and canvas will be the subject of a two-month solo show planned for 2020 at the Artists' Attic in Lexington.
•••
Sara Volpi is a hummingbird, a blur in constant motion whose enormous list of achievements belies her relative youth.
Born in Baton Rouge, La., Volpi's family moved to Somerset when she was five. Upon graduating high school, she received a four-year scholarship for Morehead State University's Creative Writing program and minored in Studio Art.
"I use art as a way to clear my head and sometimes as a way to process information," she says. "I've always loved being outside, and I've always loved drawing people or plants. Much of my work incorporates henna or mandala-style patterns, and I like to play with symmetry and space. I draw inspiration from fabric design, patterns, other artists I admire, textile design, books, clothing, nature, etc."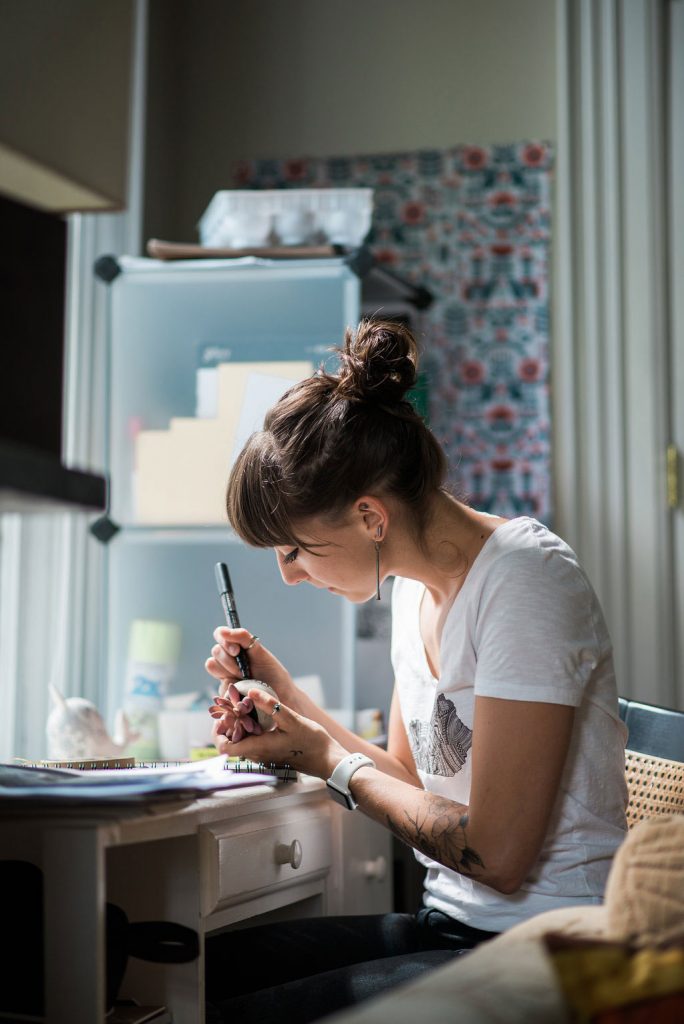 The aforementioned author Wilkinson became her MSU thesis advisor and mentor, and Volpi moved to Bowling Green when she was awarded a graduate assistantship at WKU, teaching and tutoring while completing her course work and thesis for a master's degree in Rhetoric and Composition. She now works full time at WKU Libraries as the literary outreach coordinator, where her responsibilities include organizing the Southern Kentucky Book Fest, a year-round project to bring more than 150 authors in all literary genres and thousands of book-lovers together for a combination of fan fest, book signings, panels and writing workshops.
Volpi also serves as on the WKU Cultural Enhancement Series Committee, coordinates the One Book, One Community campaign and works with Barnes & Noble on its Kentucky Live speaker series. She is a member of the annual Kentucky Women's Writers Conference at Transylvania University and is a coordinator of the Wild Women of Poetry Slam. Volpi is an annual participant in the professional art category in the US Bank Celebration of the Arts community-centered art show and is a founding member of BG Makers, an area artisan collective.
Young Adult literature is a genre of great importance to Volpi.
"Readers of young adult literature are keeping the book market busy and flooded with new, exciting authors writing titles that wrap political, cultural and ethical themes into their books," she says. "Let's just say they're not afraid to take chances and push their readers to be aware of what's going on in the world. It's a tight-knit community, and the authors love their fans."
Young adult author Alecia Whitaker asked Volpi to collaborate on the Book Bench project, using Whitaker's book The Queen of Kentucky as inspiration.Volpi created design templates for approval and was selected by the committee. Her bench design #33 The Queen of Kentucky is located in Lexington's Women's Garden.
"It still seems kind of like this whole project never happened," she says. She worked on the bench in her boyfriend's father's Roundhill cabin, about 25 minutes from Bowling Green.
"The setting was perfect. I was able to pick some wildflowers and paint them onto the bench," she says. "I painted in a sort of fever-dream state for 10 days—a few all-nighters included. I used Kilz primer, acrylic paint, watercolor pencils, Posca paint pens, oil-based paint pens and Sharpie. I put the final touches on the bench right before midnight on May 11, slept a few hours and then watched the sun rise on the morning it was due back in Lexington. I'm still having trouble adequately conveying how lucky I feel to have been included in this project in general, much less with the incredible artists whose benches are now on display in Lexington."
To see all 37 benches and to learn more about their creation, visit www.bookbencheslex.org.