Heading into its 20th year, the Southern Kentucky Book Fest shows no signs of slowing down.
With over 140 authors in attendance this year from all genres, two days of writing workshops and a headliner whose Series of Unfortunate Events has been turned into a film starring Jim Carrey and a Netflix hit, SOKY Book Fest has aged well the past 20 years.
This year will undoubtedly be one for the books.
Held at the Knicely Conference Center, the Book Fest has brought some of big-name authors of the time to meet fans and book lovers. Recent headlining authors have included Diana Gabaldon, Nicholas Sparks, Henry Winkler and Terry Brooks.
Loren Long, author and illustrator of the bestselling Otis series, will be headlining this year's event. Long has illustrated books for former President Barack Obama, Madonna and Watty Piper. He will be discussing his latest book, Love, on Friday, April 20 and Saturday, April 21 at 10 a.m. .
This year's Book Fest will host Maggie Stiefvater, whose wildly popular Raven Cycle series has recently been optioned into a television program. Stiefvater will speak at 11 a.m. April 21 and will sign books after her presentation.
Other authors of note this year include Phil Bildner, Debbie Dadey, former Kentucky Gov. Steve Beshear, Rebecca Costa, Mitali Perkins, Molly Harper, Alma Katsu and Ann Gabhart. From children's fiction to romance novels to historical nonfiction, there is an author for every genre, age and taste.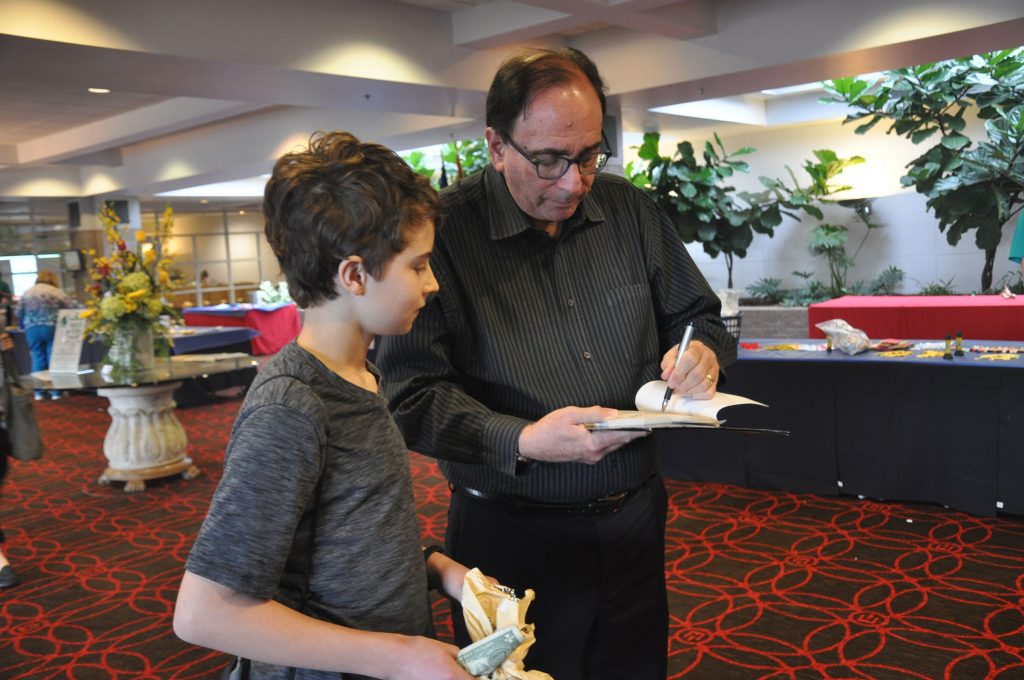 This year's Book Fest will be the first to feature two days of writing workshops. Attend panels as authors such as Courtney Stevens, Kristen Tubb and Max Garland discuss and offer advice on the highs and lows of publishing, poetry and prose. Just like the Book Fest, the Kentucky Writers Conference is a free event, though online registration for Friday's event is encouraged at www.sokybookfest.org.
Teen & Children's Day is held on April 20 as well. More than 60 authors attend as elementary, middle and high school students attend presentations, panels and participate in activities. Other writers featured on Teen and Children's Day are the winning authors from the 212 Academy, a gifted and talented program for fourth- to sixth-graders.
"Each fall semester, a selection of students from 212 Academy take a publishing course in which they learn the ins-and-outs of what it takes to publish a book from idea to final printed material," said Sara Volpi, literary outreach coordinator for WKU Libraries. "Final books are read by a committee who choose two winners to be featured at Book Fest. Students often choose to illustrate their own work, as one of our winners, Haley Graham, did this year in the second installment of her Phantom Trilogy (yes, she already has plans for a third book!). A duo, Bella Wahbeh and Virginia Stewart, took the other Book Fest spot for their book, Quest for the Gemstone. The authors will be signing and selling their books alongside adult authors on Teen & Children's Day—a coveted spot."
Also on Friday, April 20, from 5 to 7 p.m. is the Meet the Authors Reception, a ticketed that event allows book lovers the opportunity to meet their favorite authors in a more intimate setting, complete with appetizers and drinks.
"Our generous sponsors, such as Jim Johnson Nissan, Dollar General and Walmart, make Book Fest events possible year after year, and we're lucky that the SOKY Book Fest partnership and the volunteers who assist in our efforts is a strong team with shared goals," Volpi said.
A partnership between Warren County Public Library, Barnes & Noble Booksellers and WKU Libraries, SOKY Book Fest is proud to offer events and programs throughout the year to promote literacy within the community. SOKY Reads events and the SOKY Book Fest Used Book Sale promote the Book Fest as well as encourage literacy and a love of reading.
"We're always trying to stay ahead of the curve in the literary community, and we welcome feedback," Volpi said. "We're excited to offer some new opportunities at our 20th anniversary, and we've even partnered with Book Fest favorite Mark Wayne Adams to design a one-of-a-kind commemorative T-shirt to celebrate this milestone. There will also be an interactive mural painting session Friday morning with Andee Rudloff, a Bowling Green native who has toured the U.S. adding her signature style and vibrant color to hundreds of locations."
As always, SOKY Book Fest is free and open to the public. Held at the Knicely Conference Center, SOKY Book Fest is Saturday, April 21 from 9 a.m. to 3 p.m. The Kentucky Writers Conference, sponsored by Dollar General, is Friday, April 20 at WKU's South Campus from 9 a.m. to 3:30 p.m. For more details and lists of authors and events, visit sokybookfest.org.