Christian Ryan didn't expect her graduate thesis to lead to a job at Western Kentucky University, much less to the creation of a new office, but that's what happened in 2008.
Ryan is the sustainability coordinator for the Office of Sustainability. After writing her thesis about how WKU could improve its sustainability, Ryan said her hiring was "almost like saying, 'Make it so.'" She occupied an office in the Department of Facilities Management until the opportunity arose in 2013 to move and expand the OoS to an old house WKU owned at 503 Regents Ave.
Although the house appears quaint, the happenings within the walls—and on nearly every square inch of the property—are anything but. On the main floor is a kitchen, where the OoS hosts various cooking workshops; a room where volunteers perform tasks like assembling seed packets; and a food pantry. Below is the basement, the shop for Big Red Bikes, which repairs and rents bikes that have been donated or abandoned.
A deck at the back of the house overlooks a community garden, which includes an olive tree, kiwi, malabar spinach, edible flowers (such as dahlias and nasturtium), herbs and hops. Solar panels don the roof. Rain barrels dot the property.
"That's our goal, to be net zero, to produce just as much (energy) as we use," Ryan said.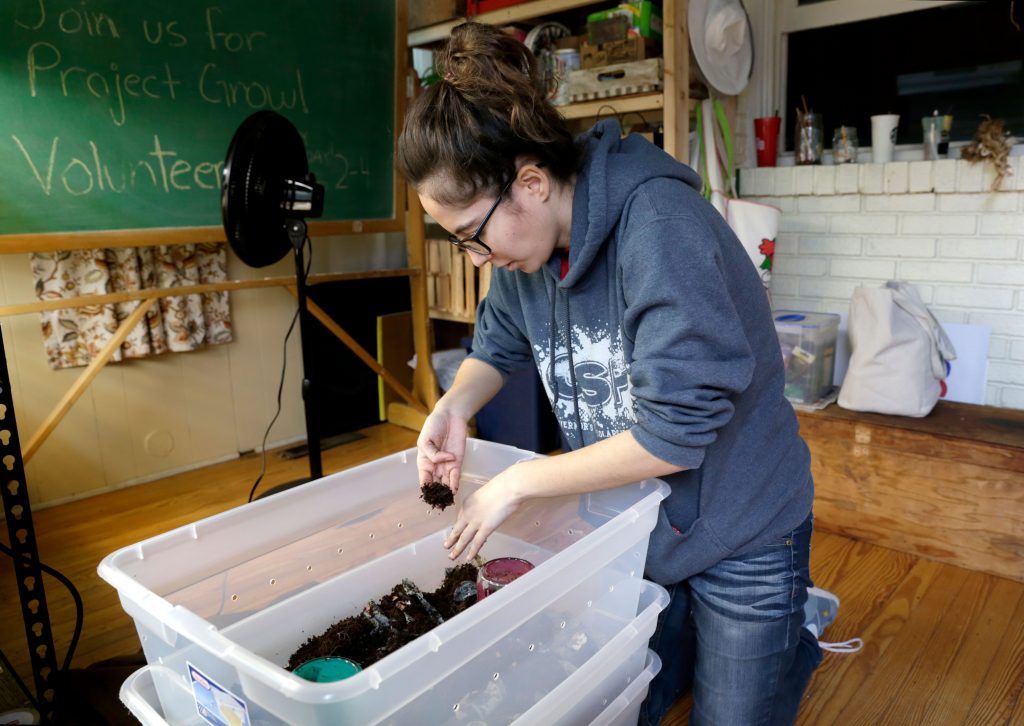 In 2008, Ryan said the OoS was mainly concerned with energy efficiency and consumption on campus. Since the office's inception, campus electricity consumption has decreased by nearly 30 percent, made possible by using LED lighting, which reduced parking lot lighting energy consumption by 85 to 95 percent, and turning off computers at the end of the day.
In 2009, the OoS spearheaded Conservation Vacation, which included shutting down things like vending machines and unused parking lot lights during school breaks. The initiative saved more than 1 million kilowatt hours of energy, Ryan said.
In addition to ramping up a recycling program, the OoS sought to "reduce waste upstream," as Ryan put it, and worked to figure out how WKU could reduce its environmental impacts.
"There are some ideas that work really well for other schools but don't work as well here," Ryan said. "One of the things I've found resonates really well with our students here is food."
Students often show interest in learning about organic foods, buying local and genetically modified organisms, or GMOs. That interest led to a partnership with the Community Farmers Market and greater involvement in the garden.
Ryan said the garden draws a diversity of students, and even offers a source of comfort for students feeling lonely or depressed, which Ryan believes helps with retention.
The garden contributes to the OoS food pantry, which Ryan said is much more needed than some people may know.
"I don't think we realized how great food insecurity is on our campus," Ryan said. Last year, the OoS food pantry had 308 visits. Many of those visitors were campus staff.
"The majority of our staff on campus … the folks who keep the place running don't make a living wage, so it's kind of heartbreaking to see them needing the food pantry," Ryan said.
While the food pantry only serves WKU students, faculty and staff, anyone may donate.
The pantry also offers learning opportunities. Ashley Stinnett, assistant professor of folk studies and anthropology at WKU, teaches Foodways, a class that addresses how we think about what is healthy and unhealthy, policy in agriculture and where our food comes from, among other topics. Last year, she took 40 students to the OoS.
"I was looking to get my students engaged outside of the class and sort of grappling with the realities of things we talk about in class," Stinnett said. "I was also sort of interested in getting my students more plugged into the community and campus."
The class discusses worldwide food issues, but the OoS helps show the local level of those issues, along with enriching the students' college experience, Stinnett said.
"The Office of Sustainability isn't just a spot for students to learn how composting works," Stinnett said. "We're supposed to help students think critically and actualize that, not just learn theory. If we remove our own self-judgement and can step back from our own beliefs, we really have the opportunity to learn something new," Stinnett said. "Those experiences teach us about the world, but they also teach us about ourselves. The Office of Sustainability provides a place for us to think about our presuppositions."
Alexa Hatcher, a WKU senior from Bonnieville, got involved with the OoS as a student worker in 2016 and is now an intern.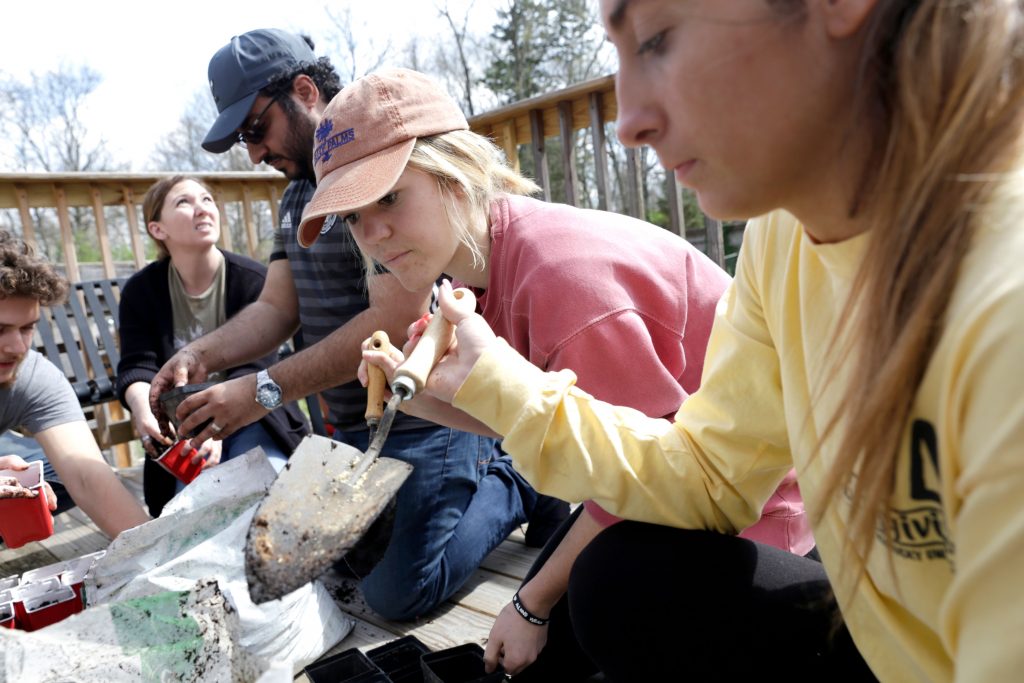 "In the beginning, I thought (the OoS was) cool, and I needed a job," Hatcher said. "Since then, it's kind of developed into a much more deeper, personal thing for me. Even if I wasn't getting paid, I get paid in how I feel and what I'm learning."
Hatcher emphasized that food connects everyone, and that's why the OoS is important to her and to WKU.
"I'm just proud to be a part of that space where people are coming together to provide food for everyone," Hatcher said. "It's based on something bigger than you."
On the horizon for the OoS is the Sustainability Living Learning Community, a class starting next semester in which students will live together and work to address and solve sustainability issues.
Ryan said the OoS will continue to work to make local food sourcing and renewable energy realities. No matter what initiatives and projects the OoS will take on in the future, the core aim remains the same.
"One thing that hasn't changed is that I do anything and everything I can to make WKU a more sustainable campus," Ryan said.
More information about the OoS, including upcoming events, is available on its Facebook, Twitter and Instagram pages.