Passion and dedication can take you a long way—just ask Stephen Fisher.
As a child in the '90s, Fisher loved watching sword fighting movies and shows, like the Three Musaketeers and Highlander: The Series. So his curiosity was piqued when he read a newspaper article about the Western Kentucky University Fencing Club.
"Fencing is very similar to sword fighting," Fisher said. So the then-12-year-old asked his parents to call the club.
Back then college clubs weren't limited to WKU students, so there were no qualms about letting him take lessons with them. What Fisher found at the WKU club was a sport he loved. His curiosity turned into passion—and his passion has taken him around the world and become a driving force in his life trajectory.
Fisher owns and operates Bowling Green Fencing Academy, teaching fencing lessons to youth through adult in a rented room at Warren County Parks and Recreation.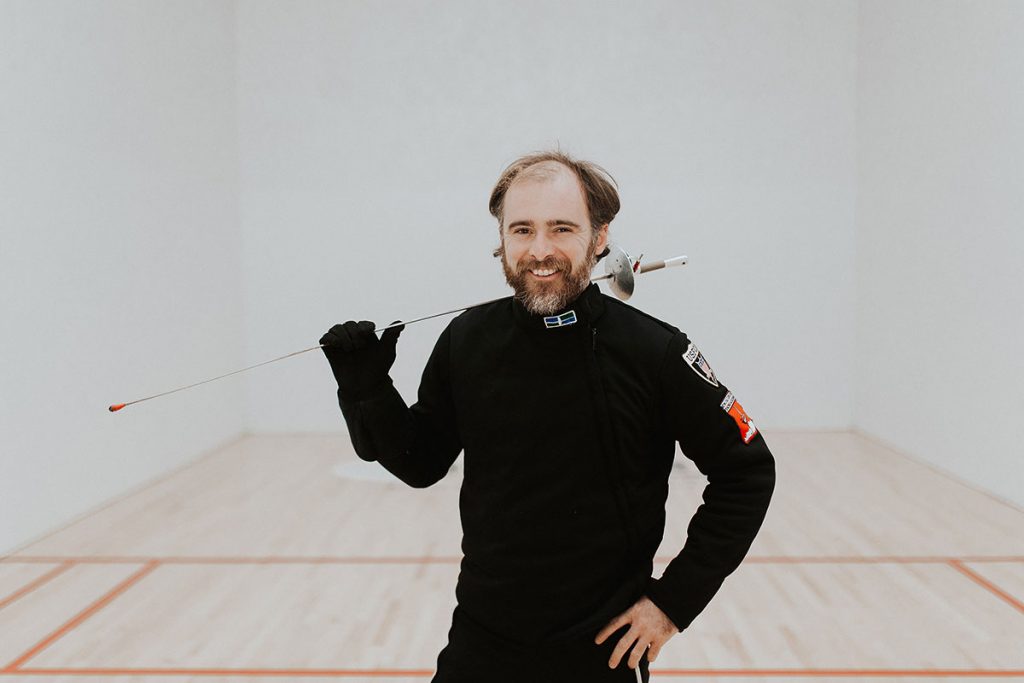 Fisher is a competitor and serves as the current secretary of the United States Fencing Coaches Association as well as the tournament committee chairman of the Kentucky Division of USA Fencing. He is also one of only five Americans to have completed training at the Association of Italian Fencing Masters in Italy, where he is currently working on an advanced degree. Fisher also served six years in the National Guard and was deployed to Baghdad for a year. He has contributed to several books on fencing, and pieces from his extensive collection of antique fencing weapons, gear and texts are on display in the "Agora" Museum of Fencing near Milan, Italy.
"I'm well known, because I've been doing it for so long," Fisher said.  He stuck with the sport, he said, because of its physicality.
"It's like a game of physical chess," he said, "good for working your body and your brain. It helps to build confidence and agility and you can potentially get scholarships for college."
Fisher said it's actually a very safe sport for youth to participate in. "The equipment is made with safety in mind. It's designed so that if a blade breaks, it doesn't penetrate."
He finds that sword fighting is often appealing to kids. But it's not a matter of just stepping onto the strip—the official name of the fencing area—and swinging a sword at someone else. Fencing, like any sport, is structured with rules, proper form and proper technique.
In March, Fisher is scheduled to coach a Sword Experience in Lexington alongside actor, director and martial artist Adrian Paul, who starred in Highlander: The Serieson television (1992-1997) and in several spin-off movies. Fisher is extremely excited about that opportunity.
"For me, it's like coming full-circle," he said. "That's who I grew up watching, and now I get to coach alongside him."
For more information, email [email protected] or visit bgfencingacademy.com.