For the past 12 years, Allison Millet, alongside her husband and oldest son, has gone to battle against a handful of ailments that have afflicted her second-born. 
"A lot of people say that this life must be hard," Allison said. "Once we had Owen, we just put our armor on." 
At age 42, Allison is the owner of Bowling Green Backyard Boot Camp, a successful group fitness program. On top of running her business, Allison is a devoted wife to husband Rodgie and loving mother to her two sons, Ross and Owen. 
"My husband and I make a great team," Allison said. "We have to in order to grow the business and have harmony with our family." 
Allison's oldest son, Ross, could be described as your typical high school sophomore. At age 16, he just received his driver's permit, plays football for the Bowling Green Purples and loves watching episodes of "The Office." 
But her youngest, Owen, doesn't fit the mold of your typical 12-year-old. While he enjoys wrestling in the floor and watching "Spongebob Squarepants" with his older brother, he has several special needs that must be addressed on a daily basis. 
"From the get-go, we realized something was a bit different about Owen," Allison said. 
At just 8-months-old, Owen had to start wearing glasses. Soon afterward, several food allergies and sensitivities were discovered. Then, he was diagnosed with autism. 
Allison said her journey with Owen has encouraged her to share her family's story with others in the wellness community. 
A native of White House, Tenn., Allison has lived in Bowling Green since she came to Western Kentucky University in 1995. After a brief stint as an elementary school teacher, Allison combined her entrepreneurial spirit with her passion for fitness. 
"I'm just always dreaming," Allison said. "My brain never stops. I'm always thinking of new ways we can help people get moving that's fresh and exciting." 
From teaching group fitness classes in college to purchasing a Stroller Fit franchise, Allison eventually landed at the formation of Bowling Green Backyard Boot Camp. 
After Owen was born, and his diagnoses were realized, the Millets moved into a new home, also purchasing an empty lot next to the house. 
Allison had big dreams for the empty lot, which would make being a mom to Owen and running a fitness business all the easier. 
"I thought, 'Wouldn't it be cool if people could come here to work out?'" Allison said. "Owen could be inside getting therapy and I could be leading workouts." 
Allison held Bowling Green Backyard Boot Camp's first class in 2010 in her empty lot and attracted 18 people. She said classes started to grow quickly so they had to move their location to area parks. Ultimately, she found indoor locations to use over the years. 
"Now, here we are nearly nine years in business," Allison said. "We've grown from three classes per week to 15-plus with coaches that help me lead the workouts. It's just been one fun ride." 
While her business grew, Allison had to personally grow with her family. The Millets discovered new systems to make daily life easier and have learned how Owen optimally operates. 
"We're always on with him," Allison said. "We've always worked hard to find the ways he learns best. The traditional American way is not always the best way for him." 
Allison said they had to seek out some different education options for Owen. Currently, he spends half his day in therapy and the other half in school. 
"The changes all seem so very normal to us now," Allison said. 
While physically mobile, Owen is unable to speak. Owen faces issues with fine motor skills so getting him to make hand signs as a means of communication initially was a challenge, Allison said. 
The past eight months, Owen has worked with a professional and has now learned to sign "his signs." 
"That has really opened up his world," Allison said. "He's really just come alive wanting to talk to you." 
Allison said she and her family have had to be creative tying in fitness with Owen in the mix. She recently found that walking with him in the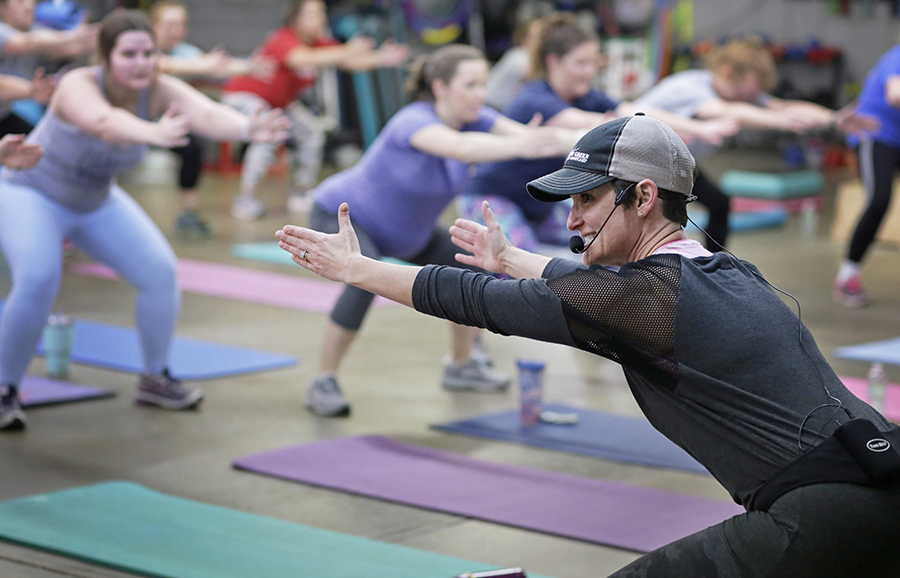 cemetery on Fairview Avenue proved to be successful. 
"To keep balance, and to be able to live the life you want to live — which, for us, is active — it would be really easy to just sit back," Allison said. 
Allison said her family quickly adapted their lifestyle, but still finding balance can be hard at times. 
"Being active has been a challenge, to be honest," Allison said. "To find time to coach the people that I coach, to spend time with my family and to get in my own workouts — all of that is a challenge." 
Allison said it took a while for her to accept Owen's special needs for what they are. 
"For a long time I was trying to fix — for a very long time," Allison said. "And finally one day it just really hit me — what if there is nothing to fix? What if this is the child that I'm supposed to raise just as he is the very best that I can? To stop looking at it as a fix and love him like crazy?" 
Utilizing at-home professionals for occupational and behavioral therapy has been a complete game-changer, she said. 
"They can help us help him," Allison said. "We've had to open up our home. They are our extended family of special people that work with him." 
Allison said she encountered some kids with special needs during her stint as an elementary school teacher, but would still describe herself as extremely new to the world of autism after Owen was diagnosed. 
"He's a very happy kid," Allison said. "Anybody that's ever met Owen knows that he was put here on this earth to spread joy." 
She said a friend recently asked her how she manages everything in her everyday life. 
"We have a lot of systems in place in our house out of necessity," Allison said. "Along the way, they just came into place." 
Allison said the next step in her business is to focus on moms of special needs children. 
"I want to focus on getting them strong and healthy because we have to be strong and healthy to take care of these kids," Allison said.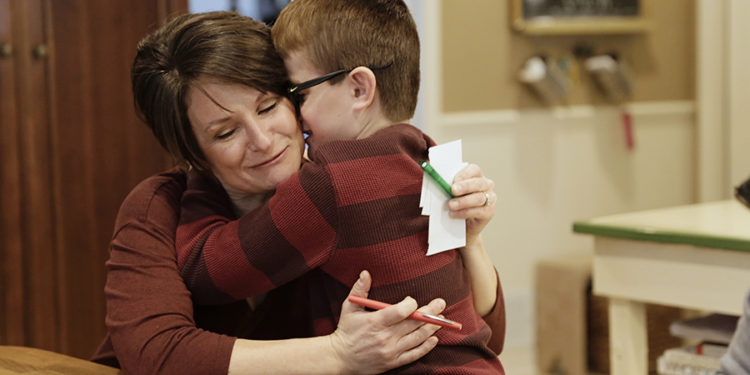 Through Allison, Owen has touched many lives. 
"It's amazing to see how one kid has transformed so many people's way of thinking and transformed my business," she said. 
Owen's lifestyle has transformed not only Allison and her business, but has also impacted his older brother, Ross. 
"He sees life a lot differently at 16 than I did, that's for sure," Allison said. "He and Owen have a bond like none I've ever seen before between siblings. Ross just knows the way that Owen works." 
Ross sees Owen's differences, but he said they have developed a regular brotherly relationship all the same. 
"I don't know what it's like having a brother without special needs," Ross said. "It's a special bond that we have." 
When Owen was still a toddler, Ross said he mistook Owen's therapy sessions for extra playtime. 
That struck a chord with Allison and her husband. She said from that moment on, they made sure Ross felt like he was getting the same amount of attention. 
"This little 5-year-old kid went and got his piggy bank and asked how much it was for the therapist to play with him," Allison said. "We would then take a football with us where we would go so we could throw it while Owen was in testing or therapy." 
As Ross has grown up with a family who's had to overcome uncommon obstacles, he said their time spent together has completely shaped his morals and beliefs. 
He said he realizes many others his age haven't had the pleasure of being so close to someone as special as Owen, but wishes everyone could share in his experience. 
"He has a sense of humor that anybody could understand," Ross said. "If you just take the time to get to know someone with special needs, then that would make your ability to talk to them so much easier."