Ben Hughes didn't originally plan on building a mantle and custom furniture business.
But two years ago he was working as a hardwood floor installer, and one of his September Lakes clients was having a difficult time finding the unique, rustic barnwood mantle that would set her home's fireplace apart.
Hughes had some connections and called around until he found her a beam from a 100-year-old-plus farmhouse. The wood was aged to perfection and showed the signs of its former life—hand-hewn cuts, nail holes and imperfections. Hughes planed off the old finish, cut it to size for the client and even refinished it for her. It became the well-worn centerpiece and talking point of her home.
Word got out that Hughes could build a statement piece with the rustic farmhouse flair that has become ever so popular. Before long, Hughes had more of his hardwood flooring customers asking for mantles—as well as contractors.
"So I used my hardwood flooring business to haphazardly start my mantle business," Hughes said. "And it kind of blew up from there."
He was able to transition his flooring installation business into Bluegrass Beams, a business whose sole focus is repurposing one-of-a-kind beams and wood from farmhouses, barns and the like. Hughes only rarely installs floors, focusing instead on rustic mantles and custom furniture—change he welcomed.
"Laying flooring 8 hours a day, every day, can be extremely hard on your body," Hughes said. "So I was glad for the change."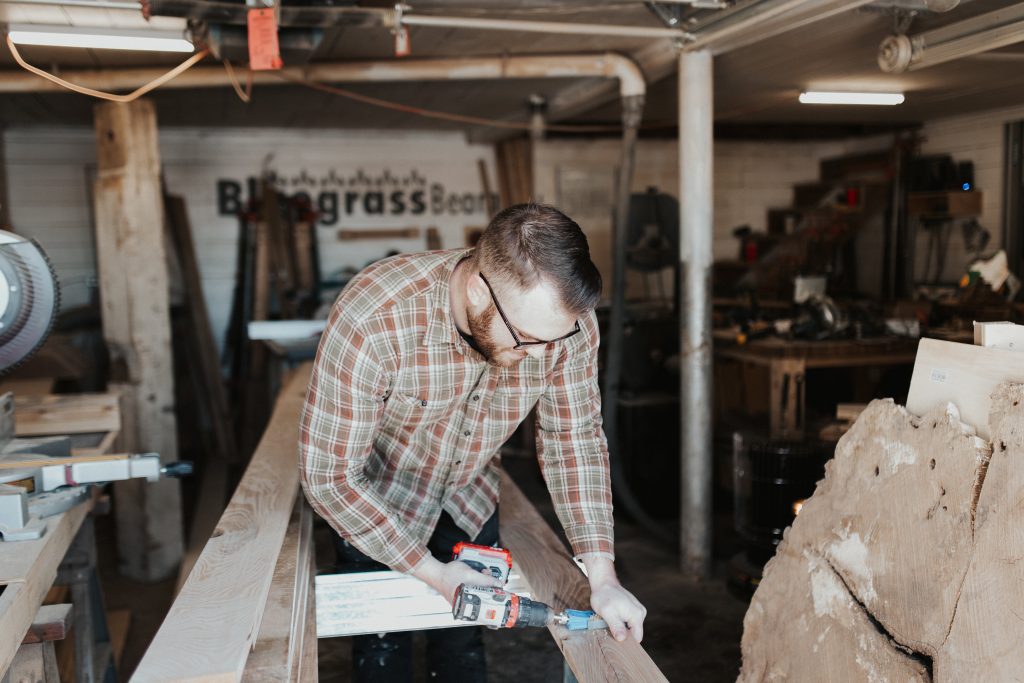 Last year's Parade of Homes winner included lots of Hughes' handiwork. It was there that Realtor Sharlene Grant fell in love with Hughes' woodwork and wondered if he could bring her vision for her home to life. Her house is in the country overlooking a creek, so she wanted to incorporate the rustic look without her home being overwhelmed by it. She had already seen some of his work at Mellow Mushroom, and when she called him she knew exactly what she wanted. He created a beautiful entryway, with wooden columns and furnished four mantles for the home.
"I wanted them all to be different—and he achieved that," Grant said. "He'd never done anything like what he did for me in the entry, and it was better than anything I had envisioned.
"I think he can do whatever a client shows him in a picture or a sketch," Grant said. "He can do just about anything he wants to out of wood."
All of Hughes' beams are kiln-dried and reclaimed. Most are cut from virgin growth, meaning from trees harvested in pre-Civil War times. The beams come from a variety of places, too, and each has a story to tell. Maybe it was hidden in the walls of a dismantled farmhouse, or had once held the roof over stacks of tobacco gone to auction.
While mantles are his mainstay, Hughes also creates custom furniture. His repertoire includes bathroom vanities, butcher-block countertops and tables. Earlier this year, a bank executive asked him to transform several cross-sections cut from a huge oak that had fallen on the family farm in Butler County into two end tables and a coffee table. Hughes was excited to get to work on the project, filling the cracks with epoxy, planing the rough surfaces and refinishing the top to enhance the natural beauty of the wood.
He currently works in a converted two-car garage, and sometimes has to take long beams outside to turn them around for cutting. He recently broke ground on a new and larger facility designed for working with large pieces—and to eventually hire additional employees.
"I love what I'm doing," Hughes said. "I wouldn't change it for the world."
For more information, follow Bluegrass Beams on Instagram and Facebook.