When Boris Siakam talks about family, his eyes light up.
And there's plenty of family to talk about. His worldwide support system includes brothers James, Christian and Pascal and sisters Vanessa and Raissa, all spread out from France to Canada to the U.S.
Just a "kid from Cameroon," Boris was the first of his siblings to come to the U.S. from Africa as an exchange student. He spent his senior year playing basketball at Caverna High School in Horse Cave before receiving a scholarship to play for Western Kentucky University.
In addition to the Siakam brood, nearly 15 years since he was a young exchange student, Boris remains an integral part of his host family, their pairing seemingly a stroke of fate—or a "blessing" as they would call it.
Boris initially would have been in the U.S. his junior year if things had gone as intended. Instead, he encountered some roadblocks during the paperwork process. A host family was lined up already, but by the time everything was ironed out for his senior year, they had to back out.
According to Boris, "sometimes things happen for the best; you just have to end up in the right hands."
The right hands ended up being Gary and Sonya Bragg and their two children.
"We had no intention of doing anything like that," Sonya laughs. "Somebody at the school just said, 'Why don't we ask Gary and Sonya? They'd probably do it.' … I remember thinking, 'OK, the school year is 10 months; we can do anything for 10 months. Ten. Months. Now here we are all these years later. … He has just brought so many blessings to our family, and we're very thankful, very thankful that we took the chance all those years ago."
Caverna High School saw 30 victories that 2003-04 basketball season, advancing to the state tournament for the first time in years. Sonya recalls the excitement not only in her household but the whole community. But it was Boris' senior year, and it was passing quickly. Scholarship offers started pouring in.
"About February of that year I can remember laying in bed one night and my husband and I talking, and I just started crying, and he was like, 'What's wrong with you?' And I said, 'It's already February. How are we going to let him go?' "
Boris agonized over his decision. Gary and Sonya were worried he was waiting too long. It was nearing graduation when one evening he called them into his room.
Sonya remembers him saying: "I've made my decision. I want to go to Western. I want to stay close to home."
Because of a language barrier, Sonya says she wasn't able to speak with Boris' father Tchamo and mother Victoire while he was in the Braggs' care.
"I remember when he decided to stay (and attend WKU), and I wrote his mother a card … and I had him to translate. I told him. 'I want you to tell your mom that we are going to take care of you just like you were ours. It's our promise that she won't have to worry about you.' "
Boris graduated from WKU in 2008 and went on to play professionally overseas for almost nine years. That athleticism clearly runs in the Siakam DNA. Boris says his siblings all have their own talents—basketball, tennis, soccer—and Pascal currently plays in the NBA for the Toronto Raptors.
With most of his siblings around the globe, except Raissa who lives in Bowling Green, Boris frequently gets to spend time with his honorary family, the Braggs.
They all come together as quite the team—a lively bunch, with easy smiles and laughter and a whole lot of spirit.
Boris laughs at the thought of it. "Yeah, everytime we get together we don't take it for granted. We always have that time, that moment we cherish together—just amazing family, amazing people."
Boris' real all-star is his 8-year-old son, Joaquin Siakam. Talking about Joaquin, his eyes don't just light up, he practically beams, exuding a fierce pride for his son.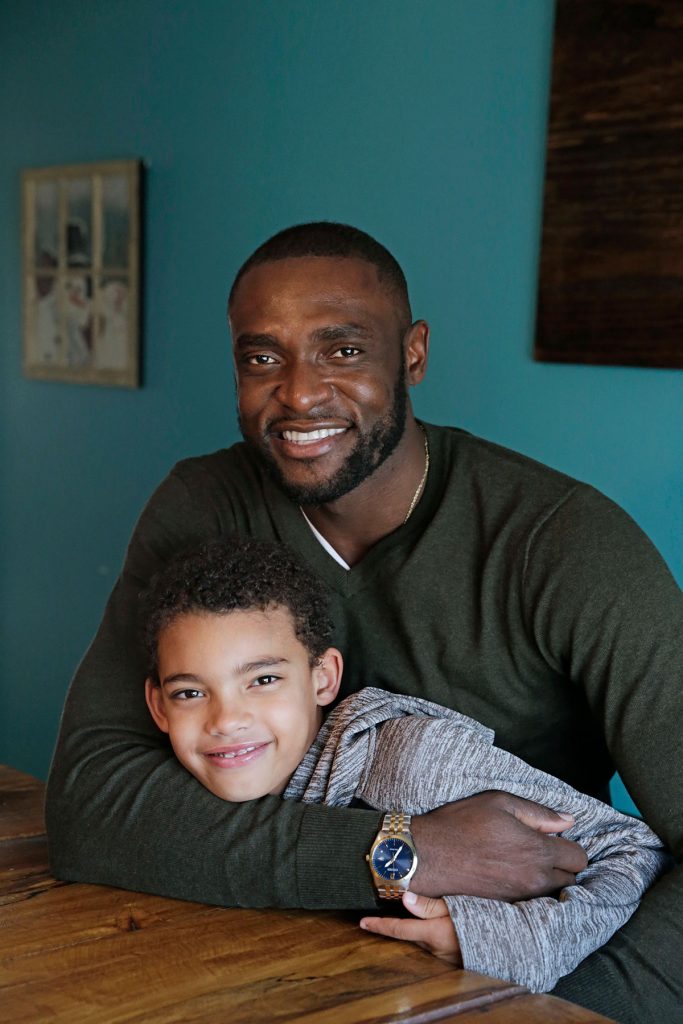 "It was so ironic that in high school and college I wore 21 basketball number, and Joaquin was born on the 21st," he laughs. "Joaquin has been a blessing to me."
Boris' son carries a special designation in his full name—Joaquin Armel Tchamo Siakam, named after Boris' father, who died in 2014.
"I don't know why I gave my son his name (at the time), but maybe it was a sign because my son has the same kind of heart that he did have. Sometimes you'd be surprised how a name does to people. He's a very good-hearted kid, compassionate to people, and that's just how my dad was."
Tchamo has left a legacy apparent in the Siakam children's approach to life.
"He had a great heart and was that kind of person who was willing to be there for other people, always helped out, always put himself before anyone he met, it didn't matter. He sacrificed so much for us to have the life that we have. We are all always going to be forever grateful for that, and we're hoping that everything we do in life we always make him proud."
Glancing skyward, Boris continues, "I never really feel like he's gone. He might not be present physically, but he always has been present in everybody's heart and way of life. I catch myself doing things that kind of remind me of him and how he approached things, even the way he laughs. … People back home tell me I have that same kind of fearless presence. … Having that kind of blessing is a great honor."
The Braggs met Tchamo when he visited to see his son graduate high school.
"I think that helped them and gave them a lot of reassurance that he was OK. That he was in a good place. … They're just super, super people," Sonya says about Boris' parents. "I can't say enough about what kind of people they are. All their children show that."
Ending his basketball career about a year and a half ago, Boris returned to Bowling Green, where he's now a business manager at Greenwood Ford, and as of just a few months ago, a new American citizen.
"The hardest thing was accepting another citizenship," he says, "but it was really a no-brainer because of everything it brings to the table for me and for my kid. Even though I'm an American citizen, I'll always be a kid from Douala, Cameroon. … It's important that none of us forget where we came from; that's what makes you unique; that's what makes you the person that you are today."
Boris carries the insight and integrity of someone wisened even beyond his 31 years, and it's a trait he's carried for as long as Sonya can remember.
"I worried. We're not the most affluent people," she says. "We have everything we need and we're fine and good, average middle class I guess you'd say, but I had told him that I worried that there was somebody else who could've taken and done more for you, material-wise or whatever. And finally, he would say, 'Mama, that's not what it's about.' "
Boris has goals for his life, but he doesn't mention anything material. He works every day to be a great father and instill in Joaquin the same values his family—both biological and honorary—passed on to him.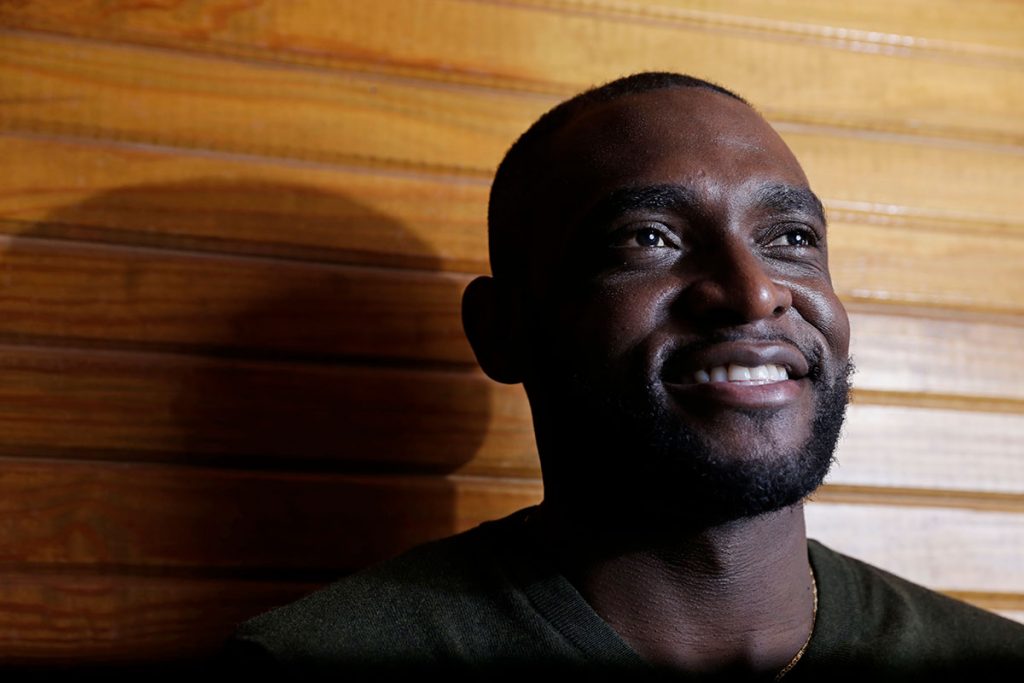 "It's not about what you give to your kids," he says, "it's about what you leave in them, and that's what they're (the Braggs) doing every day for us."
And he wants to make a difference for kids in Cameroon, because he knows first-hand what it is to have people push him toward his dreams.
"I had a vision about where I wanted to be in life—still do, still dreaming, very very big, and just want to be so successful in life to do nice things for everybody that I meet and also be able to touch everybody that I come in contact with. … I make a small impact now back home, but I'm looking forward to being able to put a smile on all the kids' faces and hopefully give them something to dream about, and hopefully that will make them better and make their family better and definitely make the world better."