Bowling Green artist Andee Rudloff remembered the outfit she chose for her first day of first grade: a painting smock. In 2019, years removed from grade school, Rudloff still has her own unique and functional fashion. These days, it's denim overalls splotched with countless paint colors, usually with a hat and sunglasses, and always with a radiant smile. 
In Rudloff 's full-time job as an artist working primarily in murals, her choice of attire is just as much a result of utility as it is of expressing herself openly. 
"One of the best things in the world about walking around in a pair of overalls is seeing how people look at you," Rudloff said. "Some people treat me like a non-entity. Some people see me and get the biggest smile on their face and say, 'Oh my gosh! What do you do?' It's such an honest way to walk around the world. It makes me super happy." 
Rudloff even managed to turn one woman's criticism of her clothing that she "looked like a farmer" into a compliment. 
"I think of farmers as the epitome of sowing and reaping, and that's what I want to do, sow and reap," Rudloff said. 
On the metaphorical land, Rudloff has been busy planting and harvesting, with her tools being paintbrushes and an infectious positivity. Her creativity has taken her across the United States to places like Nashville, Tenn.; Grand Rapids, Mich.; and as far as Magdeburg, Germany, but she never neglects her Bowling Green roots. You can find her work around the area and in many of the local schools, including her own stomping grounds of W.R. McNeill Elementary School. 
In her art, Rudloff said she makes an effort to prevent her own vision of what clients want to dominate the piece. One of the first things she does is ask clients to submit their own drawings that she can incorporate into the artwork. It doesn't matter who it is; everyone draws if they want her to work with them. 
"I've worked with the governor of Kentucky and the governor of Tennessee, and I make them draw," Rudloff said with a laugh. 
When Rudloff works in schools, she accepts drawings from the students and also lets them paint the finished product. She said when she goes back over a design that kids have helped paint, people will sometimes say, "'Oh, you're going to touch that up, right?' And I'm like, 'No!'"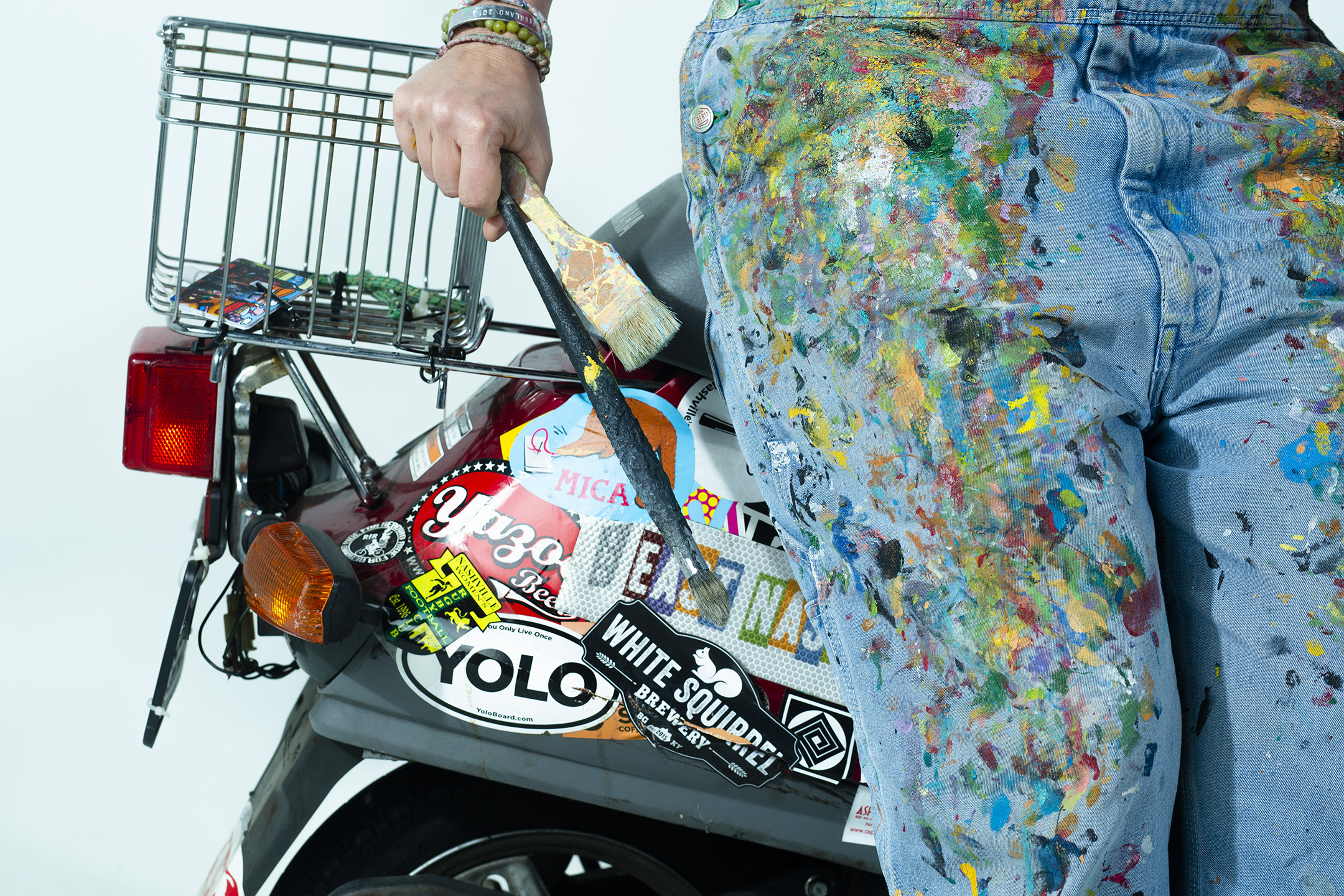 The oft-seen realistic murals are "a little plastic," in Rudloff 's opinion, so she strives to do something different. "I love the wobbly line. I want it to look like a human being did this, not like a machine did it," Rudloff said. "I love the flaws. I love if there are specks in it or drips in it." 
In addition to doing commissioned artwork around Bowling Green and abroad, Rudloff serves on the Kentucky Arts Council and teaches for VSA Kentucky, a nonprofit organization dedicated to providing inclusive arts and education programs for children, youth, and adults with disabilities, according to the VSA Kentucky website. 
"Art has a way of bringing people of all abilities together in a lot of unique ways," Rudloff said. "Art has the capacity to make people feel purposeful and meaningful and understood." 
Rudloff also works with the Center for Gifted Studies, which serves gifted and talented students. Rudloff said she doesn't have a lesson plan or any desired outcome when she works with the students. She brings materials in and lays them out like her mom did for her as a child and lets the students experiment. 
"I like seeing how other people put things together in their own way," Rudloff said.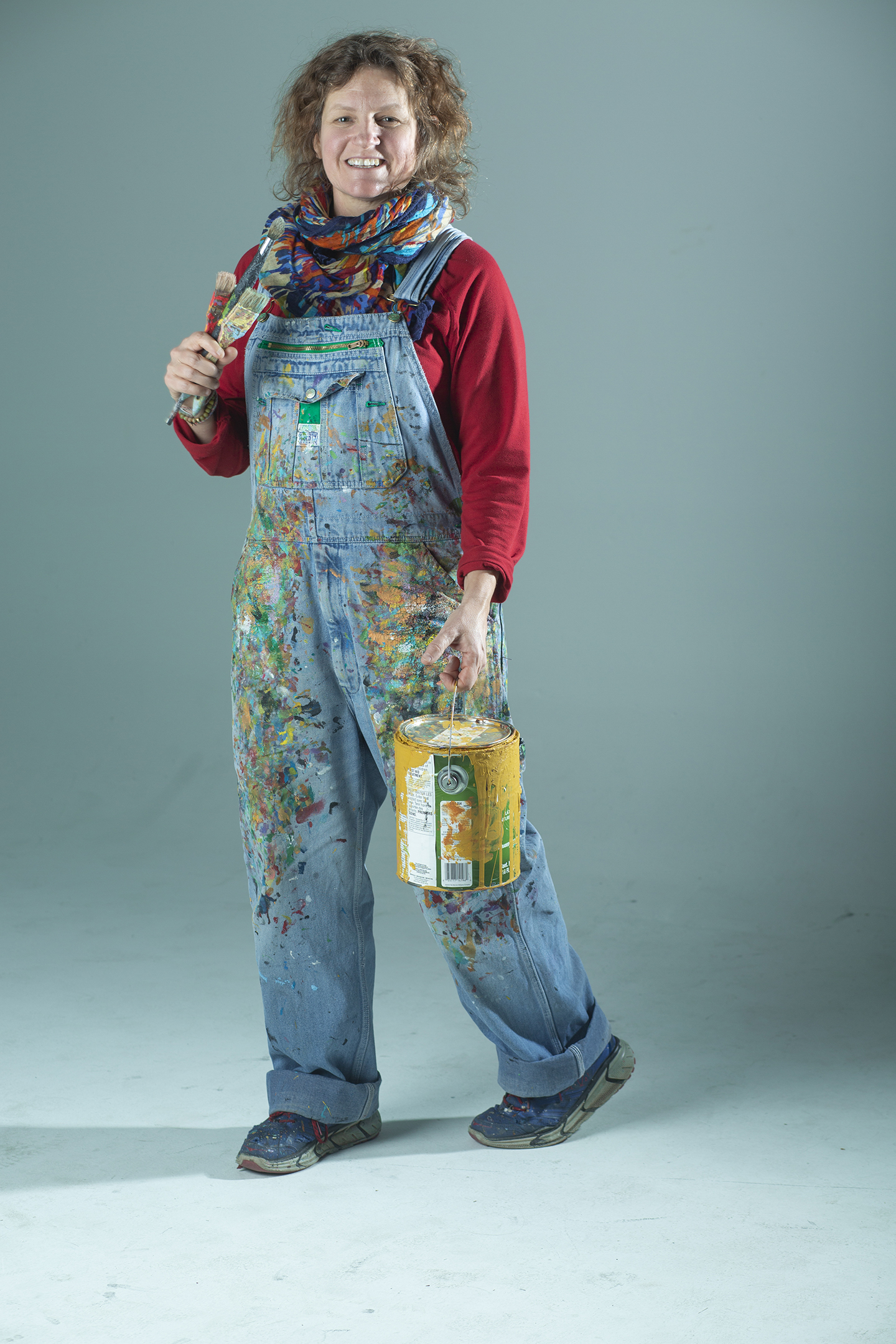 Julia Roberts, executive director for the Center for Gifted Studies, has known Rudloff since she was that little besmocked girl in elementary school. What has most impressed Roberts with the way Rudloff operates is how much she involves others in her work. 
"She wants the art to represent their ideas," Roberts said. "I like having the opportunity to let people see their ideas represented in the final product." 
But why are murals Rudloff 's chosen art form? She said it opens up an opportunity not all art gives to people. 
"My family were working folks. They didn't have time to go to an art gallery because they were working when the gallery was open. But if I paint on a wall, people can come see it any time they want," Rudloff said. 
One example of Rudloff 's work is on the side of her brother Dan Rudloff 's law office on East 12th Avenue. A Rudloff mural featuring spotted cows eating ice cream sits near the intersection of KY Highway 185 and Boatlanding Road. The latter mural, Rudloff said, is about bringing white and black people together, since that area of town has long served as a line of demarcation between white and black communities. 
"Make no mistake, that's a Woolworth's counter (in the mural) because that's where the sit-ins happened (during the Civil Rights Movement)," Rudloff said. 
That mural, as well as her others, bears Rudloff 's trademark bright colors, a style which Rudloff said she realizes may not fit every viewer's taste. 
"I think for some people, they see my work as rap music. You know, they see things and hear things, but they have to warm up to it," Rudloff said. "I used to think everyone had to like what I do. I just want to be someone who's as honest as they can be in what they're doing. And if people don't like me, that's okay. Maybe I'm rap music to them." 
Critics or no critics, no matter what, Rudloff will stay behind her brush, painting inside – and, just as often, outside – the lines. 
"Some people don't thrive in an environment of 'do this, do that, follow the rules, stay in line,'" Rudloff said. "I kind of want a little chaos. I think that's good."