It's no secret that the Bowling Green, Ky., music scene is vibrant. Walk into any local venue on a weekend night and expect to be blown away by the featured talent. 
If you see The Josephines listed on the bill, don't be surprised when the five-piece band delivers a high-energy, foot-stomping performance. 
"We all have one common goal, and that's to put the best songs out there," said lead singer Brad Tabor. 
The Josephines all have strong ties to Bowling Green. Along with Tabor, 29, lead guitarist Zach Lindsey, 31, and steel guitarist Alex Lindsey, 24, grew up in the city. Bassist Josh London, 32, was raised in nearby Glasgow, Ky., but now calls Bowling Green home. Drummer David Page, 30, is from Guntersville, Ala., but attended Western Kentucky University and lived in Bowling Green for five years. 
The Josephines describe their sound as American rock with country and southern influences. Each of the band members have idols in the music industry, and for some, that influence shines through in their performances. 
Tabor said his all-time favorite artist is singer-songwriter Tom Waits. 
"I think some of that influence comes through in a show," Tabor said. "Every now and then you can kind of get the poetry or the rasp of the voice from me — I can't help but channel him." 
Growing up in Glasgow, London was surrounded by music from the Kentucky Headhunters — a country-rock group who hails from Edmonton, Ky., just 20 miles down the road. 
"I had a lot of influence from the Kentucky Headhunters," London said. "That was one of the first bands that I ever saw live. They had one of the first records I remember listening to — that was definitely a game-changer." 
Zach Lindsey said The Josephines formed in 2015. He and London were regularly playing together in One by One, a Foo Fighters tribute band, when one day Tabor brought in some original songs for them to listen to. 
"We were both blown away by Brad's songwriting skills," Zach Lindsey said. "So we slowly started building a repertoire of songs and started playing them out." 
The Josephines debuted their first EP in 2017. The six-song project, titled "Sober Up," includes collaborations with local music legends Greg Martin of the Kentucky Headhunters, and newgrass staple Sam Bush. 
Tabor said The Josephines are the first band he's ever been a part of, so working with such talent was awe-inspiring. 
"That experience was cool," Tabor said. "I was sitting in there with Grammy winners and it was super weird. But both of them are as cool as can be and killed it on their songs." 
The all-male band took the name The Josephines because at some point in their lives, the Lindseys, who are brothers, Tabor and London have all lived on a street by that name. 
"The name started out as a joke," Tabor said. "We were playing a show at Tidball's and needed a name for the poster. So that was the first thing we threw out and it just stuck." 
With 30-plus tour dates in 2019 alone, The Josephines have found themselves growing even closer. 
"We spend a lot of time together," Tabor said. "We have a sweet setup — we have a van named Vanna and a trailer named Karl that we take everywhere." 
Even in tight quarters for extended periods of time, Tabor said the band has come across no issues. 
"We're stuck in a really small van together a lot, which is awesome," Tabor said. "We get along with no problems — everything's great." 
Many of the tour stops have taken The Josephines to unique venues. Tabor cites The Machine Shop Lounge in Flint, Mich., and The Caverns in McMinnville, Tenn., as two of the best atmospheres they've played in. 
"A few places always stick out, but every venue is so different, so it's tough to say which are your favorites," Tabor said. "But it's definitely cool to play all the venues at home."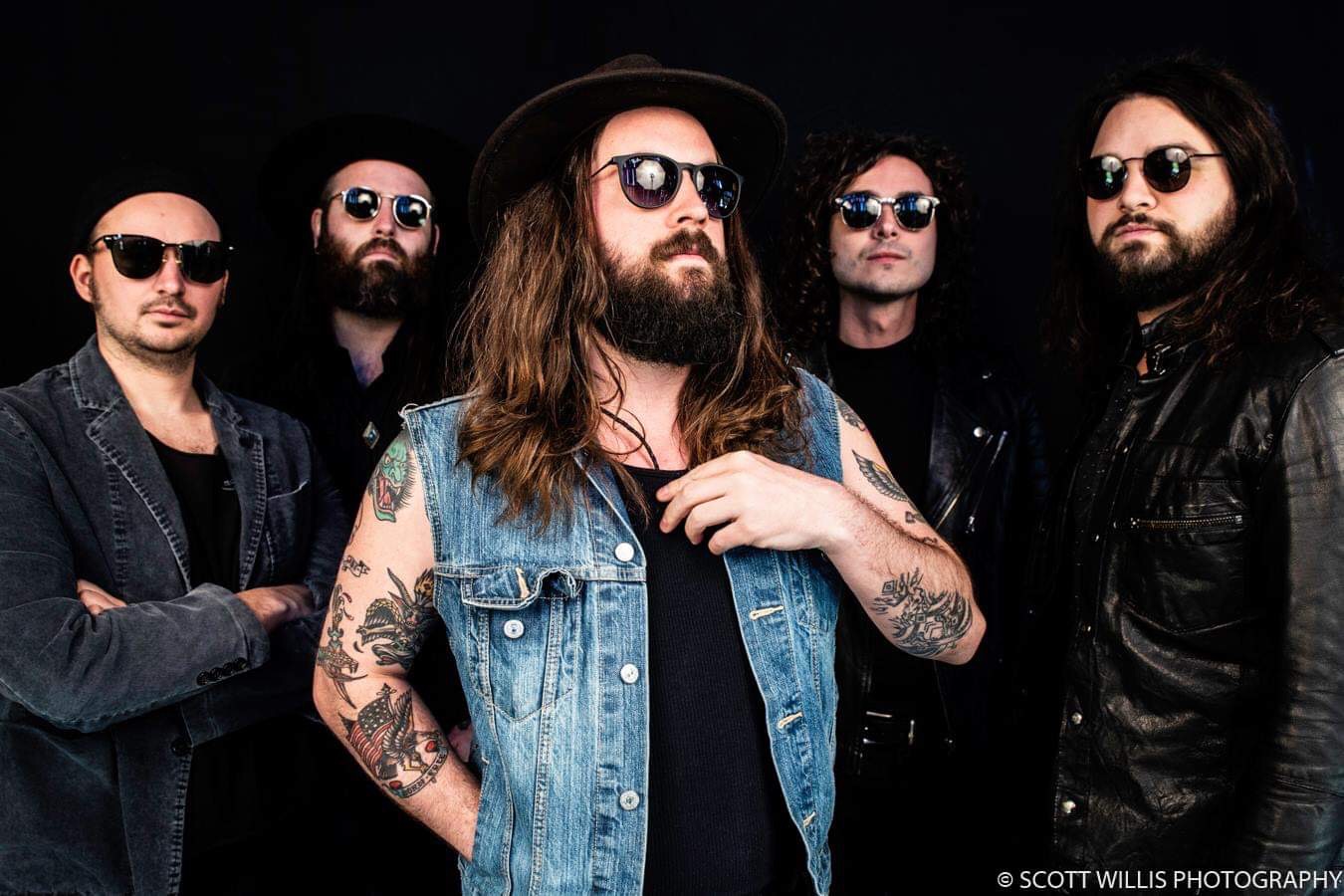 Recently, the group has taken the stage at both SKyPAC and Tidball's in Bowling Green. 
"Playing SKyPAC is one of those bucket list things," Zach Lindsey said. "You always want to play the biggest room in your hometown with a full crowd." 
While the SKyPAC show was certainly special for the guys, they can't help but still love their performances at Tidball's. 
"Tidball's is the best venue on the planet," Zach Lindsey said. "Every musician in Bowling Green cuts their teeth in that place. And to be able to go in there and know all your friends and family and people you don't even know are going to be there to listen to all these songs you wrote in your garage, it is really gratifying and humbling. And it's just cool to hang out at Tidball's." 
Even as such a young group, The Josephines have already played with acts such as Black Stone Cherry, The Cadillac Three, ZZ Top, Corey Smith and Vince Neil of Motley Crue. 
These dates have taken the guys to many cities they may have never otherwise had the opportunity to see. In those cities, they like to check out the local scene, Tabor said. 
"One hundred percent, trying out local bars is our favorite thing to do," Tabor said. "We're not after the finer things in life, but we're after the best bar in town for sure." 
Last summer, The Josephines played a couple festival dates, including Forecastle in Louisville, Ky., and Americanafest in Nashville, Tenn. 
"When you grow up your whole life going to shows, going to outdoor concerts, and you finally get to that point where you have access to everything and you get to hang out with artists you grew up listening to it's a completely different experience," London said. "Very hot in temperature, but otherwise so much fun." 
Since their 2017 debut, Tabor said the group has grown in its style and material, which is present on their latest single "Honky Tonk Funeral Home," released on April 20. 
"A couple years ago, I came to the table with a bunch of songs and then we just made them work," Tabor said. "And now there's still a few that I'll write and then we get together and write. It's definitely not a solo project and no one would ever think that. We work on everything together." 
Many times, songs are pieced together from several ideas throughout the band. 
"I'll show up and be like, 'Hey, I got this crazy chorus,' and then we work it out," Tabor said. 
Tabor said their process of songwriting and improving their live performances has gotten much easier as time passes. 
"We keep getting better over time because we've played with each other for so long," Tabor said. "It's pretty scary — our brains work together on the same wavelength." 
With The Josephines in the mix, Bowling Green's music scene is rich with new talent. Tabor cites Dan Luke and the Raid and Sugadaisy as two of the groups he looks up to. 
"It's hard to just name a couple bands because everyone's working as hard as they can," Tabor said. "We're friends to a lot of these guys." 
Zach Lindsey says you also can't overlook the established acts that have come out of Bowling Green. 
"If you're a musician in Bowling Green, Ky., and you say that you don't look up to Cage the Elephant then you're a liar," Zach Lindsey said. 
When the band mates have time to jam with others in the community, they will take the opportunity to do so. But all five's focus is on bettering The Josephines, Zach Lindsey said. 
"This is everybody's main focus," Zach Lindsey said. "As far as what our main gig is, The Josephines are it." 
Tabor said he wishes to make a steady living without worry from playing in the group. 
"I think that should be anyone's goal playing music, period," Tabor said. 
Though the guys don't expect to be boarding a private plane for their next gig any time soon, Zach Lindsey said his ultimate goal is to make a comfortable living by playing with The Josephines. 
"We don't have any delusions of grandeur or anything like that, but we want this to be as big as it possibly can be," Zach Lindsey said. "We're not trying to be like Chris Stapleton famous or anything like that — not that we wouldn't totally eat that up — but just being able to pay our bills and travel in a comfortable manner and do the one thing in our lives that we love more than anything in the world is kind of the end game."