A lot of celebrating will be happening this year at the Bowling Green Ballpark.
That's because the Hot Rods, Class A affiliate of the Tampa Bay Rays, is honoring its 10th season in Bowling Green, having moved here from Columbus, Ga., when investor Art Solomon had a vision for the 4,000-plus seat arena being built in downtown Bowling Green. He purchased the team, then known as the Columbus Catfish—and moved the team to Bowling Green.
Now, 10 years later, the Hot Rods have solidified their place as an institution in the community.
"We are unbelievably excited—and thankful for the time we have been in Bowling Green," said assistant general manager Matt Ingram. "It doesn't feel like it's been 10 years already."
Ingram was attending Western Kentucky University when local officials began downtown redevelopment, which included construction of the Ballpark. Ingram started working with the Hot Rods as an intern and had risen through the ranks to the role of director of sales before leaving in April 2016 to join the Cincinnati Bengals as senior account executive and team lead of group sales. The downtown area off Circus Square Park has seen a lot of change since Ingram's college days—most of it revolving around the Ballpark and adjacent entertainment and business district.
"The Ballpark is a venue we like to showcase when we have media from outside the area come to town," said Beth Noffsinger, public relations manager at the Bowing Green Area Convention and Visitors Bureau. "We value the venue, and we value their partnerships with the community."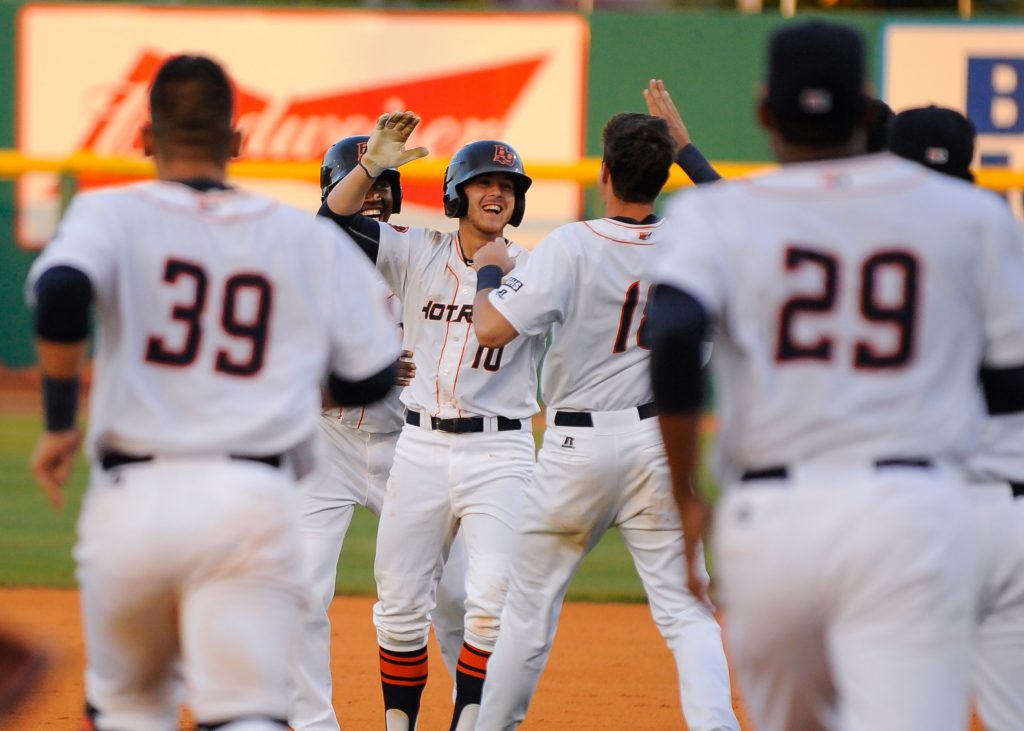 In addition to hosting games, the Ballpark plays host to a number of other community events. In March, the Ballpark hosted the inaugural Hot Rods Classic, a round robin tournament that included teams from Greenwood High School, Adair County High School, Barren County High School and DeSales (Lousiville) High School.
The Ballpark also serves as a concert venue. On Aug. 30,  famed country music singer Jake Owen will make a stop here on his "Life's Whatcha Make It Tour." Ingram said it has taken some time, but the Ballpark is finally starting to attract the attention of Nashville event planners and promoters whose bands can come play a gig—and still sleep at home that night.
"And Nashville, although known for country music, is home to many genres these days," said Noffsinger. "So many different genres are bringing their music into Nashville."
She said Bowling Green is hoping to capitalize on its proximity to Nashville to attract a wide variety of bands—especially to the Bowling Green Ballpark in the summer months.
Noffsinger also said many likely don't realize just how active and involved the Hot Rods are in the community, and how much the Ballpark is utilized outside of baseball.
"So many of our walks and runs begin and end there," she said. "They're a great host for the Bourbon and Brewfest event, which has really taken off. They are a great community partner to have."
The Hot Rods have been assisting organizations in raising money and awareness for their organizations for more than nine years through ticket sales and Fan Pack fundraising campaigns. The venue also serves as a great place for business and industry outings.
The Hot Rods are planning extra special theme nights, giveaways and events to celebrate their 10th season.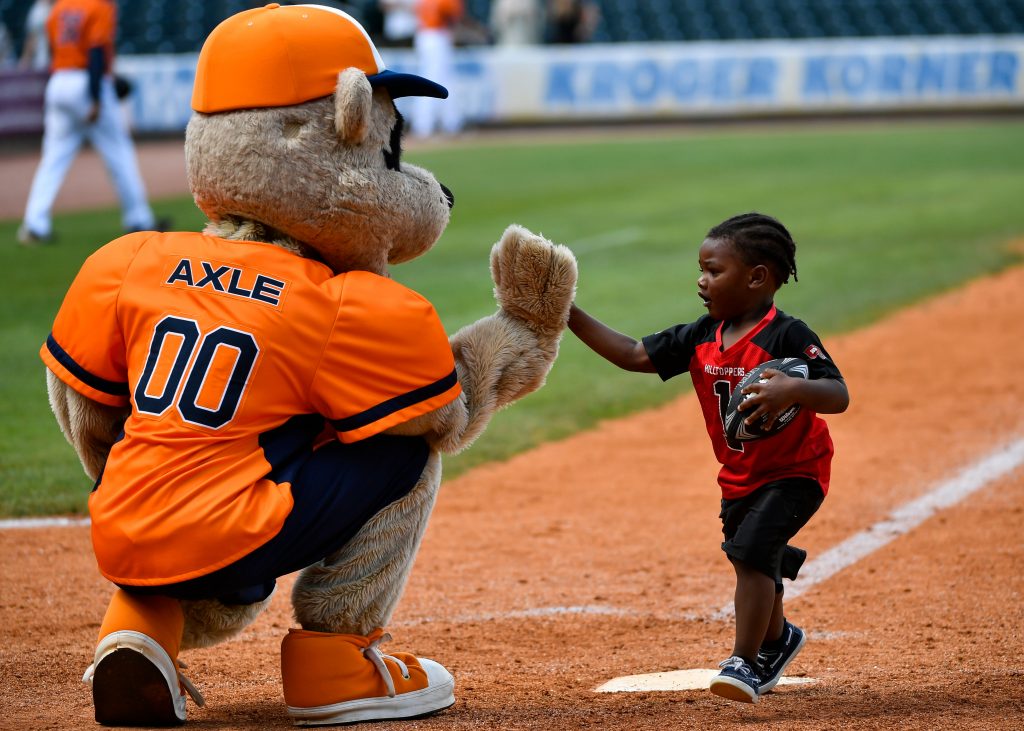 On opening night this season, fans received a Hot Rods 10th season logo T-shirt as well as a 2018 Quickstick schedule. Fans also enjoyed Braxton Brewing products in the Tap Room for a Tap Takeover night. Before first pitch, two former Hot Rods players or coaches were inducted to the inaugural class of the Bowling Green Hot Rods Hall of Fame.
April 28 will be the ever-popular bootlegger night—where the first 500 fans will receive a commemorative hat. June 2 will be "What Should've Been" Night, and the park will host a Margaritaville Night and a "What We Were" Night, where the park looks back at the many faces of the Rays Class A affiliate through the years.
"At some point in June, we're also expecting our 2 millionth fan, if averages align then," Ingram added. "So we have some celebrations revolving around that, as well."
Noffsinger said the Ballpark is a great place for tourists to visit in the evening hours when museums and other attractions are closed—and is a great place for locals to take their families on summer nights and weekends.
That's news Ingram likes to hear.
"One of our biggest goals is to be family-friendly and also to push education and get kids ready for their future," said Ingram, noting the Ballpark has a Roscoe Rewards reading program and has hosted the summer activities fair, where kids can learn about exciting enrichment opportunities. The venue also hosts school groups and field trips and strives to have a positive impact on the community.
"We are always looking for ways to enhance the experience for the family," Ingram said. "One of our biggest goals is to be family-oriented, family-friendly entertainment."
And what better way to provide it, than through the all-American sport of baseball.
The team will be under the helm of Reinaldo Ruiz, who returns for his fourth season. Ruiz led the team to a second half wild card berth.
"We are very excited to have Reinaldo back in Bowling Green," said Hot Rods GM/COO Eric Leach. "He provides great leadership for the team, and we can't wait to have him back guiding the Hot Rods."
•••
2018 Giveaway Night
April 14: Hall of Fame Night (double bobblehead giveaway sponsored by Ashley HomeStore)
April 28: Bootlegger Night (hat giveaway sponsored by Reinhart Food Service)
May 12: Pink Out the Park (tote bag giveaway)
June 2: What Should've Been Night (soccer scarf giveaway)
June 23: 2 MILLIONTH FAN Night (team card set giveaway sponsored by ISTT, with specialty prizes)
July 14: Mini Night (mini bat giveaway)
July 28: Margaritaville Night (bucket hat giveaway sponsored by Ashley HomeStore)
Aug. 4: Local Matters Night (fan design T-shirt)
Aug. 25: What We Were Night: Tribute to the Catfish (camo hat giveaway)
Sept. 1: Septembeer (glass giveaway)