LOVE ART Gallery and gift boutique in downtown Bowling Green moved to 916 State St. in June 2016.
A rectangular sign of an open hand palming a red heart beckons the passerby to visit, browse and buy from an eclectic mix of unique, hand wrought arts and crafts items. The narrow storefront suggests a small space, then opens into a treasure trove with exposed brick walls adorned with sculptures, photographs and paintings.
Cabinets and tables hold jewelry, wearable art, glass ornaments and ceramics; mobiles soar overhead while free-standing flats display artist Tatum Bratcher's ingenious collages. Whimsical clocks keep harmonious time opposite a rack of artist Cindy Houston's scarves in shimmering earth toned hues.
A limited amount of furniture is available with repurposed salvaged wood tables and a few handcrafted hardwood chairs. It's a tangible celebration of the variety of media used to create art. Prices range from $4 for greeting cards to about $900 for one of owner Robert Love's large aluminum horses.
The available stock has been created by environmentally conscious artists from recycled, repurposed or revamped materials.
•••
Gallery owners Robert and Ronna Love represent the work of 50 to 60 artists and artisans, several of whom have earned the jury adjudicated designation of Kentucky Crafted artist.
Robert is listed in the directory as Artist in Mixed Media 2-D, Metal, for his distinctive mosaic-like technique of constructing colorful two-dimensional sculptural works from recycled aluminum cans.
Ronna handles the business end of the gallery and selects the boutique gift items offered. They have no employees, thus limiting their costs and keeping prices moderate. Robert absorbed concepts and gained valuable experience from exhibiting his creations while working part-time at Artique Gallery, an arts and crafts boutique in Lexington.
Both are retired art teachers who taught in Fayette County Public Schools, where Bob taught at the School for the Creative and Performing Arts at Bluegrass renowned for its excellence.
"I loved the students but disliked the audition process," he said.
His voice filled with pride as he lauded the success of several past students. LOVE ART Gallery carries some of their work, including retro whimsical greeting cards of Anne Taintor who uses partially recycled paper and soy ink to create the original masters.
•••
"I have to create," he said.
And he could easily fill a gallery with his own imaginative works in metal, sculpture, wood and acrylics. Robert is a fourth generation Bowling Green native who earned his undergraduate and master's degrees in Fine Arts at Western Kentucky University. His parents owned a successful photography shop located on the square near the Capitol Arts Center, and his grandmother was a watercolorist.
"Art is in my genes," Robert said. "Before I entered elementary school, I spent time with my elderly great-grandmother. I would sit on her bed and she gave me drawing lessons."
His daughter, an animation artist with Titmouse Productions in Los Angeles, is carrying on the family tradition.
Two of the artists represented are emerging artist Tatum Bratcher and established artisan Cindy Houston, a Kentucky Guild of Artists and Craftsmen member who work in various media.
Bratcher is an award-winning collage artist and painter who is largely self-taught. Her formal studies began with a year at Ball State University as an art major. She honed her skills at Bowling Green graphic design and sign company—and with a little help from Mod Podge Craft Glue tutorials.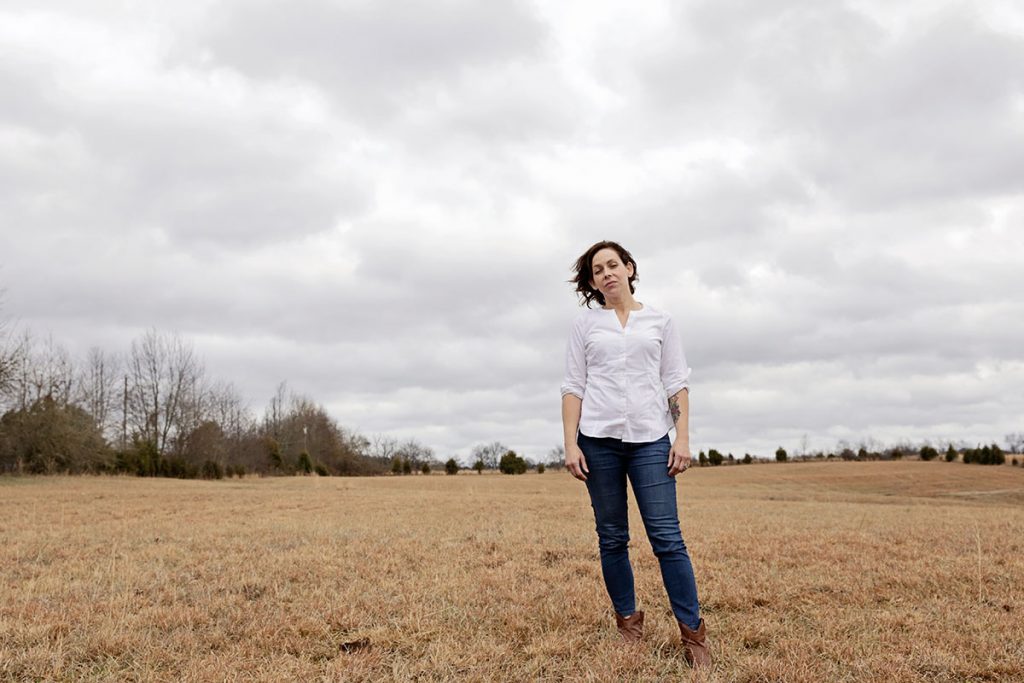 For collages, she often begins the creative process by working from photographs she has taken, painstakingly applying bits of magazines to achieve the balanced color and design. She paints and executes commissioned projects and also creates original collage designs taken from her paintings.
Bratcher received the Special Medical Center Purchase Award for her work "On Main" during the April 2017 Women in the Arts annual exhibit that featured 116 works from 61 artists across Kentucky. She was selected to be one of 13 artists with works exhibited in a month-long "Solar Eclipse and Astronomical Art" show in August at FFOYA House, a nonprofit community arts and music venue.
"I am currently finding myself as an artist and an adult," Bratcher said. "I think it may take my whole life to finish that task."
Houston is a graduate of the WKU Folk Studies Department with a 30-year career as a folklorist who now concentrates fully on her fabric art creations.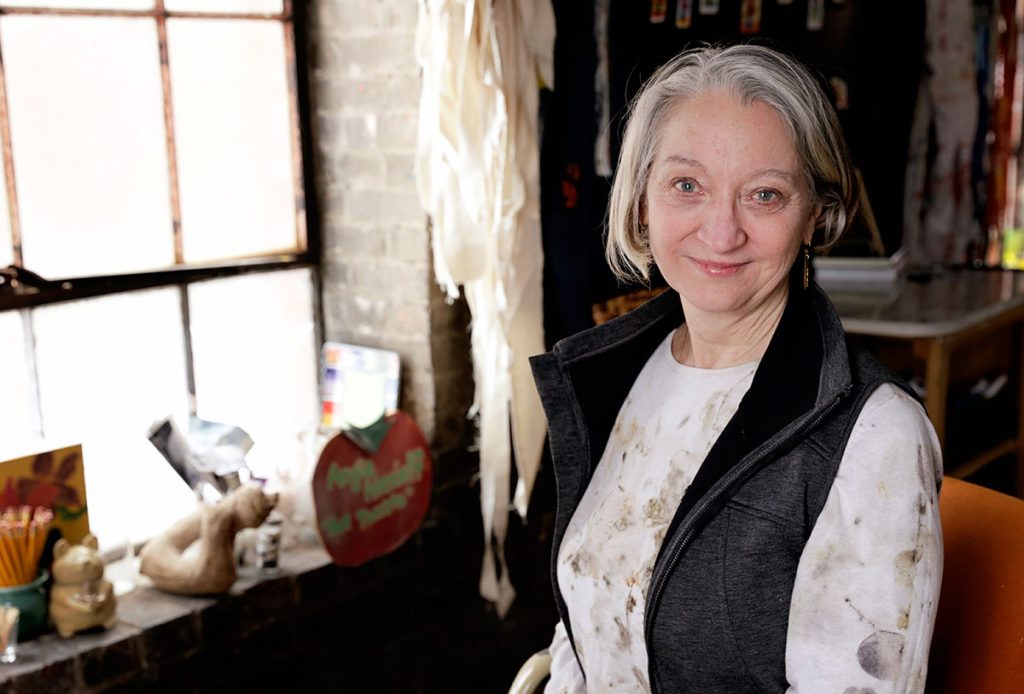 She developed a specialized interest in material culture as a student drawing inspiration from nature. Houston uses natural, locally grown or ethically sourced materials, including organic cotton, silk, plants, recycled paper, scrap and vintage materials, natural dyes and even laundry lint. Indigo and Osage orange are purchased but many dyes are made from her own garden from marigolds, leaves, walnut hulls, sage, smokebush and pokeberries.
"I use whatever is in bloom in my garden or in the neighborhood," Houston said. "I take a plastic bag with me on my walks and use plants that catch my eye."
She then creates hand-dyed scarves, jackets, shawls and wall hangings rich in color, texture, patterns and designs.
"Take from the junk pile, don't add to it," Houston said.
Cindy has exhibited in several galleries and exhibitions in Paducah, St. Louis, Cary, N.C., Evansville, Ind., Bardstown, Berea, Richmond, Paducah, Bowling Green, Lexington and Louisville and annually at the Tennessee Craft Fair. Her work has been purchased for private collections and the Kentucky Artisan Center.