WKU men's basketball senior forward Justin Johnson wants to ultimately be remembered for the things he's accomplished off the basketball court.
"That will go a lot farther in this world," Justin said.
Justin, 21, was raised in eastern Kentucky coal country. His hometown of Inez is one of less than 1,000 residents.
Since 2014, after signing with WKU, Justin has called Bowling Green his home.
Even after relocating four and a half hours away from his first home, family is still the most important factor in Justin's life.
"I'm a huge family guy," he said. "My older brother Braxton is my best friend. We live together in Bowling Green now. We grew up as sidekicks. We are still each other's biggest supporters.
Justin describes his parents as "the most unbelievable people in the world."
"They are why I am where I am today," Justin said. "Them and God."
Justin credits his mother Felicia with his Christian upbringing.
"My mom is the humbler of the household," Justin said. "Every Sunday, since I was two years old, she has taken us to church. She's the one that sets the morals in the house."
Felicia said she used to write Philippians 4:13 on a Post-It note and place it in Justin's shoe before each game he played in high school.
"The verse is, 'I can do all things through Christ who strengthens me,' " Felicia said. "I always tell my kids to put God first and the rest will follow."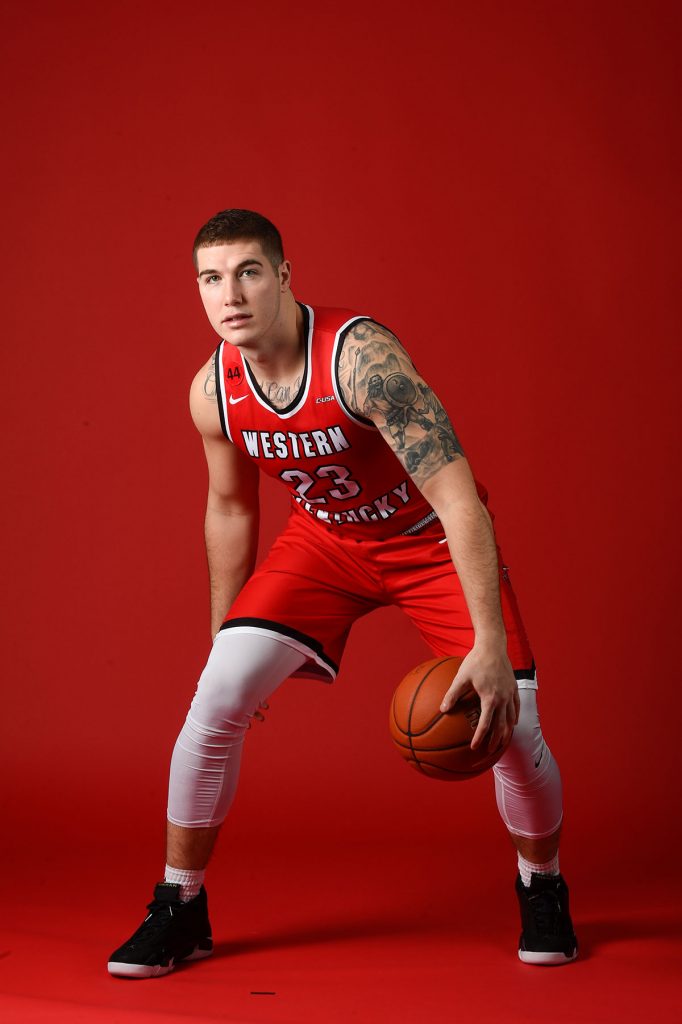 Still today, Felicia tells Justin that he can't give up and that he needs to stay motivated in life just the same as in basketball.
"You always have to work hard," Felicia said. "Life is not fair, and it's not easy, just like the game."
Justin attributes his excellent work ethic to his father Tommy, a retired coal miner.
"He worked 21 years in the coal mines, working third shift my whole life," Justin said. "I'll never forget getting ready to leave in the morning for school and he'd just be getting home from work. As soon as we'd come in the door from school, he'd wake up and spend the evening with us."
Justin said he can vividly remember times his father coached his youth basketball league games, outfitted in mining reflective clothing.
"As soon as the game was over, he'd have to leave to go to work," Justin said.
A quote from his father has stuck with Justin since he was only a boy.
"Ever since I was little—it's never left me—my dad has said, 'Play every game like it's your last,'" Justin said. "I hate to say this, but every time he went to work in the coal mines, those guys who go underground to work every night—they're putting their lives at risk."
WKU head coach Rick Stansbury recognizes the important role Justin's family has played in his life.
"He's got a good balance in his life—a good family, a mother and father who support him at every game," Stansbury said.
Many fans will notice that Justin has several tattoos on his body. He said those tattoos represent his family.
Justin's tattoos include ties to his parents, including their birthdates, a depiction of David and Goliath and an eye looking toward a cross.
"The David and Goliath tattoo on my left arm goes back to my mom always saying that no battle is ever too big to tackle," Justin said. "There is also an eye on the inside of my arm. People usually just see the eye, but if you get up close you see that there is a cross in the center of the eye. My mom always says, 'See everything though Christ and everything will be OK.' "
Justin also has a hummingbird tattoo in memory of one of his biggest supporters, his grandmother.
"It's pretty special," he said. "She used to sit at her coffee table and watch her hummingbird feeders out the window. She loved her hummingbirds. She was my person outside basketball. We would cook—that was our thing."
In 2017, Justin graduated from WKU in just three years with a bachelor's degree in sport management. Currently, he is working on a graduate degree in intercollegiate athletic administration with hopes to play professional basketball after the 2017-18 season.
"Hopefully, I'll have a shot at the NBA," Justin said. "If not, I'll go overseas and play. My goal is to do that for the next 10, 12, maybe 15 years."
After a professional playing career, Justin is interested in financial investing and also flipping apartment homes. The interest in apartment renovations comes from his parents' recent overhaul of their new family home in Smiths Grove—about 20 minutes outside of Bowling Green.
"People think it's funny, but I'll sit at home and watch HGTV more than I watch SportsCenter," Justin said.
Justin doesn't remember a time he wasn't playing basketball. He cites not only his father, but his brother and two older cousins as motivating factors to play the sport.
"We grew up together like we were all four brothers," Justin said. "From inventing sports games in the yard to playing dunk ball on an 8-foot rim, I was the one they always made do everything first because I was the youngest of the group. I think that instilled some toughness in me."
Growing up, Justin tried his hand at several sports, including wrestling, football and baseball, before settling solely on hoops.
"I was a seventh-grader and still had a year of Little League left and was the starting third baseman for our high school varsity team," Justin said. "I ended up being a pretty good pitcher but stopped playing when I was a freshman in high school."
Justin said basketball is his sport of choice because he adores the game in every way imaginable.
"It's an unreal experience," Justin said. "I just love the game—every aspect of it. You get to travel and see the world. God's blessed me with the ability to go out there and use my talent."
Since getting involved his freshman year in college, Justin has worked with Sports Reach ministry to travel to Belize and China on mission trips.
"I got to do mission work with children's homes," Justin said. "It's a humbling experience and something that everyone eventually needs to see. When you think you've got it bad, there's always someone who's got it worse. When you see things like that, you think, 'Man, I live like a king compared to some of these people in this world.' "
Justin also actively volunteers in Bowling Green, speaking to youth basketball leagues and working with Bowling Green Retirement Village, Boys & Girls Club of Bowling Green and Camp Happy Days.
"This community has been a home to me, and given me so much, so why not give back?" Justin said.
Justin has found a home away from basketball at Hot Yoga Bowling Green. The yoga studio is an escape for Justin and also was instrumental in getting him back in playing shape after a knee injury and subsequent surgery in the summer of 2017.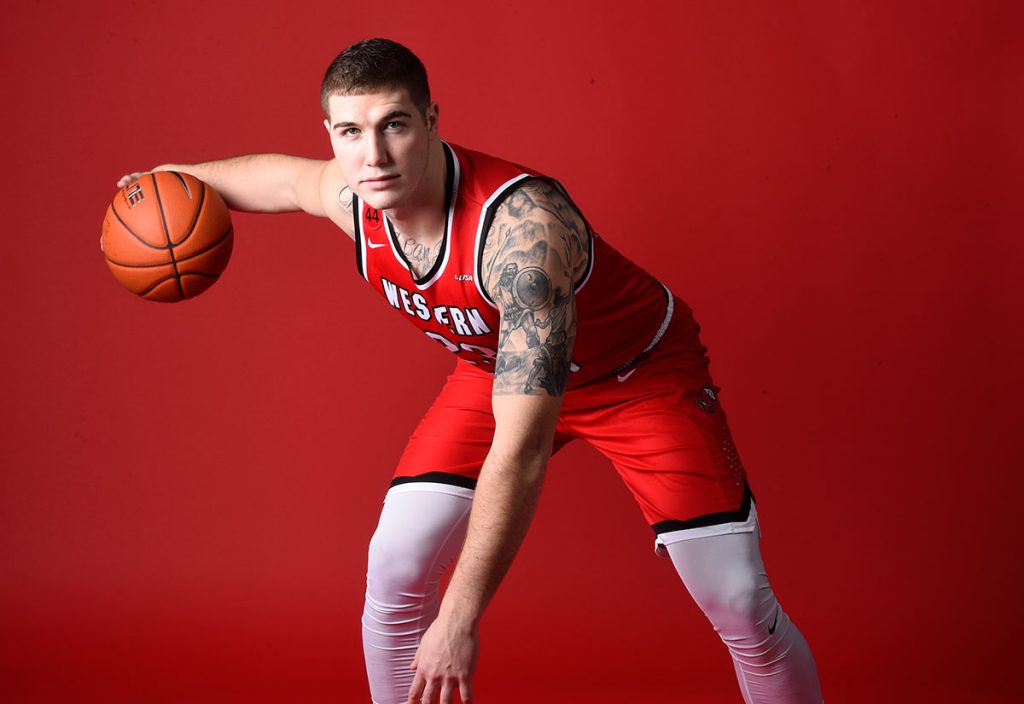 "Hot Yoga is my getaway and happy place," Justin said. "After going through knee surgery, and trying to lose the 30 pounds I gained, I was in there two times a day for sessions. They helped my recovery. It's an hour you go in and focus on yourself. While you're in there, nothing else matters."
Justin's coaches recognize his work ethic outside of practice hours and playing time.
"He's a dedicated player on and off the court," Stansbury said. "He gets up early to do Hot Yoga, gets in the gym late at night to work on shooting."
His volunteer work is commended as well.
"All those experiences come from his upbringing," Stansbury said. "His parents shaped him to want to go experience those kinds of things. In so many things, you can trace your experience back to your home life. From academics to the kind of person you are."
Justin said he's had people question why he chose to attend WKU over other schools.
"I have a lot of people that say, 'You know you could've went high-major and played big-time basketball,' and to me this is big-time basketball," Justin said. "Western Kentucky is big-time basketball. What they've done in history is always going to be ranked in the top."
The energy surrounding WKU men's basketball this year is apparent to fans, Justin said.
"This team is a team that can sit in the locker room an hour after practice and still be in there just laughing," Justin said. "It's a team that has a little bit of swagger. The way they warm up, the way they carry themselves. I wouldn't say cockiness whatsoever, it's the way they are. They're funny and goofy but they know as soon as the ball rolls out they need to be ready to play."
It's not every day a team gets along so well, Justin said.
"Nobody on the team doesn't like each other," Justin said. "Even when we're on the road, everyone's in a room hanging out or something. It's a good group to be around."
Stansbury said he is aware of camaraderie of this squad, and that Justin has embraced being a leader and embraced his teammates.
"When I first came in a year and a half ago, I didn't think Justin really had fun at the game, but after being around him a little bit, I kind of understood a little bit more," Stansbury said. "I think for the first time in his career he's really enjoying basketball. Besides playing well, he really enjoys his teammates."
A team leader, Justin said he serves as a mentor to younger players.
"I've seen a lot of things since I've been here so I try to point those guys in the right direction on the court," Justin said.
Off the court, Justin stresses the importance of academics and taking full advantage of WKU's programs.
"At the end of the day, the ball goes flat," Justin said. "You've got to do a good job and work hard, so that's the biggest thing I always tell them."
Stansbury said Justin is a good role model for his teammates.
"I tell players all the time that you have a platform that can be used for good and bad," Stansbury said. "Everyone knows who you are whether you know it or not. It's the choices you make with the platform you have. Justin's made all the right decisions. He's done all the right things."
Justin said he hopes his hard work on and off the court don't go unnoticed, and that there is a legacy he can leave behind in more ways than one.
"I want people to remember that when I was here I was involved in the community and took care of people around me," Justin said.